The Strange and Sad Case of Gui Minhai
Months after being released, Gui, a Swedish citizen, was abruptly arrested again.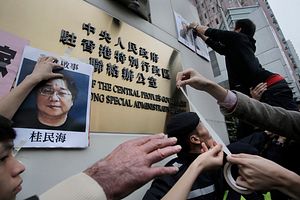 One of China's strangest human rights cases got even stranger last week: on Saturday, January 20, former Hong Kong-based publisher Gui Minhai was forcibly removed from a train to Beijing. Gui, a Swedish citizen, had been traveling with Swedish diplomatic officials, and was scheduled to visit with a doctor at the Swedish embassy after his arrival in Beijing.
Instead, Gui, who was kidnapped from his apartment in Pattaya, Thailand in October 2015, has been disappeared for a second time. Chinese authorities have refused to confirm his whereabouts, and urgent pleas from his family members and from the Swedish government for Beijing to guarantee his safety have gone unanswered.
Beijing's interest in Gui stemmed from his work as a publisher and sometime author of salacious and often thinly-sourced books on China's political elite. Any public discussion of the rivalries and private lives of top Communist Party leaders is strictly prohibited inside China, which gave Gui and other publishers an opening. His now-defunct Hong Kong-based publishing house, Mighty Current, targeted mainland Chinese passing through Hong Kong who were hungry to learn more about the goings-on inside the black box of Zhongnanhai, the home of China's top leaders.
Two years into his ordeal, Gui probably thought that his case had turned a corner: he was released from custody in October 2017, and was reportedly living in an apartment in Ningbo in China's coastal Zhejiang province. Although his freedom was deeply circumscribed, he was allowed to visit with Swedish consular officials in Shanghai, and spoke regularly over Skype with his U.K.-based daughter, Angela. After his release, Gui began to present symptoms of the debilitating neurological disorder amyotrophic lateral sclerosis, also known as A.L.S., which in turn led to his now-aborted medical appointment at the Swedish embassy in Beijing. Gui was reportedly planning to return to Sweden, and then to seek medical treatment in Germany.
Why, after allowing Gui at least some small measure of freedom, would Chinese authorities decide to take him back into custody, especially in such dramatic fashion? At this early stage, it's impossible to know for sure. Gui's contact with the Swedish consulate in Shanghai was almost certainly preapproved by the state security officials in charge of his case. They must have known that he was in touch with the Swedish consulate in order to renew his passport, and that his goal was to seek medical treatment abroad. Why, then, seek to block him from doing just that, after letting him take the first steps toward leaving China?
Perhaps those same officials started to have second thoughts. What if Gui decided to renew his publishing work once he reached Europe? Or what if he wrote a book of his own? No doubt he would have more than a few unsavory details to reveal about his kidnapping and two years in detention, including – if other, similar cases are any guide – denial of urgently needed medical care, threats against himself and his family, and possibly even physical abuse or torture. Given more time to think it all over, the officials handling Gui's case might well have changed their minds: better to grab Gui again before he reached the safe harbor of the Swedish embassy, than to risk the fallout from any revelations that might ensue once Gui reached Europe.
Whatever the reasoning behind Gui's most recent detention, his years-long ordeal says much about the limits of legal reform in China, and about China's at times heavily instrumentalist approach to international law.
The handling of his case is rife with violations of Gui's most basic rights. After Gui was disappeared from Thailand in October 2015, he essentially vanished from view for roughly three months. Although he was allowed to maintain some sporadic contact with his wife and daughter, he was generally kept in incommunicado detention. As far as is known, he had no access to an attorney during this time, in violation of Chinese law. And he was held for a full two years without charge or trial, a further breach of domestic criminal process. In essence, Gui was forcibly disappeared, with no ability to challenge his detention in court.
Key international avenues of redress were also blocked for Gui. Under international law, China must notify foreign governments when a foreign national is detained on Chinese soil. Further, China is obligated to offer diplomatic representatives prompt and regular access to their own nationals. China did neither in Gui's case. Instead, the Chinese government equivocated for weeks in response to official Swedish queries on Gui's whereabouts. Once it became known that Gui had in fact been spirited back to China, Beijing refused to allow Swedish diplomats access to Gui. Chinese officials finally relented in February 2016, a full four months after Gui's detention began.
According to several Western diplomats I interviewed, China usually adheres to its obligation to notify other states when foreign nationals are arrested, and to allow them to receive visits from diplomatic representatives. But Beijing's failure to respect Gui's rights of consular notification and visitation are by no means the only exception: in several cases over the past few years, all of them involving politically "sensitive" detainees, Beijing has kept foreign nationals locked away, often denying any knowledge of their whereabouts. Rights activist Peter Dahlin, for example, also a Swedish national, was held for 13 days before being allowed to meet with Swedish officials. Gui's Mighty Current colleague, Lee Bo, a British passport holder, was denied access to British diplomats for several weeks while being detained on the mainland in connection with the investigation into Gui's case.
What will happen to Gui Minhai? According to press reports, Chinese authorities want to investigate Gui again over allegations that he disclosed state secrets, which may mean that he is facing yet another round of incommunicado detention that could last for months or years. For its part, Sweden has repeatedly summoned the Chinese ambassador for further discussion of the case. A Swedish Foreign Ministry spokesperson confirmed that it was taking "strong measures on a high political level." If Gui is going to have any chance of making it out of China, Sweden needs to keep up the full court press. And it needs help from key European allies and the United States. In the absence of sustained pressure, Gui will likely disappear again into the black hole of Chinese extralegal detention.
Thomas E. Kellogg is executive director of the Georgetown Center for Asian Law.