What Next for Myanmar's New Drug Strategy?
Though a new policy signals a shift to a more comprehensive approach to the problem, the true test will be in its implementation.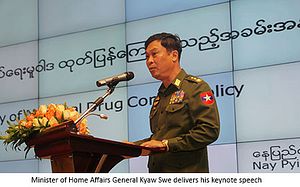 On February 20, Myanmar, one of the world's largest drug-producing countries, finally launched a new national drug control policy after years of deliberations. Though the document does signal a shift to a more comprehensive approach to addressing a chronic problem, the true test will how that approach is implemented in the coming years.
As I have noted before in these pages, Myanmar remains one of the world's biggest producers of various kinds of illegal drugs and is a node within the notorious Golden Triangle, long a hub for mainland Southeast Asia's drug trade. To help stem this problem, Naypyidaw has been taking a series of steps of late, which include not only punitive measures like seizures and arrests, but developing a more integrated national drug policy and cooperating more with international partners on aspects of law enforcement training and intelligence-sharing (See: "China-Myanmar Security Operation Spotlights Big Drug Challenge").
One of these lines of effort is developing a drug policy that is more comprehensive and effective. Though the need has been existent for years, discussions on the specifics of a national drug policy had been going on since 2016 with the help of outside actors including the United Nations Office of Drug Control (UNODC). Following consultations with a range of government and non-governmental stakeholders as well as outside experts, the broad outlines of an approach were released in 2017 and the policy itself was developed and had been presented internally within the government late last year.
On February 20, Myanmar's Ministry of Home Affairs officially launched the new National Drug Control Policy at the Hilton Hotel in Naypyidaw. In remarks at the launch, Lt. Gen. Kyaw Swe, the Chairman of the Central Committee for Drug Abuse Control (CCDAC) and Union Minister for Home Affairs, announced the areas under the policy as well as future steps that would be taken subsequently to realize its implementation.
The priority needs in the new National Drug Control Policy are identified as being: supply reduction and alternative development; demand reduction and harm reduction; international cooperation; research and analysis; and compliance with human rights. Though some sections of the document are much thinner than others, the priorities nonetheless reflect a policy that at least attempts to craft a comprehensive approach to addressing the drug problem, including formally integrating harm reduction into its approach – a first –and giving more attention to human rights. Kyaw Swe himself admitted in his remarks that Myanmar's past approach was overly focused on supply reduction and less on other areas, which limited its effectiveness.
In remarks at the launch, Jeremy Douglas, the UNODC regional representative for Southeast Asia and the Pacific, rightly acknowledged the progress Myanmar had made, which is significant even in the context of the region more broadly. But the true test of the policy will be in how it is implemented over the coming years. According to Kyaw Swe, a National Strategic Plan for the policy is expected to be drawn up within six months, while a two-year action plan will also be implemented across the States and Regions, in accordance with the new policy.