What's Delaying Nepal's Tourism Boom?
If Nepal wants to attract more tourists, the development of regional airports constitutes the "mother of all necessities."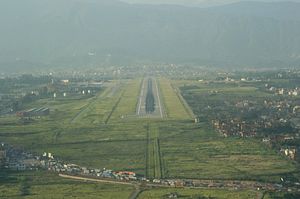 In 2017, Nepal saw a record 940,000 visitors, missing the stated target of 1 million tourists by a mere 6 percent. Meanwhile, visitors to the Mt. Everest area surged beyond 900,000 for the first time. Thus, it is indeed a period of optimism for Nepal, which seeks to style itself on the global market as a tourist hotspot. For a country of 30 million people, bordered by significantly larger states — China and India — the scope for tourism advancement is obvious.
For perspective: the number of overseas trips by Chinese during the Spring Festival holiday in January and February of 2017 was estimated at nearly 6 million. For context, only 104,664 tourists from China visited Nepal in the entire calendar year of 2017. If Nepal could lure even 1 percent of the Chinese tourist exodus around Spring Festival, it would be a major boost. Several travel publications, including Lonely Planet, put January-February as a good time to visit Nepal, especially for wildlife exploration and religious travel. So the prospects are there, and it is important for Nepal's tourism authorities to catch Chinese eyes during this period of mass holiday migration.
Nepal requires a robust tourism development plan to achieve such a lofty goal. In this regard, the development of regional airports constitutes the "mother of all necessities."
Currently, Nepal has only one international airport (Tribhuvan Airport) at Kathmandu. With limited infrastructure, the airport processes only an average of 1,400 tourists in a day.. The government's decision to purchase additional aircraft for Nepal Airlines only increases the burden on the airport. As per Kul Chandra Gautam, former assistant secretary general of United Nations,  it would be a wrongheaded "nationalist" sentiment to say that a country needs a "national" airline to promote tourism. In Palawan in the Philippines, for example, the local government set up ties with China Airlines to start direct flights from Chinese cities and, with its brand new international airport, it can accommodate 1.9 million passengers per year compared to only 330,000 at its old airport. The province fully furnished the airport in less than two years.  Similarly, many tourist destinations around the Caribbean and African destinations (like Rwanda) have been developed through better airports, increasing the number of international flights.
Currently, there are two major airport construction projects in Nepal, in Pokhara and Lumbini, financed through China and India. These airports, upon completion, will serve an important function attracting tourists from India and China.
In China's case, Nepal's tourism draw will be very competitive in provinces nearby, but much less so, given the duration of flight and costs, in provinces farther north. These bordering regions present an opportunity for Nepal. More promotion activities should be focused on areas like Tibet, Sichuan, or Yunnan provinces, where the flight duration and costs to make the trip are less. In this regard, Lumbini offers a good example. The birthplace of Siddhartha Gautama  (Lord Buddha) saw 1.7 million tourists in 2017, 1.25 million coming from within Nepal and the rest largely from nearby cities across the Indian border.
Even if Nepal signs dozens of tourism deals and agreements with Beijing or New Delhi, the real opportunities already lie just across the border.
Furthermore, new regional airports will act as a magnet for companies. One of the reasons why luxury hotels are opening up in Kathmandu is because of the airport accessibility. This trend can be seen everywhere: research by the Romanian Economic Journal showed that 31 percent of companies that relocated around Munich airport in Germany cited airport access as an important factor in their location decision. Also with new regional airports, the number of tourists can increase substantially, as transportation brings tourists closer to their specific destinations within Nepal. In the case of Lumbini, the average length of stay is an unbelievable 30 minutes. Tourists usually enter Lumbini by crossing the Indian border, which just provides a glimpse of the place, before returning. Thus disadvantaged locals are unable to reap the benefits of a longer stay. With the regional airport, ease of access can attract tourists who stay longer and perhaps visit India from Nepal.
Political will is the centerpiece of development. Successful tourism destinations across the world have seen the quick construction of airports. In case of Pokhara, mentioned above, even after China's Export-Import Bank financed the project two years ago, construction has not been completed. Only last summer, one loan, agreed to in 2016, was finally made effective as it took Nepal some time to meet the terms of the disbursement agreement. Foot-dragging on such matters, and arbitrary airplane purchases, are stymieing the progress of Nepal's potential tourism boom.
Raunab Singh Khatri is a Masters candidate at Peking University.