What's Next for Indonesia's Aerospace Ambitions in 2018?
A closer look at some of the new opportunities being pursued amid old challenges that remain.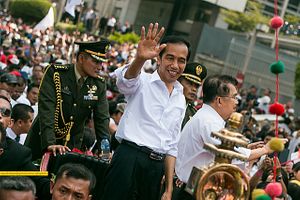 Last week, at the 2018 iteration of the Singapore Airshow, officials from Indonesia's state-owned aerospace company PT Dirgantara unveiled some advances that they were expecting this year for the firm. Though the comments reflect Indonesia's stated desire to advance the country's aerospace ambitions over the next few years, they also belie significant challenges that remain as well on that front.
As I have noted previously, Indonesian President Joko "Jokowi" Widodo had signaled early on since taking office in November 2014 his desire to boost the country's domestic defense industry (See: "An Indonesian Defense Revolution Under Jokowi?"). That has subsequently resulted in greater aspirations on this front in various realms including shipbuilding and aerospace, even though those aspirations have remained challenging to achieve in reality (See: "What's Next for Indonesia's Shipbuilding in 2018?").
PT Dirgantara, the state-owned Indonesian aerospace company, is part of that effort. In addition to being involved with key ongoing projects including the effort with Korea Aerospace Industries (KAI) to develop the next generation fighter aircraft, the firm has also been looking at opportunities across the board to service the Indonesian military as well as countries abroad, be it manufacturing aircraft such as the CN-235 and N-219, parts, improving aircraft safety, and maintenance, repair, and operations (MRO).
Last week, in remarks at Singapore Airshow 2018, Arie Wibowo, PTDI's director of production, gave a sense of some of the firm's key projects in 2018. Some of these were involvement in future programs such as the purchases of Airbus A400M transport aircraft and Sukhoi Su-35 fighter aircraft, or collaborative endeavors with other countries, like the development of an unmanned aerial vehicle (UAV) with Turkey. Related agreements were inked at the Airshow, which was also attended by top Indonesian officials such as Defense Minister Ryamizard Ryacudu and Coordinating Minister for Politics, Law, and Security Wiranto.
Others related to orders for the production and sale of aircraft at home and abroad. At home, PTDI disclosed that several national aviation companies had ordered N-219 planes, which had been in the spotlight towards the end of last year when Jokowi named them the "Nurtanio" after Nurtanio Pringgoadisuryo, one of the country's aviation pioneers, as the country commemorated Heroes Day. Local media outlets reported that these included PT Pelita Service, PT Trigana Air Service, and the Aceh provincial administration for a total of 75 units.
And abroad, there was also mention of advances in overseas markets in Asia and beyond. Some of these were in fact delayed orders, such as two aircraft from the Philippines which were initially scheduled for 2015. But there were also suggestions of new markets beyond Southeast Asia such as Central Asia and West Africa, though few specifics were disclosed in terms of numbers. The push for more overseas markets has been seen in other defense areas like shipbuilding and is part of a broader trend where Indonesian officials, including diplomats, have been more actively promoting defense equipment abroad.
Though these targets no doubt sound promising, as with other stories around Indonesia's domestic defense industry, the key is the extent to which they can actually be achieved. As I have noted before, Indonesian defense officials themselves have spoken at length about the significant challenges the country faces as well as the long list of measures needed to realize its true potential, including investing in skilled manpower and improving quality and delivery times. As we continue to read fresh headlines through 2018, as ever, it is important to remember that these old issues continue to remain even as new opportunities are pursued.