Xi Jinping May Turn to Top Ally to Handle US Pressure
Wang Qishan, Xi's right-hand man, may reemerge as vice president after stepping down from his CCP position.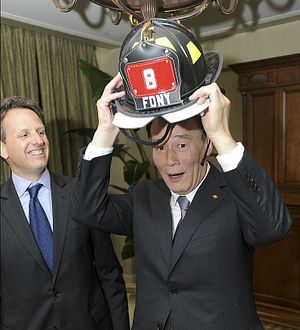 Under President Donald Trump, the United States has adopted a hawkish stance on China. The Trump administration's new national security and defense strategies identify China as a strategic competitor, and a threat to domestic security and the global order. More importantly, the Trump administration plans to contest China's "unfair trading practices," cyber intrusions, and expansionism in the Indo-Pacific.
America's increasing vigilance, new fiscal policies, and economic action against China represent a serious threat to the Chinese Communist Party (CCP). The CCP's political legitimacy has long been tied to its economic performance, and a slowing Chinese economy with a buildup of hidden risks now has to cope with the pressure of American tariffs and Trump's tax cuts.
Perhaps the clearest indication that the CCP is troubled by a confrontational United States is the imminent appointment of a veteran troubleshooter to a new post. Wang Qishan, the top ally of Chinese President Xi Jinping and former anti-corruption chief, looks set to become China's next vice president and the point person for Sino-U.S. relations. Wang could also end up as a deputy leader in the CCP's National Security Commission.
Minsky Moment, Black Swans, and Gray Rhinos
The CCP faces a legitimacy crisis if it cannot resolve its economic woes. Since the bankruptcy of Mao Zedong's "communist utopia" vision in the wake of disastrous campaigns like the Great Leap Forward and the Cultural Revolution, the CCP has tied its political legitimacy to China's economic performance. This legitimacy formula has been acknowledged by several Chinese and East Asian scholars, and has thus far kept the CCP in power in the face of crisis.
Xi Jinping, however, may not have the good fortune of his predecessors.
The 2017 U.S. National Security Strategy noted that "economic security is national security." To that end, the Trump administration is preparing to impose a mix of tariffs and fines on China. The Trump administration's tax cuts and the Federal Reserves' shrinking its balance sheet and raising rates could also lead to a credit crunch in China. The tax cuts will also lead to increased capital outflows from China back to the U.S.; Apple, which makes most of its products in China, has pledged to repatriate hundreds of billions back to the United States and spend tens of billions more on U.S. jobs, data centers, and manufacturing.
On the domestic front, the Xi administration is struggling to fix severe economic problems that resulted from policies implemented since the 1990s. Years of corruption, data fabrication, and the creation of complex structures inside China's increasing financialized economy have built up enormous risks that are in danger of blowing up. Since late 2017, the Xi leadership has repeatedly warned of financial risks while leading Chinese bankers and regulators drive home the point in popular financial lingo. People's Bank of China chief Zhou Xiaochuan cautioned about a "Minsky moment" in November 2017, while top banking regulator Guo Shuqing said in January that "black swans" (unforeseen catastrophes) and "gray rhinos" (massive problems that are obvious, but unaddressed due to their complexity) could threaten China's financial stability in 2018. Former finance minister Lou Jiwei also said in January that China faces worse financial risks than the U.S. before the 2008 crash. The confessions of fake GDP data by several provinces and the record level of violations and fines handed out to Chinese financial institutions in 2017 and January 2018 back up the central authorities' warning noises and are indicative of larger problems. The Xi leadership is resorting to deleveraging, cleaning up the financial sector, and an anti-organized crime campaign to resolve domestic financial issues.
To deal with a confrontational United States and avoid a trade war, Xi needs a top-notch representative. This representative would have to be someone Xi trusts fully to reflect his views to the Trump administration, should be well-versed in economics, and should preferably be familiar to American officials. Wang Qishan checks all the boxes.
The "Fire Brigade Chief"
Wang is the official whom Xi trusts the most. Wang and Xi were acquainted as sent-down youths in Shaanxi province during the Cultural Revolution. When Xi became general secretary of the CCP, he put Wang in charge of his anti-corruption campaign. As Central Commission for Discipline Inspection secretary, Wang oversaw the punishment of over 1 million officials for corruption, including the ouster and prosecution of many top allies of the Jiang Zemin faction like generals Xu Caihou and Guo Boxiong, and former security czar Zhou Yongkang. Indeed, it was largely because of Wang's efforts that Xi could wrestle power away (although not yet completely) from the very influential Jiang faction.
Wang is China's go-to troubleshooter in a crisis. In 2003, he competently dealt with the SARS outbreak in Beijing as the city's mayor, and later oversaw preparations for the 2008 Summer Olympics. Wang was promoted to State Council vice premier in charge of finance and commerce during the 2008 global financial crisis, and was widely considered to be one of China's best vice premiers by the time he left to take up a seat in the Politburo Standing Committee and serve as Party anti-corruption chief. And, as noted above, the anti-corruption drive, arguably the most successful of Xi's policies during his first term, was headed by Wang. Wang's problem-solving abilities earned him the nickname "fire brigade chief."
Wang is well-equipped to talk trade with the United States. In the 1980s, Wang was known for crafting reformed-minded economic policies and was regarded as one of China's leading young economists. In the 1990s, he held top jobs in China's state banks and handled one of the biggest bankruptcies at the time as vice governor of Guangdong. Former U.S. Treasury Secretary Henry Paulson was first acquainted with Wang during this period, and they would later serve as counterparts in U.S.-China economic meetings during the Obama administration. U.S. officials and Wall Street are also familiar with Wang from his time as vice premier.
Chinese officials also believe that Wang is up to the task. "Wang is tough. You need someone like that to deal with the Americans," an unnamed official told The Wall Street Journal in January.
If Wang were to serve as Xi's representative on Sino-U.S. issues, he may do so as China's next vice president. Last November, Western media began reporting that Wang will be named vice president at the important Two Sessions meeting in March and will play a role in U.S.-China relations. The South China Morning Post, a Hong Kong newspaper known to carry reliable intelligence from Zhongnanhai, cited insider sources as saying that Wang was attending Politburo Standing Committee meetings as a nonvoting member despite having stepped down from the top ruling body in October. And we wrote in October that Wang could be selected for as vice president and handed a diplomatic portfolio. Our assessment was based on Xi's lack of suitable candidates for the vice presidency and Wang's importance to Xi's power consolidation plans.
On January 29, Wang was named a member of the Hunan delegation to China's National People's Congress, a development that further solidified the view that he will take on the vice presidency. After news of Wang becoming a Hunan delegate broke, the New York Times and the Wall Street Journal cited sources familiar with the matter as saying that he stands a strong chance of being picked for vice president in March. Wang being left out of a list of retired Party leaders who will be visited by Xi and other top leaders for Lunar New Year greetings, and his recently having private meetings with U.S. ambassador to China Terry Branstad alongside Xi Jinping further confirms Wang's coming return.
In addition to the vice presidency, Wang may also be handed a national security role. As mentioned above, the CCP ties its political legitimacy with economic performance. The Xi leadership can easily interpret Wang's handling of U.S.-China relations as a crucial effort to "defend" China's economy and preserve the Party's position. Wang may soon play a key role in securing Party rule as a deputy chairman of the CCP's National Security Commission.
Xi, however, may not necessarily get his man given the complex nature of CCP factional fighting. For instance, Wang's exit from the Politburo Standing Committee had more to do with Xi facing stiff resistance from various Party factions rather than Xi following Party retirement norms. The opposition against Wang manifested on the surface through an intense overseas smear campaign aimed at Wang led by a fugitive Chinese tycoon with links to the Jiang faction. Xi later appeared to show support for Wang by instructing senior officials to "protect embattled high-ranking officials" during an emergency July briefing session in Beijing. Wang ultimately stepped down at the 19th Party Congress in October.
Should Wang Qishan fail to become vice president, China observers will need to reassess Xi's present political strength and that of his rivals.
Don Tse is the CEO and co-founder of SinoInsider Consulting LLC, a consulting and research company based in New York City.
Larry Ong is a senior analyst with SinoInsider Consulting LLC.