2 Central Asians Arrested in Virginia for Allegedly Attempting to Smuggle Guns to Chechnya
One of the men arrested is the youngest son of Kyrgyzstan's former ambassador to the United States.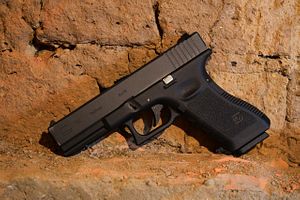 On February 27, the son of a former Kyrgyz ambassador to the United States was arrested along with a Kazakh citizen on charges which include international trafficking in firearms and smuggling.
According to the U.S. Attorney's Office for the Eastern District of Virginia, Tengiz Sydykov, 28, and Eldar Rezvanov, 27 — both Central Asian citizens living in Alexandria, Virginia — purchased over 100 disassembled firearms and attempted to ship them to Chechnya without the proper license. "The men attempted to smuggle the firearms to Chechnya by using false shipping inventories and disguising the disassembled firearms as kitchen utensils," a press release about the arrests stated.
Court documents also alleged the involvement of Tengiz' older brother, Chingiz, in coordinating overseas financing and sales.
The younger Sydykov and Rezvanov were arrested in Virginia on charges of violating the U.S. Arms Export Control Act, International Traffic in Arms Regulations, as well as smuggling, conspiracy, wire fraud, bank fraud, and money laundering. If convicted, the two each face a maximum penalty of 20 years in prison.
Tengiz Sydykov is the youngest son of former Kyrgyz Ambassador to the United States Zamira Sydykova.
Sydykova served as ambassador to the United State from 2005 to 2010 during the presidency of Kurmanbek Bakiyev. Sydykova is editor-in-chief of one of Kyrgyzstan's oldest independent newspapers, Res Publica. In 2000 she was awarded a courage in journalism award by the International Women's Media Foundation. The same year, she was charged with libel for the second time in five years, a standard tactic used by Central Asia's autocrats to silence media poking into the machinations of the powerful.
According to Sydykova, Rezvanov was her son's former roommate. When Rezvanov was arrested, she claims, her son went to the police station to find out why and was subsequently detained.
"I hope that this misunderstanding will be cleared soon," Sydykova said.
However, an affidavit filed and sealed on February 22 in support of an arrest warrant for Sydykov outlines more grievous charges than a simple misunderstanding.
According to the affidavit, an investigation revealed a conspiracy involving Sydykov, Rezvanov, and another of Sydykova's sons, Chingiz Sydykov, in addition to unknown others "who are responsible for the wiring of funds from foreign bank accounts in Chechnya and elsewhere to U.S. bank accounts for the sole purpose of purchasing firearms, firearms parts such as Glock slides and barrels, and firearms accessories such as Clock and AK47 magazines."
The affidavit alleges that Tengiz Sydykov was "is responsible for obtaining the controlled items and serving as the 'money man." It also states that he was a leaseholder for an apartment in Alexandria, which was also listed on his driver's licence and immigration forms, and was used for his mail deliveries.
Rezvanov, who is stated in the affidavit as being a citizen of Kazakhstan (although the Attorney's Office statement refers to him as a Kyrgyz citizen), was allegedly "responsible for the mail ordering of gun parts and the mailing of packages" which were delivered to the same address listed by Tengiz Sydykov. Rezvanov, like Sydykov, listed the same address on his immigration forms. A desk manager at the apartment told the authorities that Rezvanov picked up packages addressed to the apartment every day.
Chingiz Sydykov, the affidavit states, allegedly was 'responsible for the overseas organization and the coordinating with as yet unknown individuals in Chechnya and elsewhere and for wiring funds to United States bank accounts for the purpose of purchasing and receiving firearms and accessories in Chechnya." Unlike his younger brother Tengiz and Rezvanov — who have pending applications for naturalization and protected status, respectively, in the United States — Chingiz does not, though he has visited several times and according to his immigration forms listed the same address as his destination in June 2017. Chingiz also allegedly opened bank accounts using the Alexandria address.
According to the court documents, Tengiz Sydykov purchased at least 107 lower receivers for various Glock pistol models as well as Glock slides and barrels separately from various business across the United States. "Only the purchase of lower receivers is tracked," the affidavit states, "While the slides and barrels are serialized, they are not required to be tracked when the sale is made."
By purchasing the lower receivers, slides, and barrels separately, the resulting assembled firearm may be untraceable ballistically — because the barrel sold is not tracked.
"The purchase of 107 receivers by someone without a gun business is indicative of illegal exports," the affidavit states.
Wire transfer records reviewed by investigators preceded the purchases of firearms parts and U.S. Postal Service shipments to former Soviet countries were, according to investigators, contemporaneous with Sydykov's purchases.
Emails obtained in court-authorized searches of Sydykov and Rezvanov's accounts detail the roots of the budding illegal business back in 2015 when Rezvanov allegedly emailed a firearms dealer saying "I would like to become a dealer, would you guys assist me with web site and with all stuff which is need to start up right? My target is post-soviet countries…"
Given the charges this week, it seems Rezvanov did not quite start up his business "right" and given the details laid out in his arrest warrant, Tengiz appears to have been more than just a former roommate arrested accidentally.