A New Philippines Naval Station in Sulu?
A closer look at a noteworthy development.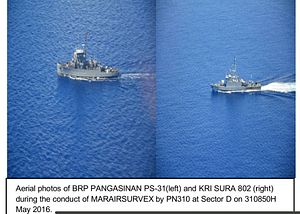 Late last month, the Philippines finalized plans for the construction of a new naval station in Sulu. Though specifics remain unclear at this early stage, the move reinforces the increasing importance Manila is placing on boosting its capabilities to address a wide range of security challenges, including those in the Sulu Sea.
As I have been noting in these pages, though the Sulu Sea has long been an area rife with a whole series of transnational challenges, there has been greater attention around it over the past few years. The overwhelming focus in the media has been on trilateral cooperation between Indonesia, Malaysia, and the Philippines (See: "Confronting Threats in the Sulu-Sulawesi Seas: Opportunities and Challenges").
Less in the headlines but equally if not more important, are national efforts being undertaken by each of these countries as well. For the Philippines, for instance, that has thus far included not only a series of exercises and patrols with individual countries, but also various moves taken by the Philippine Navy (PN) and the Philippine Coast Guard (PCG) in this respect (See: "Where is the Philippines Coast Guard in its Military Modernization?").
In another development in this space, late last month, plans were finalized for the construction of a new naval station in Sulu. According to the Philippines News Agency (PNA), the PN plans to construct a naval station in Barangay Bual, Luuk, a town in Sulu, based on a property donated by the municipal government of Luuk.
On February 23, a series of ceremonies marked the official launch of the idea, with the signing of a memorandum of agreement and deed of donation by the commander of Naval Forces Western Mindanao (Navforwem) Rear Admiral Rene Medina, Mayor Allayon Arbison Jr., and Sulu second district Rep. Munir Arbison, along with a groundbreaking ceremony and a medical and dental mission.
No further details were publicly disclosed about the new naval station or specific plans therein. And lest observers get carried away, it is worth noting that this is just a three-hectare area donated to the Philippine Navy. Additionally, there have been many instances in the Philippines of such basing ideas being hampered or delayed by a whole host of problems, ranging from inadequate funding to bureaucratic rivalry.
Nonetheless, the very fact that such developments are occurring is testament to the fact that the Philippine military is seriously looking at ways to boost its presence to tackle transnational threats in the Sulu Sea. Though the headlines may be overwhelmingly focused on in subregional endeavors like trilateral patrols, domestic efforts in this vein will continue to be important to watch as well.