'Asian Godfather' Li Ka-shing to Retire
Since Chinese President Xi Jinping came to power, Li has slowly but systematically withdrawn from China's market.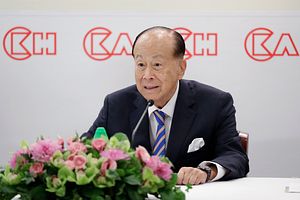 On March 16,  Li Ka-shing, Hong Kong's richest man, announced his retirement as chairman of CK Asset Holdings Limited — a multinational investment holding company mainly engaged in property businesses. It marks the end of his time as a legend — an "Asian godfather" according to Joe Studwell, the founding editor of the China Economic Quarterly — in the Asian business world.
The company said in its announcement that "Li has agreed to serve as Senior Advisor" and he will "continue to contribute to the Group on significant matters at an annual advisory fee of HK$5,000 [around $637], same as the Director's fee of HK$5,000 per annum before his retirement."
Li's eldest son, Li Tzar Kuoi or Victor, who has worked at the CK Group for 33 years, will take over Li's role as the company's chairman officially from May 10, the announcement added.
Li, who will turn 90 this coming July, held a press conference in Hong Kong on the same day. Though his chairman-to-be son stood next to him on the platform, Li held the stage most of the time.
"I've been working for a long time, too long," Li, who has worked as chairman for 46 years, told reporters. "I'm very happy and very honored that I have had this opportunity to lead the company."
Li has conveyed his intention to retire several times in the past few years. In an 2016 interview with Bloomberg Television, for example, Li said that "I could retire today if I wanted to, in the next five minutes or whenever." But he never followed through before.
Joe Studwell, in his book Asian Godfathers: Money and Power in Hong Kong and Southeast Asia, wrote that: "Until the system that creates tycoon economies changes, most godfathers will remain untouchable — just as their American equivalents were at the start of the Twentieth Century." According to Studwell, Li was one of those godfathers.
Specifically, Studwell noted that Li had been able to maintain a "cozy relationship" with China's central government even before Beijing's takeover of Hong Kong in 1997, since Li was appointed as a member of the Preparatory Committee that oversaw the handover.
In fact, Li's close ties with the Chinese Communist Party (CCP) can be traced long back to the Deng Xiaoping era. In 1986 and again in 1990, Deng had met with Li privately and praised his "patriotism." Former Chinese president Jiang Zemin also had close relations with Li. Jiang reportedly always chose to stay in Li's hotels whenever he visited Hong Kong.
Li's close relationship with the CCP was particularly noticeable in the immediate aftermath of the Tiananmen Square incident in June 1989. At the time, Li stated, "I was of course saddened [by the incident]. But, as a Chinese, China is my motherland. I love my country and my people, therefore no matter what happened, I am still willing to work for the future of my country."
Li's timely strong support to the CCP during such a critical moment was highly appreciated by Chinese leaders.
However, this "cozy relationship" turned somewhat awkward under Chinese President Xi Jinping, especially in recent years. Despite his well-known image as a pro-government businessman, Li has been actively mapping out his company's future by slowly but systematically withdrawing from the Chinese market (including Hong Kong) — while denying such a strategy in public.
The awkwardness reached its peak in 2015, when a magazine run by China's state news agency, Xinhua, published an article titled "Don't let Li Ka-shing flee."
In a rare move, Li launched a largescale PR campaign as a counter-reaction. In a series of face-to-face interviews with both Chinese media and foreign media, Li repeatedly explained that he didn't plan to "flee" from China. What he had been doing, he said, was simply rearranging the company portfolio according to the market.
To a degree, Li successfully dispelled the wave of criticism from Chinese media, but he didn't stop "rearranging the portfolio." As The Diplomat reported earlier, in November last year, Li finally sold one of his most important properties in Hong Kong —  the landmark skyscraper, The Center — for 40.2 billion Hong Kong dollars ($5.2 billion).
Even so, during the latest press conference, Li still emphasized that he hadn't withdrawn his money from China.
"No matter where we invest in, our money will come back to Hong Kong, to the mainland and to the country, and remain in the company," he said.