Inside the Minds of Afghanistan's Commandos
It's said Afghanistan's special forces have never lost a battle, but what do they think of the war?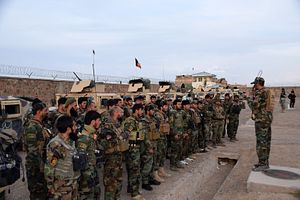 FARAHRUD, FARAH, AFGHANISTAN — Just before nightfall, a group of Afghan commandos approaches the high mud walls of a Taliban-held village behind Farahrud Bazaar in the western province of Farah. The alleys between the walls that enclose the houses yawn empty, but the appearance is deceptive. Two commandos place explosives on the back wall of one compound – the gate in the front might be mined and is not a safe way in. "Explosion, explosion, explosion," a commando calls through the dusk; a bang follows. The cloud of dust settles, revealing a hole in the wall.
Without hesitating, the commandos – one after another – enter the yard through the breach, going where no other Afghan government forces dare to go.
Increasing the Afghan National Army Commando Corps, an elite special operations force, is one of the key elements of the Afghan government's strategy to coerce insurgents to join peace negotiations. Other elements of this strategy, which was announced in 2017, are the evolution of the Afghan Air Force as well as the development of leadership, countering of corruption, and consolidation of unity of command within the Afghan security forces in general. This, paired with stepped-up U.S. advising and air support under the new U.S. strategy for South Asia, is meant to turn the tide in the grinding Afghan conflict.
However, while commandos are successful in many operations, the situation is more complicated than the official narrative, which often includes an emphasis on the alleged indomitability of the commandos. That narrative leaves out failures, problems, and the commandos' own ambiguous view of the conflict, as an embed with the 4th Commando Kandak (battalion) in early March showed.