Is Xi Flying Too Close to the Sun?
The Chinese leader's power grab may be undermining his party's long-term survival strategy.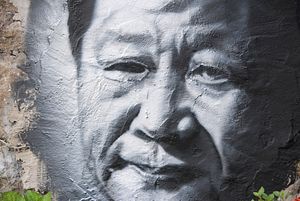 Chinese President Xi Jinping appears to be at the apex of his power. The leaders of the Chinese Communist Party (CCP) have signed off on the removal of presidential term limits, the country's rubber-stamp parliament approved the constitutional change almost unanimously, and it was greeted with fawning reactions from state media.
But even as censors work vigorously to scrub voices of dissent from the internet, there are already signs that Xi's audacious gamble for "stability" could ultimately backfire.
An Eruption of Online Ridicule
The sheer scale of the censorship and the content it has deleted points to a sizeable contingent of Chinese citizens who disagree with the removal of term limits. On February 25, when the pending change was first announced, data from Hong Kong University's Weiboscope project showed a spike in deletions on the popular Sina Weibo microblogging platform.
Much of the dissent has come in the form of ridicule aimed directly at Xi. The most prominent memes include portrayals of Xi as Winnie the Pooh — either wearing a crown or refusing to let go of a honey pot — and facetious greetings from past imperial rulers to the new Chinese emperor. Other critics have used metaphors to avoid censorship, making references to moving backward, dating a boyfriend forever, or how passengers should respond to a driver working extra shifts. Besides social media, such mockery has appeared in online videos, banners on college campuses, and as replies on the popular Q&A app Zhihu.
Some netizen humor has spread beyond the term-limit issue to the broader political theater of the National People's Congress, China's parliament, which passed the amendment as part of its two-week annual session. This is best epitomized by a viral video clip of a reporter rolling her eyes at a colleague's doctrinaire question during the congress session. A whole new generation of eye-rolling memes was thus born. Users hailed the reporter's candid reaction for capturing their own frustrations, calling it "an eye-rolling representing all people who don't dare to do so."
Angering the Apolitical
The combined weight of the term-limit announcement and the related censorship have provoked concerns and resentment among a wide swath of Chinese citizens who might otherwise consider themselves apolitical. These people are now expressing their worries about China's direction to acquaintances and looking for ways around censorship.
Numerous foreign and Chinese observers have noted the stunned reaction of many ordinary people to the news, using words like "shock," "betrayal," and "regression." A statement by overseas students describes how "even the least politically savvy people among our friends started to express their doubt, disapproval, and anger on social media."
One of the censorship tactics that appears to have expanded dramatically in recent weeks is the deletion of accounts of people who voice or share criticism, as opposed to deletion of the offending posts. This punishment was previously reserved for more outspoken activists. A 19-year-old coder was detained for developing a tool to help people whose accounts were deleted find each other. He spoke of the phenomenon to the Globe and Mail in military terms, saying, "I can't tell you how many people in my friend circle were bombed, there are so, so many. I can't count it." His tool was reportedly downloaded 240,000 times within 12 hours, implying a massive purge of accounts.
Student Dissent
Crucially, objections to the constitutional change have spread among Chinese students at foreign universities, who represent the children of China's middle and upper classes. A poster campaign on college campuses was first spotted on March 1 at the University of California in San Diego. Three weeks later, Freedom House researchers found references to the critical posters appearing at 40 universities in 10 countries across North America, Europe, and the Asia-Pacific region, including one in China's Shanxi Province and two in Hong Kong. Many of these universities are among the world's most prominent academic institutions and home to large numbers of Chinese students.
In some cases dissent has even been visible among Chinese professors. One photo that circulated online shows law professors from Beijing University rolling their eyes. A post of the image on Twitter notes that it has gone viral, and that the eye-rolling was in reference not just to the obsequious news coverage of the congress session but also to the term-limit abolition itself: "Xi Jinping rolled China's political system back to 40 years ago, in order to fulfill his own 'China Dream.' The only thing people can do is roll their eyes."
All the Power, All the Blame
Expressions of dissent like those noted above are not without risk. Fearing reprisals against themselves and their families in China, students promoting the university poster campaign have sought to remain anonymous and advised those hanging posters to do so under cover of darkness, even when wearing masks. The 19-year-old coder who was detained also had blood taken during his questioning, apparently for entry into a DNA database of "people of concern." And there have been various other reports of people who posted criticism or mockery online being detained by police in recent weeks.
But even as such repression removes visible signs of dissent, it poses its own risks for Xi and the CCP. A 2015 Freedom House report on the first two years of Xi's rule noted his early steps to dispense with various "survival strategies" and adaptations made by the party in the aftermath of prodemocracy protests and their violent suppression in 1989. Political scientists have credited those very strategies for the CCP's political longevity to date.
Among them were forms of "containment" in which the party sought to limit both the scope of its repression and the blame for any abuses. For example, by decentralizing and diversifying policymaking via more collective leadership within the CCP, the party was able to blame shortcomings and even systemic abuses on lower-level officials or individual scapegoats, preserving its overall legitimacy. As Xi amasses personal power and the party increases control over state agencies as part of a government shake-up, however, the space for such plausible deniability shrinks. If (or perhaps when) a serious crisis erupts — in the economy, the environment, public health, or security — Xi and the party as a whole are more likely to be blamed by the public. Similarly, as the scope of repression and censorship expands to affect more and more people, the number of those feeling disillusioned, disempowered, or resentful toward the party is also likely to increase.
In the immediate term, Xi's hold on power may appear to be as secure as ever. But if the recent rumblings of dissent and the ever-expanding effort to suppress them are any indication, then Xi and the CCP may encounter trouble sooner than they would like.
Sarah Cook is a senior research analyst for East Asia at Freedom House and director of its China Media Bulletin. Alexander Lin, a graduate student at New York University, provided research assistance for this article.