Japan Considering New Anti-Ship Missiles for its Southwestern Islands
Move part of Japanese fortification of first island chain against Chinese fleets.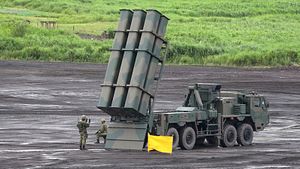 Japan is considering deploying anti-ship cruise missiles to Okinawa's main island. In combination with earlier plans to deploy anti-ship missiles to several other of Japan's southwestern islands, these additional missile batteries would help Japan seal one of the major routes the Chinese navy would need to break out into the western Pacific in the event of a conflict.
Government sources told the Asahi Shimbun proposals are being developed to deploy a battery of Type 12 anti-ship missiles to Okinawa-jima. The same anti-ship missiles, along with air-defense missiles, are already set to be deployed to three other of Japan's southwestern islands, Miyako-jima, Ishigaki-shima, and Anami-Oshima.
The 150-nautical mile Miyako Strait stretches between Miyako-jima and Okinawa-jima. It is the largest gap in the northern part of the so-called first island chain that traces from Japan south through the Philippine archipelago and encircles China's entire coast. Since the Type 12's range is reported as approximately 100 nautical miles, only having missiles on Miyako would leave a gap that China's surface fleet could exploit in a conflict. Putting missiles on both ends of the straight with overlapping ranges presents a much greater challenge if that fleet needed to break through the first island chain to operate in the wider western Pacific.
Regular transits and exercises through the strait by its navy and air force demonstrate the importance China places on the strait. Last year China sent several flotillas through the strait as part of exercises in the western Pacific, and Japan scrambled fighters to monitor naval and air force jets flying east through the passage. In late 2016, China's first aircraft carrier and its escorting warships passed through the strait as part of its first extensive combat exercises. The transits are mostly political demonstrations, however, since unopposed exercise transits through international waters do not suggest how China would fare while being targeted by Japanese missile batteries.
In 2016, Japan opened a radar station on Yonaguni-shima, the furthest of its southwestern islands. From there Japan can monitor the uninhabited Senkaku islands 80 nautical miles to the north. China disputes Japan's administration of those islands, which it calls the Diaoyus, and regularly sends fishing vessels, paramilitary ships, law enforcement vessels, and occasionally naval vessels, near or through the territorial waters around the islands.
But in addition to its view of the Senkakus, the Yonaguni radar's placement midway between the 100-nautical mile gap between Ishigaki-shima and the northern tip of Taiwan also gives Japan coverage over the seam between Japanese and Taiwan territories. While the Miyako strait generally receives more attention, China has long sought to exploit the gap between Ishigaki and Taiwan as a route to the western Pacific as well. The radar installation, in combination with new missile batteries headed to Ishigaki-shima thus reinforce what might otherwise be a "chink" in the first island chain.
While Japan has long deployed truck-mounted anti-ship missiles, its close ally the United States has not. As they consider how to counter the growing size and capability of China's fleet, both countries are looking at how to leverage the geographic advantage the first island chain provides against China's ability to project power beyond its near seas.
This summer, the Japanese Ground Self Defense Force and the U.S. Army will sink a target ship using coastal defense anti-ship missiles at this year's Rim of the Pacific exercise in Hawaii. The U.S. Army and U.S. Marine Corps are both experimenting with concepts to leverage land-based power against offshore fleets. For its part, Japan is reportedly looking to build a new generation of more capable, longer-ranged anti-ship missiles. But as word of these new missile batteries for Okinawa indicates, Japan isn't waiting for future technology to implement an archipelagic defense strategy that would keep China's fleets bottled up inside the first island chain today.