Japan's Unemployment Rate Drops to Uncharted Territory
Japan's jobless rate for January improved by 0.3 percent, squeezing the labor force to maximum participation.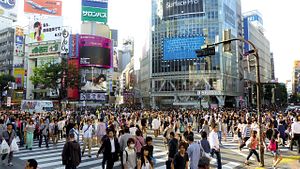 Last Friday, Japan's Ministry of Internal Affairs and Communications announced that the unemployment rate for January had fallen to 2.4 percent, down 0.3 percent from the previous two months. That marked the lowest rate in 24 years. The jobs-per-person ratio also jumped to a level not seen since the 1970s, with 159 jobs per 100 people.
The government's structural reforms, encouraging women and elderly citizens to return to work, have successfully attracted an additional 920,000 new workers to the labor force, compared to data the same time last year. Although the prime working population, aged between 16 and 64, has been shrinking for 61 consecutive months, the number of people entering the workforce has been steadily climbing. The director of the German Institute for Japanese Studies, Professor Franz Waldenberger, highlights that Japan's economy is being stretched beyond statistical "full employment" to an unprecedented extent. The world's third largest economy currently employs 65,600,000 people, and although approximately 30 percent of the population is over the age of 65, more than half of people within the 65-69 age bracket are currently working. Waldenberger says business cycle unemployment is now a thing of the past and the job market is so tight that employment is no longer susceptible to cyclical fluctuations.
Tokyo is rife with visible signs of a labor crisis. Job advertisements plastered on the windows of restaurants, retailers, and train stations – all desperate for new staff – are a staple of the urban landscape. In particular, workers from labor intensive fields and low-skilled job hunters are spoiled for choice. With eight consecutive quarters of modest economic growth, booming sectors such as construction are struggling to maintain a steady inflow of workers to keep up with surging demand stemming from the rebuilding of the disaster-affected Tohoko region and projects linked to the 2020 Olympics.
Waldenberger says that, given the tightest labor market on record, the sluggish wage growth in Japan is a puzzling issue. Throughout Prime Minister Shinzo Abe's six-year term, he has urged large companies to lift wages by 3 percent in a bid to achieve 2 percent annualized inflation. "Abenomics" prioritized relieving deflation through a powerful monetary stimulus. The ambitious plan, headed by Bank of Japan Governor Haruhiko Kuroda, sought unsuccessfully to eliminate Japan's 15-year run of deflation in a two year period, and has been continuously prolonged for five years.
Since monetary easing was first introduced in 2013, the minimum wage has seen minor increases amounting to 11 percent over four years. However, in the current absence of strong labor unions representing workers' rights or pressuring for higher wages, companies can cut corners and pay below minimum wage by simply requesting overtime or extra work.
For labor-strapped companies, investing in labor automation is a popular choice, as it allows employers to cut labor costs rather than beefing up employee pay packets. In Tokyo, supermarkets are adapting to the lack of personnel by introducing automated cash registers while family restaurants and delivery services are cutting back business hours.
Waldenberger says there is tendency for companies to hoard profits as a buffer for bad times, in which case deflation is a "symptom" rather than a "cause" behind sluggish wage growth.
On Monday, the BOJ announced they will consider an exit strategy from the unprecedented monetary stimulus program in April 2019. However, the following day BOJ Governor Kuroda clarified that the timing was not set in stone and it would be dependent on "cautiously" avoiding a trigger in long-term interest rates that could harm the economy and cause price shocks.