Journalism in Kyrgyzstan: Shoot the Messenger?
Pressure on the press has increased in Central Asia's so-called island of democracy.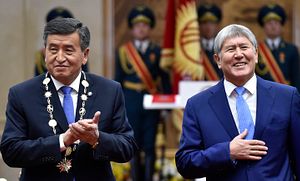 On March 6, Kyrgyzstan's President Sooronbay Jeenbekov invited 40 representatives of the national media to a meeting at the state residence Ala Archa, located approximately 10 kilometers southwest of Bishkek. For more than two hours, the new president — whose election in October 2017 marked Central Asia's first peaceful handover of power from one democratically elected leader to another — answered questions from journalists on a variety of subjects, including corruption, reform of the judiciary and law enforcement agencies, and freedom of speech. The event was viewed by many as an attempt to defuse tension between the executive and the media, following the notable deterioration of the country's media environment in the run up to last year's presidential election.
"Obviously, it is very positive that this meeting happened at all," Dina Maslova, co-founder of the independent Kaktus Media website and one of the attendees, told The Diplomat. "Now we need to see whether Jeenbekov keeps his word about upholding freedom of speech."
Maslova has every reason to be cautious: along with her colleague Naryn Aiyp, a veteran journalist, she has been sued for a combined 27 million Kyrgyz som (about $400,000) by former President Almazbek Atambayev. In a country where the average monthly wage in 2017 was $222, these are colossal sums. As a result, their co-owned website Zanoza.kg went bankrupt and Kaktus Media was born from its ashes.
Maslova and Aiyp, however, have been left with a massive bill to foot. "I don't think money is the aim here, though. The point is to destroy independent media," she continues. "You sue some to intimidate everyone else, so that they won't air criticism or give space to opposition politicians. Either that, or you'll be shut down by multimillion [som] lawsuits. The result is obvious: the level of self-censorship has increased significantly inside the country, it's clear in what is being reported and how."
Freedom of speech has a checkered history in Kyrgyzstan, a country that prides itself on being Central Asia's island of democracy. It hit rock bottom after President Kurmanbek Bakiyev's re-election in summer 2009, when apart from a string of outlets being forced to close or refused registration, journalists critical of the government were subjected to harassment, intimidation, violent attacks — or worse. In one high profile case, opposition journalist Gennady Pavliuk died after being thrown from the sixth floor of a highrise in Almaty, in neighboring Kazakhstan, with his hands and feet tied behind his back. At the time of his murder, he was believed to be working on opening a web portal critical of Bakiyev.
After Bakiyev's outster in a popular uprising in April 2010 and Atambayev's election the following year, hopes were high that the new president would protect fundamental rights and freedoms, given the heavy price in blood and treasure paid by ordinary people in what became known as the April revolution. While many problems remained, the media environment in the country was relaxed enough for some independent journalism to flourish and for journalists to feel relatively safe doing their jobs.
However, this changed swiftly in 2017. As Kyrgyzstan entered an election year, then-incumbent President Atambayev launched into a campaign to silence dissenting voices and clear the ground for his hand-picked candidate — Jeenbekov — to win the presidency. At a ceremony for the presentation of credentials by the ambassadors of several countries in mid-March last year, Atambayev lashed out at "rotten politicians and journalists," arguing that "we cannot be deceived by their words and once again give away our priceless Homeland into the hands of these inciters, deceivers, and unthinking slaves; we cannot trust the rumours they are spreading."
Atambayev's comment were in tune with the year's trend and set the scene for the rest of it. Multimillion som lawsuits were slapped on media outlets, journalists, and civil society activists, while fraud and corruption charges targeted prominent opposition politicians, including likely contenders in the election. In one particularly glaring example, the head of the opposition Ata-Meken party, Omurbek Tekebayev, was sentenced to eight years in jail for corruption two months ahead of the presidential ballot. In another, journalist Ulugbek Babakulov was forced into exile after receiving death threats due to his reporting on incitement against Uzbeks on Kyrgyz-language social media. He believes the smear campaign that finally compelled him to flee the country was also directly linked to his opposition to Jeenbekov's candidacy.
Already on the campaign trail, Jeenbekov followed suit, suing online news site 24.kg and journalist Kabay Karabekov for 5 million Kyrgyz som ($73,500) each for moral damages, due to an article alleging close ties between the Jeenbekov brothers and radical Arab organizations. Once elected, Jeenbekov predictably won his court case. He then dropped his claim against 24.kg, but only after the site published an apology and retraction of the article's content. "This has become a trend," Maslova intimates. "Atambayev showed the way for others to follow: how to use the power structures and the courts against journalists."
And follow they did.
The Case Against Elnura Alkanova
Elnura Alkanova almost stumbled into journalism. After completing a degree in international relations at the Diplomatic Academy in Bishkek, she volunteered for the independent news site Kloop.kg in summer 2015, while waiting for her diploma. The short gig turned into a job, and soon Alkanova was showing real flair for investigative stories.
In 2015, she investigated the alleged appropriation of 16 million Kyrgyz som (then about $267,000) by Nurmahammat Bayakhunov, Novo-Pokrovka village head and a member of the president's Social Democratic Party (SDPK), from more than 2,000 poor and disabled members of the Nur Kuch association to build affordable housing in the village. Although a criminal case was opened following Alkanova's reporting, given Kyrgyzstan's notoriously corrupt judiciary and its lack of independence from the executive, Bayakhunov was eventually cleared of all charges.
From there, Alkanova worked with the Organized Crime and Corruption Reporting Project in Kyrgyzstan, as well as Bosnia and Herzegovina through 2016. Upon returning to Bishkek in January 2017, she went from strength to strength, investigating stories of high-level corruption, first with a team at Azattyk, the Kyrgyz-language RFE/RL service, and then as a freelancer for the regional media portal Fergana News.
Her legal trouble started when, in a two-part investigation published on Fergana between October and November 2017, she revealed the backdrop to the auctioning off of the Ideal House compound adjacent to the Ala Archa state residence. A pet project of President Bakiyev's son Maksim, Ideal House comprises 48 luxury villas built on 12.5 hectares of prime land, which was nationalized following the April 2010 revolution. Ideal House was purchased by the up-to-then unknown company Vostok-Tekh-Komplekt LLC at the knocked-down price of $2 million, causing a public outcry in the country.
According to a document Alkanova obtained, Vostok-Tekh-Komplekt LLC was revealed to be but a front for Temir Ryskulov, head of the Kyrgyz branch of BTA Bank, a major Kazakh bank. In turn, Ryskulov was said to be a childhood friend and schoolmate of current Prime Minister Sapar Isakov, whose brother Kapar had also been appointed adviser to the chairman of the board of BTA Bank at the time of the auction. In short, Alkanova was directly linking the acting prime minister, his brother, and close associates to the privatization of the luxury compound at a scandalously reduced price.
After part two of the investigation was aired, the response from the authorities was firm. During a press conference, Isakov denied having attended the same school as Ryskulov. The Public Prosecutor's Office doubled down with a public statement that a thorough probe into the matter had cleared the prime minister, his relatives, and his close associates of any wrongdoing, a message echoed for days on end in state media. Instead, criminal proceedings were initiated against Alkanova in December 2017 for unlawful disclosure of information that constitutes bank secrets.
"When I first went to see the Financial Police investigators, I was repeatedly asked to reveal who my source was," Alkanova told The Diplomat, referring to a former BTA Bank employee who, in the second part of her feature, confirmed the connection between Ryskulov, Isakov, and his brother. Investigators believe that the source also gave her the list of legal entities affiliated to bank officials, where Vostok-Tekh-Komplekt LLC is linked to Ryskulov, and which Alkanova is now accused of illegally obtaining and divulging.
"You see, during Bakiyev's time, journalists were killed, like Gennady Pavliuk," she continues. "Now the authorities silence you by putting you out of work, but the result is the same. They either bankrupt you, or they try to destroy your sources, the bond of trust between you and them — because without our sources, we journalists are nothing. It's difficult for me, but I am a public figure and people, activists and even international watchdogs, have come out in my support. Sources instead work in the shadow, so they can be put under tremendous pressure."
On February 13, 2018, Alkanova was officially charged and, if found guilty, she faces up to three years in jail.
Kaktus Media's Maslova stresses that "with Alkanova, it isn't money. She is threatened with jail time, so this is a totally different level of violation."
Still, following the meeting at the state residence, Maslova is ready to give President Jeenbekov the benefit of the doubt. "It seems to me that there is a bit of a thaw with the new president. At least, he withdrew his claim against 24.kg, although the one against Karabekov is still standing. During the meeting, he said that freedom of speech is the engine of society's development and that he doesn't want to limit the media, but that the latter need to take responsibility for what they say and write. I guess the real test will be how he applies this balance in practice."
Alkanova's case may just be that test.
Franco Galdini is a freelance journalist and producer specializing in the Middle East and Central Asia, where he has lived on and off since 2000.