Kok Boru and Nowruz in Kyrgyzstan
The highly anticipated traditions of Nowruz converge with Kyrgyzstan's most important sport, Kok Boru, to usher in the new year.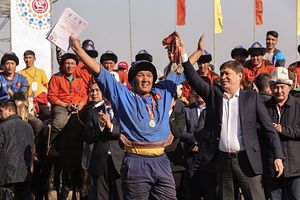 Celebrated by 300 million people across Central Asia, the Caucasus, and parts of the Middle East, the Persian holiday of Nowruz or "new day" symbolizes the beginning of the new year and the emergence of spring. Each country has developed its own unique customs to celebrate the holiday, which lasts for approximately two weeks. The celebration of Nowruz was officially forbidden and suppressed during the Soviet period but has become wildly popular over the last decade in Central Asia.

In Kyrgyzstan, from the capital city of Bishkek to the most far-flung mountain villages, Nowruz is centered around the national pastime sport of Kok Boru (known as Kokpar in Kazakhstan and Buzkashi in Afghanistan). This traditional nomadic game primarily played by men constitutes an important dimension of Kyrgyzstan's cultural heritage and has developed into a core cultural export for the country.
Last December, the sport was officially inscribed into UNESCO's representative list of the Intangible Heritage of Humanity and this year marks the 20th anniversary of the formal establishment of the National Kok Boru Federation.
Around the country, in Bishkek and in villages, numerous Kyrgyz families come together to prepare for Nowruz feasts while Kok Boru players prepare for their matches the following day. After the matches are finished in the early afternoon, people flock back to continue celebrating Nowruz until the early hours of the morning.
Nicholas Muller is an American photojournalist and writer currently covering the post-Soviet space with past stints in Egypt, Cameroon, and the GCC region focused on international affairs and migration topics.