Kyrgyzstan Out, Central Asia In: Parsing CENTCOM's 2018 Posture Statement
With a new South Asia strategy guiding operations, how does Central Asia figure into CENTCOM's activities?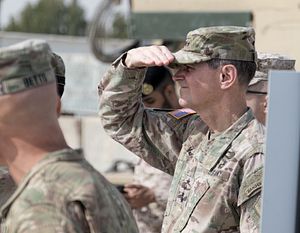 It's springtime once more in Washington, and with the season change comes the annual U.S. Central Command posture statement, delivered to the Senate Armed Service Committee. The command's region stretches from the Middle East to South Asia and up into Central Asia. That means CENTCOM oversees some of the the U.S. military's most active endeavors, namely Iraq, Syria, and Afghanistan.
As in past years, the statement serves as an overview of U.S. military interests and activities in the region. A review of this year's statement (with special attention to Central Asia, because that's our beat here at Crossroad Asia), reveals ongoing concerns about the influence of Russia and China and Central Asia's advantageous positioning as a partner in the war in Afghanistan, which once again has become CENTCOM's "main effort."
Thankfully, unlike last year's statement, this year CENTCOM commander Gen. Joseph Votel's prepared statement left out kiddish language calling the "Central Region" a "fascinating area of the world" and instead presents rather stark comments about U.S. relations with Central Asian partners.
The statement's language on Russia and China largely repeats past complaints: Russia has "significant influence in Central Asia, where the countries of the former Soviet Union rely on Russia to varying degrees for their economic and security needs;" and China is "increasingly assertive" and "seeks to capitalize on regional concerns over what it perceives as waning U.S. influence and support."
What's new is the official confirmation that the U.S.-Kyrgyzstan security relationship has deteriorated since 2014, when the Americans left the Manas Transit Center and the bilateral defense cooperation agreement ended. "The Kyrgyz Republic has increasingly aligned its interests with Russia and China," the statement reads, going on to note that while the Kyrgyz military has a "desire to improve military-to-military cooperation with CENTCOM, Kyrgyz senior civilian leaders have shown little interest in improving military relations."
Looking back at how the U.S. relationship with Kyrgyzstan was discussed in previous posture statements, the change is stark.
The 2012 and 2013 statements both referred to Kyrgyzstan as "a key partner for U.S. efforts in Afghanistan and the region." Earlier statements noted Kyrgyzstan among other Central Asian partners in context of the Northern Distribution Network (NDN.) The 2009 statement — issued when then-Kyrgyz President Kurmanbek Bakiyev was waffling on whether to kick the Americans out or not — emphasized that while the NDN decreased U.S. "exposure to risks associated with our supply lines running through Pakistan" losing Manas "would be disappointing but would not constitute a serious impediment to Coalition operations in Afghanistan."
Jump forward nearly a decade, and the United States may very well be keen on reviving an NDN-like network for the same reasons as the first iteration was developed: trouble with Pakistan.
A notable feature of the Trump administration's South Asia strategy is strident language about Pakistan's responsibilities in combating regional terrorism. While the posture statement, for example, acknowledged that Pakistan "has made many sacrifices in the war against terrorism" it also goes on to state categorically that "Taliban and Haqqani leadership and fighters continue to find sanctuary in Pakistan."
Subsequent to the unveiling of the South Asia strategy last August, the United States suspended most security assistance to Pakistan. The latest posture statement, after a lengthy discussion of Pakistan, notes: "We use ground and air routes in Pakistan to deliver materiel to Afghanistan. However we also have options to utilize routes through the other Central Asian nations."
Certainly not Kyrgyzstan, it seems, but Afghanistan has other Central Asian neighbors.
Take Turkmenistan, for example. While Ashgabat's "positive neutrality" discounts the possibility of tight military cooperation with the United States in the traditional fashion, the past two posture statements have demonstrated increasing U.S. attempts to nevertheless work with Turkmenistan. This year, CENTCOM says Turkmenistan "is an important nation due to its strategic geographic location between Europe and Afghanistan." On the other side of the Caspian Sea from Turkmenistan is Azerbaijan, bordered by Georgia, sitting on the Black Sea.
Kazakhstan also borders the Caspian Sea and recently approved an agreement to allow the United States access to two of its Caspian ports — Aktau and Kuryk — as transit points to ship nonmilitary material to Afghanistan. In the posture statement, Astana is dubbed the United States' "most advanced military relationship" in the region. The statement also drops the name of Kazakhstan's foreign policy strategy — multivector — in noting that "Kazakhstan looks to the U.S. to balance, not replace, Russian and Chinese influence…  which allows more security cooperation possibilities."
If the Pakistan route gets cut off — like it did in 2011-2012 — one can imagine the Caspian road as an expensive, but viable, path for the redux of an expanding war in Afghanistan.