Loving Vietnam, Criticizing Cambodia: Trump's Double Standard in Southeast Asia.
U.S. President Donald Trump has a double standard for human rights in Vietnam. And it makes strategic sense.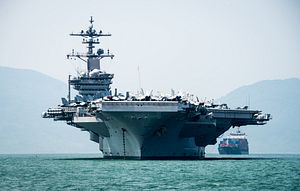 As the U.S. aircraft carrier USS Carl Vinson headed to Da Nang on a "historic visit," Vietnamese newspapers exploded with excitement. They explained almost the entire history and stature of the Vinson. The carrier visit, they argued, could be considered the most convincing evidence of America's commitment to Vietnam.
But such joy did not spread to Hanoi's neighbor, Phnom Penh. While Vietnam welcomed American sailors, Cambodia was suffering Washington's criticism from afar. On February 27, in response to a question regarding the U.S. decision to cut about $8 million in aid to Cambodia, White House Press Secretary Sarah Huckabee Sanders referred to Cambodia's recent elections as failing "to represent the genuine will of the Cambodian people."
These two events — the cutting of aid to Cambodia for a democratic setback and the sailing of the Carl Vinson into Da Nang — reflect the fact that the Trump administration has a double standard in Southeast Asia when it comes to the traditionally American mantra of promoting democracy. The Trump administration, while castigating Cambodia, is also ignoring Vietnam's democratic and human rights record.
During his visit last November to Da Nang for the Asia-Pacific Economic Cooperation (APEC) Leaders' Week, Trump did not mention Trinh Xuan Thanh. At the time, Germany — a close U.S. ally — had expelled Vietnamese diplomats over the so-called Cold War-style abduction of Trinh Xuan Thanh, a businessman who was wanted in Vietnam for financial mismanagement.
As Trump was being welcomed in Vietnam, his wife, Melania Trump, was visiting China. Was it because the zoos in Beijing were so attractive to her? Absolutely not. In March, the First Lady had awarded the U.S. State Department's International Women of Courage Award to a group of women, including to Nguyen Ngoc Nhu Quynh, known as "Me Nam" (Mother Mushroom), one of Vietnam's most prominent activists. At the time, Mother Mushroom was in jail, having been sentenced to 10 years for allegedly publishing anti-state propaganda. Her 10-year-old daughter called on Melania for help ahead of the president's visit to Vietnam. So, Melania went to China instead of Vietnam.
So why the double standard?
In the South China Sea, the Philippines was once considered a trusted U.S. ally. But given the unpredictable behavior of Philippine President Rodrigo Duterte and his occasional outbursts of anti-Americanism, Manila is not the best choice for an ally to peg U.S. policy in the region on. Instead, considering both the present political reality and historical perspective in Southeast Asia, Vietnam is the ideal (and, frankly, the only) partner willing to face off against China over its claims in the disputed waters of the South China Sea.
But that is not the only reason Vietnam is attractive to the United States. In January, U.S. Secretary of Defense Jim Mattis' visit was followed by that of his Russian counterpart, Sergei Shoigu. Careful balancing is still Vietnam's core foreign policy. That means the Trump administration has to constantly compete with Russia when it comes to influencing Vietnam to maintain its presence in the South China Sea, and counter China as well.
For Vietnam, Russia may be a more attractive partner than the United States for a number of reasons. One of the most important reasons is that Russia's provision of military items comes without domestic political stings. "An important feature of Russia as a provider of arms is that it does not demand in exchange any sort of political alignment or any domestic changes to Vietnam's system," writes Anton Tsvetov, former media and government relations manager at the Moscow-based foreign policy think tank Russian International Affairs Council (RIAC) and a Southeast Asian affairs analyst.
Meanwhile, China also has a similar approach to Vietnam. Given Hanoi's foreign affairs flexibility, it will not be surprising if Vietnam is visited by Chinese naval ships, according to regional expert Carl Thayer. Thayer, who has been closely studying Vietnam's politics and the South China Sea, argues that the USS Carl Vinson represents an evolution in military engagement between Vietnam and the United States but does not mean Hanoi is joining Washington to oppose Beijing.
Having said that, geopolitical competition is still a game of persistence. That means the United States has to temporarily put aside some of its concerns over human rights in Vietnam to gain dominance over Russia and China.
Du Nhat Dang is a Vietnamese reporter who works for Tuoi Tre newspaper in Vietnam. He graduated from the Faculty of Journalism and Communication, University of Social Sciences and Humanities in Ho Chi Minh City. He is a fellow at the Reporting ASEAN program, which supports articles about ASEAN.