The Truth About US-China Competition in Cambodia
A closer look at the broader context for Phnom Penh's shifting alignments as its domestic politics evolves.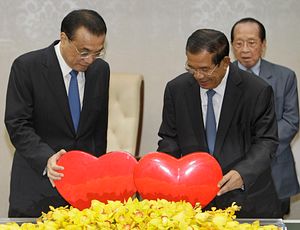 It's been yet another active week for Cambodia's foreign relations, with the United States finally announcing expected aid cuts on Phnom Penh and Prime Minister Hun Sen playing up military assistance from China ahead of scheduled defense exercises. The developments, and the Cambodian government's reactions to them, fit into a continued pattern of the interplay between Phnom Penh's domestic politics and the interactions with – and the dynamics between – Washington and Beijing.
It has been common for U.S.-China dynamics in Southeast Asia to be subject to gross exaggeration and great oversimplification over the years. The richer set of alignments of Southeast Asian states tend to be caricatured as being focused on Washington and Beijing alone; individual developments are often dramatized as indicators of broader strategic shifts; and temporary perceived gains or setbacks for China and the United States in individual capitals tend to be seized upon to advance narratives around China's dominance or America's decline, both of which are overstated.
That said, U.S.-Chinese competition is a variable in Southeast Asia, and Cambodia has been a locus for that competition in recent years. Concern for U.S. policymakers had initially been around the general notion that Phnom Penh's growing dependence on China was leading to shifts in its foreign policy. That was evident in individual events — such as in 2010, when China stepped in to provide Cambodia with military trucks after Washington canceled a similar shipment when the Cambodian government deported a group of Uyghurs back to China — or more strategic developments such as Phnom Penh's obstructionist role on the South China Sea, most evident during its ASEAN chairmanship in 2012 (See: "Cambodia and the South China Sea: Between China and ASEAN").
Those concerns have significantly deepened over the past year or two. The key driver here has been the perception among some in the ruling Cambodian People Party (CPP) that unless unprecedented measures were taken to shore up support for the ruling party and undermine the opposition, the CPP risked being voted out of power in general elections in July 2018. Amid a seemingly neverending list of repressive actions, Hun Sen has tended to lean much further toward Beijing, which tends to care little about Phnom Penh's greater drift toward authoritarianism, rather than Washington, which does have concerns about the political repression. The result has been a series of actions not seen before, including the suspension of U.S. exercises (See: "Why Did Cambodia Downgrade US Military Ties Again?").
This week, we saw yet another round of U.S.-China Cambodia dynamics. On Wednesday, as expected, the White House finally announced it was suspending or cutting several assistance programs supporting the Cambodian government due to a string of setbacks to democracy and human rights. The White House announcement was carefully calibrated to suggest that the acts were directed at the Cambodian government rather than the Cambodian people. It also came as the European Union also threatened the Cambodian government with specific targeted measures as well.
That calibration unsurprisingly was not reciprocated by the Cambodian government. Phay Siphan, spokesman of Cambodia's Council on Ministers, said on his Facebook page it was "sad and shocking" that Western countries were cutting development assistance to Cambodia, calling it "nothing short of an insult to Cambodians" and recalling "bad memories" of Western governments' intervention in Cambodia's internal affairs. Headlines also focused on the fact that Hun Sen, meanwhile, had been bragging about the import of thousands of tons of weaponry from an unspecified country that had occurred overnight, believed to be China.
The response was predictable. With elections approaching, Cambodian officials have found it in their interest to on the one hand incorrectly paint moves by Western countries in response to the Cambodian government's repression as being targeted at the Cambodian people in order to create a "rally around the flag effect," while on the other hand advertising closer links with other countries like China to play up the government's legitimacy. Some degree of playing up the U.S.-China competition narrative also benefits Phnom Penh as it does other regional states: it can incentivize the provision of more carrots and impose costs on the employment of sticks by both parties.
The key questions lie further ahead. Though the outcome of the election in July may be a forgone conclusion, how the Cambodian people respond is not. It is also far from clear to what extent the CPP will adjust its domestic and foreign policies after its expected consolidation of power. Though Hun Sen has long been adroit in keeping power at home and balancing various foreign powers abroad, some of the steps taken this time around are not entirely reversible. Plus, there are other variables at play here, including longer-term succession issues.
As we see some of the usual tea-leaf reading, it will be important to look not just at how Cambodia approaches Beijing and Washington, but how the CPP handles other important foreign alignments, be it with neighboring Southeast Asian states, like Vietnam, which continue to retain significant influence in Cambodia, or other regional powers like Japan, which exert their own influence in different ways from China or the United States. U.S.-China competition isn't just about the United States and China, and Cambodia is no exception to that rule.