US-Philippines Defense Ties in the Spotlight with Submarine Visit
The visit is yet another testament to the active bilateral defense engagement between the two sides despite ongoing challenges.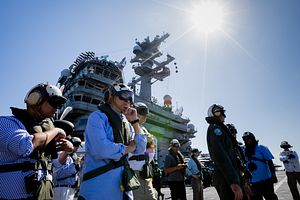 This week, a U.S. submarine docked in the Philippines amid an active few weeks for the U.S.-Philippine alliance. The engagement is testament to a bilateral defense relationship that is on the uptick despite some lingering challenges under new Philippine President Rodrigo Duterte.
As I have noted repeatedly in these pages, though the U.S.-Philippine defense relationship has had a bit of a rocky start since Duterte took office, at the same time, a confluence of events, including a change of personnel managing the relationship as well as ongoing developments such as the siege by Islamic State militants in the southern city of Marawi, had added some momentum to ties as well. Indeed, there were indications in 2017 that there could even be further boosts in this realm into 2018 as well (See: "What Will US-Philippine Military Exercises Look Like in 2018?").
2018 has certainly witnessed a lot of activity with respect to the defense realm of the alliance thus far. Some of the developments over the past few months have been routine, quiet advancements in the U.S.-Philippine alliance that, though important, often go unreported, from discussions on countering terrorism and transnational organized crime to ongoing deliveries of military equipment for the Armed Forces of the Philippines (AFP).
A few others have been dominating the headlines. Among these has been the visit of the USS Carl Vinson in the Philippines, which saw Philippine officials board the vessel in an engagement that was significant even though it was dwarfed by the historic voyage to Vietnam (See: "Why a First US Aircraft Carrier Vietnam Visit Matters"). There had also been some challenges, including fallout regarding the U.S. Worldwide Threat Assessment report's mentioning of Duterte as among the threats to democracy in Southeast Asia as well as lingering concerns about how the Philippines is approaching its relationship with China and implications for the broader region and U.S. policy (See: "Beware the Illusion of China-Philippines South China Sea Breakthroughs").
This week, amid that high level of alliance activity, a U.S. submarine docked in the Philippines. The Los Angeles-class attack submarine USS Bremerton (SSN 698) arrived at Subic Bay Freeport Zone on March 1 for what was described as a routine port visit during its deployment in the Indo-Pacific region.
Few additional details were publicly provided on the engagement. A U.S. government press release did note that this was the Bremerton's ninth visit to Subic Bay in it 37 year history, and it will also be the final one as it is set to be decommissioned later this year.