Uzbek Judge Grants Defendant's Request to Investigate Torture Allegation
Jailed Uzbek journalist Bobomurod Abdullayev claims he was tortured and a judge agreed to grant his petition for an expert's examination.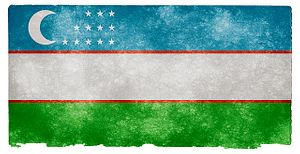 On March 7, prominent Uzbek journalist Bobomurod Abdullayev attended his hearing, arguing that his jailers had subjected him to torture and threatened to rape his daughter.
Judge Zafar Nurmatov presided over the hearing of Abdullayev and his co-defendants: blogger Havot Hon Narsriddinov, along with businessmen Ravshan Salayev and Shavkat Olloyrov.
Abdullayev, a freelance journalist for the Ferghana News Agency, is charged with "conspiracy to overthrow the constitutional regime," a crime carrying a maximum sentence of 20 years in prison.
The defendant's lawyer, Sergei Mayorov, claimed his client made self-incriminating statements as a result of torture during his detainment by Uzbekistan's State Security Service (SNB).
"They beat him on his back, his legs, and along his left arm with a meter-long plastic pipe. The worst torture was that they forced him to go six days without sleeping. For the entire duration of the six days, they didn't allow him to sit or lie down," Mayorov said. "The third form of torture was beating him on his back and head with a computer cable."
The lawyer added that his client was kept naked in a cell and subjected to psychological torture such as threats to rape his daughter – who currently lives in Russia – and murder his remaining children in Uzbekistan.
According to Ferghana correspondents present at the hearing, Abdullayev then showed the court a large bruise on his left hand, which he reportedly received during torture.
Mayorov stated his intention to petition for an expert examination into the fact of torture.
Judge Nurmatov responded with a reference to a decree by the President of Uzbekistan "On Additional Measures to Strengthen Guarantees of Citizens' Rights and Freedoms in Forensic Investigations," and granted the lawyer's request.
Experts are supposed to find out when Abdullayev's injuries were received and under what circumstances they were inflicted. Based on the results of the commission, a regular hearing will be scheduled.
The charges leveled against Abdullayev and his co-defendants stem from a series of articles published under the pseudonymous byline Usman Haqnazarov. Articles published under this name focus on the inner circle of late former President Islam Karimov, who ruled the country with an iron fist for more than a quarter of a century before his death in 2016.
Abdullayev's co-defendants are charged with supplying him with state secrets. The journalist's case was originally under the auspices of the SNB, who prevented him from contacting either his family or his lawyer. But in February, SNB investigators Nodirbek Turakulov and Alexander Veselov were dismissed from the case. The Tashkent military court issued Turakulov a charge of abuse of power and "bringing the innocent to justice."
Many see the trial as a test case for current President Shavkat Mirziyoyev's reformist agenda, which has seen him gradually weaken the powerful SNB.
In February, Mirziyoyev removed the powerful SNB Chief Rustam Inoyatov, who led the secretive institution for more than two decades. The Inoyatov family is credited with assets of tens of billions of dollars in all major industries in the country, as well as business projects in Dubai and Russia.
Mirziyoyev has also made many combative public statements. Recently, he said the SNB's "time was up," adding that the organization had been "exceeding its authority," unfairly targeting ordinary people, businessmen, and government officials alike.
Human Rights Watch said that the president had taken "some positive steps" during his first year but that sustainable improvements still need to be made to protect human rights.
Despite hopeful signs and improved rhetoric, Uzbekistan still ranks 169th out of 180 countries in RSF's 2017 World Press Freedom Index.