Ahead of Drills in South China Sea, Chinese Foreign Minister Visits Vietnam
China and Vietnam agree to "cautiously handle maritime issues."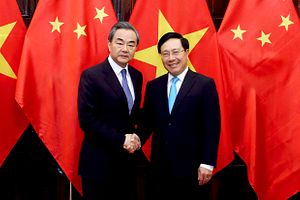 From March 30 to April 2, Wang Yi, China's foreign minister as well as a member of the State Council, paid an official four-day visit to Vietnam. Officially, Wang was in Vietnam this time mainly to attend the sixth Greater Mekong Subregion (GMS) Economic Cooperation Leaders' Meeting. But the disputed South China Sea issue apparently dominated the hidden agenda for both countries, particularly at a time when China has been intensifying military drills in South China Sea.
As The Diplomat has been following, on March 23, the U.S. warship USS Mustin carried out a freedom of navigation operation (FONOP) in the South China Sea and passed within 12 nautical miles of an artificial island built by China.
As an immediate response, China rapidly increased its military presence in this area. Not only did the People's Liberation Army Air Force (PLAAF) announce that it had "recently" conducted a combat patrol mission in the South China Sea, the PLA Navy (PLAN) also decided to conduct combat exercises "in the coming days."
On March 30 — the day that Wang started his visit to Hanoi — the Maritime Safety Administration in Hainan confirmed on its website that China's military drills will last for a total week, from April 5 to 11. The notification also specified the exact location of the drills and highlighted "Entering prohibited" in English.
Days earlier, Reuters published satellite images showing at least 40 ships and submarines flanking the aircraft carrier Liaoning off Hainan Island — an unusually large display of the PLAN.
Since the Philippines has backed down on the South China Sea dispute under President Rodrigo Duterte's administration, Vietnam has become the most vocal opponent of China's claims in the South China Sea. Located close to Hainan Island geographically, Vietnam undoubtedly has been paying close attention to China's recent military operations.
Recent reports also indicate that China successfully pressured Vietnam to end work on a natural gas project in the South China Sea, in an area claimed by Vietnam as its Exclusive Economic Zone but also within China's nine-dash line claim.
On April 1, Vietnamese President Tran Dai Quang met with Wang Yi. According to Vietnam's foreign ministry, Quang focused on the South China Sea issue during this meeting. The statement said:
He [Quang] requested settling issues at sea in the spirit of respect for each other's legitimate interests and international law, adding that both sides need to seriously follow common perceptions of the two Parties and countries' leaders and the Agreement on basic principles guiding the settlement of issues at sea in order to peacefully address disputes at sea.

The two countries need to soundly manage disputes and prevent actions that further complicate the situation, contributing to peace and stability in the East Sea [Vietnam's name for the South China Sea].
In comparison, China's state news agency, Xinhua, toned down the dispute, not even mentioning the term "South China Sea" in its statement. It quoted Wang as saying that "China stands ready to work with Vietnam to… cautiously handle maritime issues, explore ways of joint development so as to create favorable conditions for the all-round cooperation between the two countries."
Instead, Xinhua emphasized the vast prospects of bilateral relations, considering that trade between China and Vietnam topped $100 billion in 2017.
Vietnam also vowed to deepen bilateral relations with China and "better dovetail China's Belt and Road Initiative with Vietnam's 'Two Corridors and One Economic Circle' plan and push forward trade and subnational cooperation between the two countries," according to Xinhua.
Faced with the latest U.S. FONOP in the South China Sea, Beijing aimed to pull Hanoi to its side by providing Hanoi more economic opportunities through Wang's latest visit.
However, while Vietnam does show great interest in China's funding, it's highly doubtful if Hanoi will really bandwagon with Beijing as the Philippines has chosen to do.
Early in March, the U.S. aircraft carrier USS Carl Vinson made a historic visit to Vietnam, the first U.S. aircraft carrier to do so since the end of the Vietnam war in 1975. It was an obvious demonstration of Vietnam's intention to intensify its military cooperation with the United States.