Bangladesh Set to Reach Economic Par With India
Bangladesh is poised to graduate from "least developed country" to "developing country" status.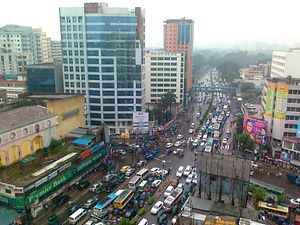 The United Nations Committee for Development Policy announced in March that Bangladesh had successfully met the criteria to graduate from a "least developed country" (LDC) to a "developing country" (DC). That sounds like a lot of bureaucratese. But it isn't. The UN's low-key proclamation has led to celebration in Bangladesh and for good reason.
This once famously impoverished nation – regularly crushed by famine and floods – will soon have the same economic status as Mexico, Turkey, and its neighbor India. And it achieved that ranking fast; Bangladesh has been an independent nation for just 47 years.
Literally speaking, Bangladesh won't attain formal status as a developing country until 2024 and only if it maintains its current standing in three basic economic calculations: per capita gross national income and two indexes, one that measures the education and health of its citizens and a second that measures its resilience in the face of economic and environmental shocks. Countries that meet or exceed these thresholds graduate from LDC to DC.
Bangladesh has fulfilled the United Nation's criteria in all three categories. How did it manage that? Bangladesh's economy has grown at an astounding rate of more than 6 percent for six consecutive years, propelling its per capita gross national income above the threshold required by the UN for a status upgrade. Economic growth, in turn, lifted many of Bangladesh's poorest citizens out of destitution. As economic opportunities proliferated, Bangladesh's exports diversified, reducing the nation's economic vulnerability.
In addition, Bangladesh's government focused its policies on helping its neediest residents. These programs greatly increased access to education and healthcare, especially among women.
Bangladesh consistently ranks among the top 10 nations in gross domestic product (GDP) growth. Its economy grew 7.28 percent in the past fiscal year, for example, exceeding the government's already optimistic projections. Indeed, Bangladesh's annual GDP rose from $100 billion in 2009 to $250 billion in 2017, an eye-popping 150 percent increase. The rapid expansion, coupled with sustained poverty reduction, put it on the fast-track to international notice.
Bangladesh also diversified its economy. Much of its early growth came from the ready-made garment industry. It earned its nickname: T-shirt maker to the world. But now, other industries are flourishing as well, including aquaculture and online services. Even the garment industry is diversifying. Along with basic shirts, Bangladesh also produces high-end sportswear that can be found in Europe's trendiest stores.
Bangladesh's booming economy has brought employment to millions, especially women, many of whom are earning salaries for the first time. Prime Minister Sheikh Hasina has made empowering women a priority. During her time in office, women have attained high positions in government, business, and labor organizations. In rural areas, development programs in aquaculture have turned wives, once second-class citizens, into breadwinners, improving family fortunes and social standing. The World Economic Forum validated the government's success in these metrics last year when it ranked Bangladesh first in gender equality among South Asian nations for the second year in a row.
Education is an even bigger success story. Between 2000 and 2016, Bangladesh's net enrollment rate at the primary school level increased from 80 percent to 99 percent. Secondary school enrollment also increased from 45 percent to 54 percent. In addition, Bangladesh achieved complete gender parity in primary education, with 99.4 percent of all girls attending school. Eighty-one percent of the students who enroll in first grade now reach fifth grade. As a result, the adult literacy rate hit a 12-year high last year and is expected to climb in the years ahead as access to educational opportunities expand across the country.
Bangladesh has accelerated its development by embracing technology and the digital age. A country of 163 million people, Bangladesh has more than 145 million mobile phone subscribers, an increase of nearly 59 million in just six years. The adoption of new technologies has led to positive social changes, faster communication and an increased desire for democracy. The government's "Digital Bangladesh" program has extended internet access and government services to the far reaches of the country.
Thanks to economic, social, technological, and infrastructural improvements, Bangladesh has become a vibrant hub of South Asia. Its people and its government deserve to celebrate this remarkable progress in so short a time.
Sajeeb Wazed is the information technology adviser to the government of Bangladesh and the son of the prime minister.