China Takes the Lead in UN Peacekeeping
As the U.S. backs away, China is stepping up investment in UN peacekeeping operations.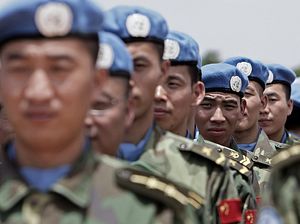 Over the past few weeks, Chinese state media has been abuzz with its peacekeeping accomplishments in a number of international missions, from Mali to South Sudan to Darfur. Although these achievements were realized within official United Nations Peacekeeping Operations (UNPKO) missions, Chinese state media has emphasized Beijing's independent efforts in these missions, attributing success to "China's quality" and "China's standard."
China's increased efforts coincide with recent U.S. cutbacks and contest Washington's leadership on this key issue. By publicizing its increased presence, China is surpassing the United States as the leader in UN peacekeeping and crafting an image for itself within the international community as a "teacher of peace, civilization, and might."
China's Rapid Ascendancy in UN Peacekeeping
Over the past five years, China has significantly upped its financial and personnel contributions to UN peacekeeping initiatives to rebrand the Chinese position in the international balance of power. From providing roughly 3 percent of total financial contributions in 2013, China currently contributes 10.25 percent of the UN peacekeeping budget. Beijing's increased financial commitment can most explicitly be seen from President Xi Jinping's pledge, at the 2015 Peacekeeping Leaders' Summit in New York, to contribute $1 billion to peacekeeping over the next five years. In line with its financial support, China has also trained 8,000 People's Liberation Army troops to serve as a permanent standby militia for UN peacekeeping operations. Because of these grand maneuvers, UN Secretary-General António Guterres stated that China stands to become an "honest broker" and "bridge-builder" in international conflict.
China's ascendancy in UN peacekeeping engagement is contrasted by the United States' recent cutbacks in both financial and personnel contributions. On March 21, the U.S. Congress decided to reduce its foreign aid spending by $3.4 billion (roughly 6 percent) for the 2018 fiscal year. Similarly, U.S. Ambassador to the UN Nikki Haley proclaimed on March 28 that the United States was "just getting started" after announcing that Washington will no longer shoulder more than 25 percent of the total UN peacekeeping budget.
At the same time the United States is exiting the spotlight, China is pushing for international acknowledgement of its role in high-risk peacekeeping missions. In February, the fifth cadre of the Chinese Peacekeeping Force to Mali was recognized with the Peace Medal of Honor, the preeminent award given by the UN for contributions to peace. On March 15, People's Daily reported that a Chinese helicopter squadron successfully transported 40 tons of cargo and 800 Senegalese peacekeepers to the African Union-United Nations Hybrid Operation in Darfur (UNAMID). On March 22, Xinhua covered the celebration held in South Sudan for the completion of the Chinese-engineered Kuacjok-Wau-Tonj main-supply route (MSR), which will improve supply and aid transport to the country.
While Beijing's presence and investment in UN peacekeeping has drastically increased, Chinese influence in the UNPKO hierarchy has not exhibited the same growth. Although Beijing has provided more peacekeeping troops than all of the other members of the P5 combined since 2012, a Chinese national has not held a senior post on any of the 16 current UNPKO missions. Beijing has in the past year expressed interest in having one of its own in a top UNPKO post, and given China's continued successes the argument in its favor is getting stronger and stronger.
Using Peacekeeping to Show Military Prowess
China's emergence as a leading power in peacekeeping serves not only to foster favorable relations in Africa and elsewhere, but also to strengthen the Chinese military. At this year's session of the National People's Congress, Xi called for the PLA to develop a "modern combat system with Chinese characteristics" in order to adapt to burgeoning threats against its national security and sovereignty. While China is opposed in principle to the use of force and military intervention, deploying peacekeeping troops affords the PLA an opportunity to improve its "military operations other than war" (MOOTW) and modernize its security forces.
By improving MOOTW and playing a greater role in peacekeeping, China stands to gain on three distinctive fronts. First, China is able to flex its military muscle without directly threatening any other world power. China does this by both using its own equipment — such as helicopters and tanks — and supplying equipment to other state forces. Second, China is able to strengthen and modernize its military capacity through joint collaboration and knowledge transfer with other state actors in UN peacekeeping missions. And third, China is able to burnish its image as a concerned international stakeholder, appearing as a country more invested in the peace and reconstruction of fragile states, thereby lending to its relationships both with countries receiving assistance and with those contributing to peacekeeping missions. All together, these dividends help to promote an image of a China that is increasingly more involved and more invested in the welfare of countries and peoples in need, especially as the international community sees the United States step down.
China's push to be recognized internationally as a growing leader in UN peacekeeping can be clearly seen in the aforementioned cases. In Mali, Chinese peacekeeping troops took over three sentry posts of the United Nations Multidimensional Integrated Stabilization Mission in Mali (MINUSMA) and received praise from mission commander Jean-Paul Deconinck for "excellent professional qualities." In South Sudan, First Vice President Taban Deng Gai praised Chinese engineers for their expediency in building the MSR and stated, "[it] is the Chinese who will build the roads in South Sudan, not Americans." In Darfur, Xinhua reports that the director of engineering for UNAMID, Yonas Araia, expressed gratitude for Chinese peacekeepers' diligence and "historical filial piety," though this commendation has not been published in non-Mandarin language media.
These are but a few of many examples that demonstrate China's concerted effort to employ peacekeeping as a national image building mechanism, striving to improve Beijing's reputation abroad and modernize its military. In establishing a stronger global support network and gaining more say in the UN, China is able not only to dampen concerns that its growth threatens other countries or the international order, but also to increase its international clout and bolster gainful bilateral relations that smoothen Beijing's pivot to Africa.
At the same time, Beijing sees Washington's waning presence in UN peacekeeping as a wide-open door to take a bigger role on the multilateral stage. If China is able to assume a top UNPKO post and Chinese peacekeepers continue to be the most prolific forces in peacekeeping missions, China stands to have much greater influence in international peace and security.
Logan Pauley is a Herbert Scoville Jr. Peace Fellow with the East Asia program at the Stimson Center, a think tank in Washington, D.C.