CPTPP and Leadership in the Global Trade System
Insight from Christina Davis.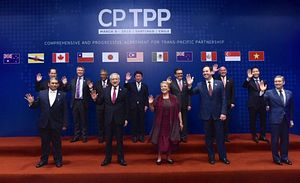 Trans-Pacific View author Mercy Kuo regularly engages subject-matter experts, policy practitioners, and strategic thinkers across the globe for their diverse insights into U.S. Asia policy. This conversation with Dr. Christina Davis – Professor at the Department of Politics at the Woodrow Wilson School of Public and International Affairs at Princeton University and author of Food Fights Over Free Trade (2003) and Why Adjudicate? Enforcing Trade Rules in the WTO (2012)  – is the 135th in "The Trans-Pacific View Insight Series."
How effective will the CPTPP (Comprehensive and Progressive Trans-Pacific Partnership)  ̶  one of the world's largest trade agreements  ̶  be with the absence of the United States and China?
The CPTPP represents a high standard set of trade rules. It includes innovative provisions on digital trade, competition policies, and new linkages to use trade to support protection of endangered species and restraint of fisheries subsidies. These rules apply to 13 percent of the world economy among the 11 members, and more importantly, they establish a template for other trade agreements, such as NAFTA renegotiation or the RCEP negotiations in East Asia. Market access and reform of domestic regulatory barriers among the 11 countries are expected to bring 1.7 percent gain in growth for members by 2030.
Compare and contrast CPTPP and the BRI (Belt and Road Initiative) in terms of establishing trading norms and rules.  
The Belt and Road Initiative coordinates development assistance to improve the infrastructure of countries in Asia to promote economic growth and trade. China leads with its funding and strategic choice of projects to promote markets for its export of goods and import of resources. While BRI offers development assistance, CPTPP offers market access and promotes private investment through regulatory reforms. Some see the CPTPP as a response within the region to counter Chinese leadership. Within a country such as Vietnam there are contending pressures to diversify its trade through more integration with Japan as a way to reduce dependence on China where they have strategic rivalry over contested territory. Vietnam can use CPTPP to achieve this goal. At the same time, China hopes that through BRI it can increase its influence while also promoting the development of its region.
Assess U.S. and Chinese leadership in the global trading system.  
The trading system today faces a crisis because neither the United States or China are willing to take leadership. Decades of failure to redistribute trade gains and help weak sectors adjust have produced pockets of discontent with international trade in the United States. As President Trump has withdrawn the United States from the TPP and launched unilateral tariff measures, the United States departs from decades of U.S. support for multilateral trade.
While China stands to lose the most from a trade war and would benefit from a strengthened trading system, President Xi Jinping has yet to go beyond rhetorical support of free trade. China has systematically flaunted WTO rules through subsidies, extortion of investor technology, and pressure on firms to purchase domestic goods in strategic industries. It offered few major initiatives within the WTO negotiations of the Doha Round, insisting that the deep reforms made by China to join the WTO in 2001 were sufficient.
The CPTPP represents a model for the trading system in which other states step up to new leadership roles – unexpectedly, Japan became the advocate of free trade and encouraged others to go forward with new rules as a counterpoint to the protectionist turn in the United States and state capitalism model of China.
How might a trade war between the U.S. and China impact global trade?  
First, there will be the direct impact to raise the cost of consumer goods and hurt the bottom line of manufacturing firms embedded in global supply networks. Second, the harm to the world trading system is significant. For the two largest economies to ignore the WTO process and initiate unilateral sanctions and retaliation sets a bad example that could be followed by others until all states choose to raise tariffs for any reason.
What are incentives for the U.S. to join the CPTPP?
There are several U.S. products that will face diversionary pressure as preferential access to key markets in Japan and other countries grows. Pork and beef farmers in the United States have been speaking in favor of the U.S. rejoining TPP, and now they face the agreement giving Australian and Canadian exporters a major advantage. With Chinese retaliation hitting U.S. agricultural sectors including pork and soybeans, these groups will see even greater need for the preferential market access to Japan and other CPTPP members.
In addition, the 22 provisions from TPP that were suspended in the CPTPP included several of high concern to the United States such as extended patent and trademark rights. Only by joining the CPTPP can the United States seek restoration of these terms that had been agreed to in principle at the signing of TPP. Many important industries in the United States from farmers to pharmaceutical industries would benefit from U.S. entry into CPTPP.
Finally, engaging with other countries in mutually beneficial economic agreements would further diplomatic efforts to strengthen ties with the countries of East and Southeast Asia.