In Afghanistan, Peace Must Come Without Compromising Hard-Earned Gains
Progress on freedom of speech, political participation, and women's rights in Afghanistan cannot be compromised.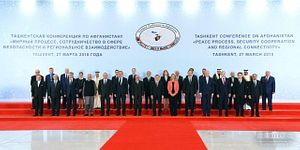 Afghan President Ashraf Ghani has announced a road map for peace negotiations with the Taliban. The United States backed Ghani's proposal for peace and called upon the Taliban to enter negotiations. Thus far there hasn't been any public response from the Taliban side on the offer.
Over the last 17 years, Afghanistan has achieved some level of social and political progress, including on freedom of speech, political participation, and women's rights. These achievements are nowhere near perfect but they are positive steps in the right direction and have come at a high cost. As the governments of Afghanistan and the United State push for a political settlement, there are uncertainties on the fate of the past decade-and-a-half's achievements.   
Under the Taliban's rule, Afghanistan was one of the most isolated states on earth. Only two countries, Pakistan and Saudi Arabia, recognized the theocratic regime. In the absence of media, Afghans knew little about freedom of speech; or if they knew, they could not safely exercise it. There was no such thing as public protest. All forms of entertainment and free speech were banned, including television, print, and radio, except for the Taliban radio, "The Voice of Sharia."
Today, there are dozens of private and public television channels, over 100 radio stations, and hundreds of press titles in the country. Afghans have established a civil society and have the right to peaceful protests — even in the midst of grave insecurity.
Since 2001, Afghanistan has held three presidential and two parliamentary elections in which millions of Afghan men and women participated. These elections have been imperfect, plagued with vote rigging, and the outcomes have been fiercely contested. Nonetheless, in 2014, the process led to the first peaceful transfer of power from one president to another. According to an Asia Foundation survey, a majority of Afghans support democracy. Meanwhile, the Taliban perceive elections as a Western phenomenon and have not yet indicated whether the group would be interested in participating in such a process.
Most importantly, women's rights under the current Afghan constitution are guaranteed. Under the Taliban regime, women were barred from attending school or working. Today, Afghan women are visible in every layer of society. They are doctors, engineers, politicians, athletes, police officers, radio and TV presenters, and more. Even so, this improvement in gender parity is minimal. Afghanistan is still one of the worst places for women and scored the lowest in the 2017/18 Women Peace and Security Index.  A compromise to appease the ultra-conservatives could halt the marginal progress that has been achieved in gender equality.
These hard-earned gains have come at an immense cost to Afghans, Americans, and their allies. Thousands of Afghan military personnel, as well as allied forces, have given their lives in fighting the Taliban and other terrorist groups in the country. In 2017 alone, 6,700 Afghan security forces were killed and 12,000 wounded. Since 2001, 3,546 coalition forces have died — among them 2,408 Americans. Thousands of Afghan civilians have also lost their lives. From 2009 to 2017 alone, 28,000 civilians died and more than 50,000 were injured. Additionally, billions of dollars have been spent; the United States alone has spent more money on the war in Afghanistan than on the Marshall Plan for reconstruction of post World War II Europe.
After all this sacrifice and 40 years of conflict, the Afghan people want peace. Recently, the message of peace was reiterated at the Tashkent Conference on Afghanistan in Uzbekistan. The Afghan government has offered enter into negotiations without preconditions, a great concession. Peace must come, but it must come without compromising hard-earned gains, especially not at the cost of setbacks to the freedom of speech, political participation, and women's rights. Afghanistan should not be understood as homogeneous but as a diverse society. An inclusive peace process that can represent the interests of rural and urban populations and has the genuine support of the international community is needed. Afghans can achieve a sustainable peace only when the rural and urban interests are served in a representative system, not in an isolated theocratic regime.
Said Sabir Ibrahimi is a Research Associate for Afghanistan-Pakistan Regional Project at New York University's Center on International Cooperation. Opinions expressed in this article are personal. Follow at @Saberibrahimi