Park, Lee and the Plight of Korean Presidents
Why have all of South Korea's recent leaders been embroiled in corruption scandals?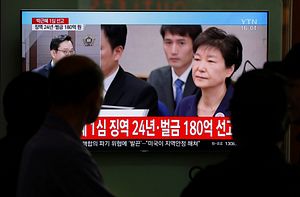 As has been widely reported, last Friday 66-year old former South Korean President Park Geun-hye was sentenced to 24 years in jail and given 18 billion won ($17 million) in fines by the Seoul Central District Court. Park, impeached in late 2016 and removed from office in early 2017, was found guilty on 16 charges involving bribery, coercion, leaking state secrets, and abuse of power.
Meanwhile, on Wednesday, her conservative predecessor, former President Lee Myung-bak, was indicted on 16 charges of embezzlement, bribery, violation of election law, tax evasion, abuse of power, and leaking state secrets. Lee has been sitting in a pretrial detention center since his arrest on March 22.
Park and Lee's circumstances highlight a notable pattern, namely, the dismal retirement or post-presidential careers of, and corruption surrounding, most South Korea's chief executives. Glance at past presidents and the pattern is clear.
President Park Chung-hee (1961-1979), Park Geun-hye's father and longtime authoritarian dictator, was assassinated by his own intelligence chief in late 1979. In 1997, Park's dictatorial successor, Chun Doo-hwan (1979-1988), was sentenced to death for his role in the 1979 coup and 1980 Gwangju Massacre, and also convicted on various counts of bribery. Roh Tae-woo (1988-1993), Chun's right-hand man and democratically elected successor, was simultaneously sentenced to 22.5 years for his involvement in the same events as well as bribery.
Roh's successor, President Kim Young-sam (1993-1998), commuted Chun and Roh's sentences, and President Kim Dae-jung (1998-2003) pardoned them soon thereafter. Nevertheless, to the point, Kim Young-sam's drive to prosecute Chun and Roh arose, in part, over concern that too much light was being shed on his and his associates' own financial and political improprieties.
In 2003, Kim Dae-jung, South Korea's first opposition president, faced his own serious controversy surrounding the so-called cash-for-summit scandal. Kim was accused (accurately it would appear) of having Hyundai Asan, a subsidiary of the Hyundai Corporation, pay Pyongyang $500 million in exchange for agreeing to the first ever inter-Korean summit in June 2000. Kim avoided legal consequences most likely because the controversy arose early in the term of his progressive successor, President Roh Moo Hyun (2003-2008). Roh was not inclined to bring his liberal predecessor to task.
Roh's own story may be the most tragic of all. He had campaigned and attempted to govern on a platform aimed at the reform of longstanding political institutions and corrupt political and economic practices. However, near the end of his term and soon thereafter, Roh, his immediate family members, and some of his closest political aides faced several accusations of bribery. A little over a year after leaving office, Roh took his own life. As noted, of Roh's two conservative successors, one has been convicted and sits in jail, the other, indicted, sits in jail and awaits trial.
So, why do South Korea's presidents seem to unavoidably become embroiled in some form of corruption and abuse of power? The answer, in brief, is South Korea's imperial presidency and the informal networks that have underpinned political power since the country's inception.
Some point to Confucianism as the reason behind South Korea's powerful executive office and its hierarchical exercise of power. Yet Confucianism as the catch-all explanation for all Korean behavior is not only misguided and overused, it also misses the causal salience of more recent and searing historical experience, most notably: the devastation of the Korean War, militarized national division, and the establishment of a highly centralized and penetrating national security state and severe ideological circumscription that came in its wake.
As a result of these various historical factors, South Korea's political parties and party system were under-institutionalized. Parties were not characterized by substantive ideological or programmatic differences. Instead, the most significant cleavages revolved around individual political leaders. Powerful leaders used political parties as vehicles for their own ambitions, and to serve the political and economic interests of informal networks rooted in family or kinship ties, home region, and school background.
Whether by coup, fraudulent election, or, later, through the democratic process, reaching the Blue House permitted even greater use of state power and institutions to benefit one's informal personal networks. Following democratization, the longstanding dominance of conservative party rule and the political culture surrounding it loosened. As a result, more substantive political and ideological differences emerged, first related to inter-Korean relations and the U.S.-ROK alliance and, more recently, over domestic economic and social concerns, such as job creation and wealth redistribution.
Nevertheless, even in the democratic age, where parties have become more institutionalized and state institutions less captured by informal networks, the South Korean presidency remains an imperial one. Revealingly, even those progressive presidents most inclined (at least rhetorically) to undo such abiding practices have fallen prey to utilizing the power of their office and their closest associates to effectuate preferred ends, thus reconstituting the very same practices they hope to reform. Roh Moo-hyun's administration and tragic demise demonstrates as much.
The key point, though, is that South Korea today is witnessing an incongruous mix. On the one hand, entrenched centralized presidential authority and informal networks continue to operate, sometimes acting with assumed impunity. On the other hand, the democratic turn of the late 1980s and now consolidated democratic practices are far less amenable to such corrupt and unofficial practices. This, of course, is not exclusive to South Korea. But Seoul's ever-contentious democratic politics will surely keep it front and center.