Patriot, Lucky Spirit, Villain: Pol Pot Remembered
In his final stronghold, the Khmer Rouge leader is remembered differently.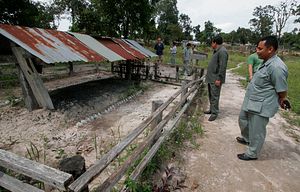 Anlong Veng, Cambodia — Twenty years ago on April 15, Pol Pot, the leader of one of the 20th century's most radical and murderous regimes that resulted in the death of around 2 million Cambodians, died while under house arrest here in the jungles of Anlong Veng.
The circumstances of the Khmer Rouge leader's death have always been murky, with some suspecting he was poisoned or took an overdose upon hearing his former comrades were to hand him over to an international tribunal. Ta Mok, the notorious warlord who had Pol Pot arrested in the ultra-communists' final stronghold in 1997, insisted that he had died of a heart attack.
Days later, his decomposing body was burned on a bed of tires.
To the vast majority of Cambodians and the international community, Pol Pot's death consigned the Khmer Rouge's "Brother Number One" to the annals of history as one of the most infamous dictators of the 20th century, alongside the likes of Adolf Hitler, Josef Stalin and Mao Zedong.
But that view isn't as popular here in Anlong Veng.
The final remnants of the Khmer Rouge — the radical communists who unleashed a reign of terror upon Cambodia between 1975 and 1979, leading to around a quarter of the population dying of starvation, illness, overwork or murder — controlled this region on the Thai border until late 1998.
While residents settled into a quiet life after Khmer Rouge soldiers changed into government fatigues during highly orchestrated "integration ceremonies" almost two decades ago, many have retained fond memories of the movement's leader.
"I admired his patriotism. I don't know why people think he's bad," said a former Khmer Rouge soldier who was part of the 1998 "reintegration" and requested he be identified by the name "Chea."
"I saw Pol Pot twice from afar but I also participated in a gathering where Pol Pot gave speeches telling people to work hard and continue to struggle. His words were firm but he always had a smile on his face," said the former child soldier while nervously dragging on a cigarette.
"He talked about enemies, especially that the Vietnamese were invaders. I liked him."
So Khen, a 44-year-old carpenter who lost his left leg in a mine blast in 1994 after being drafted into the Khmer Rouge ranks as a teenager, recalled the day he heard Pol Pot had passed.
"When I first heard, I didn't believe it but the commander told me it was possible because he was fragile. When I heard the news I was sad, I regret losing Pol Pot," Khen said sitting outside his house on the outskirts of town.
"I also feel empathy because he was the leader of the Khmer Rouge but he just died in a small hut. Until this day I still think highly of him."
Khen admits that he lost some trust in Pol Pot after he ordered the brutal slaying of former Khmer Rouge Defense Minister Son Sen and his family in 1997, which resulted in Ta Mok ordering his arrest, but refused to accept that the movement's leader was responsible for the huge numbers of deaths of his fellow countrymen in the 1970s. In a similar narrative peddled by Pol Pot's deputy Nuon Chea at the Khmer Rouge tribunal, Khen blamed the killings on lower level officials straying from the party line.
"I have doubts about why so many people died. In my opinion, I think it was lower level Khmer Rouge or leaders who were behind this. I never trusted Son Sen, I think it might have been his doing," he said.
It's not only former Khmer Rouge cadre in Anlong Veng who think fondly of Pol Pot.
Khem Suon, 60, who moved to the area in the early 2000s and now sells $2 tickets to Pol Pot's cremation site, said the majority of visitors come to pay their respects, while others make a pilgrimage as they believe the spirit of the man who abolished money in the 1970s will help deliver them riches.
"They think Pol Pot has supernatural divinity and powers so poor people come here and hope he will help them get the correct lottery numbers," she said.
Suon was expecting around 100 visitors to Pol Pot's resting place during the Khmer New Year this weekend, a huge spike in comparison to the usual handful of daily visitors. Large numbers flocked to pay their respects during the Chinese Qingming festival, bringing offerings including roasted pigs, she said.
Today, in an almost comical twist of irony, the unremarkable cremation site of the man whose regime killed Cambodians accused of showing capitalist or bourgeois tendencies, is in the shadow of the Sangam Resort & Casino across the road.
The resort's owner, Lim Heng, who boasts the title "oknha" — an honorific bestowed upon wealthy businessmen who make large donations to the government — also makes regular trips to the cremation site, Suon said.
"Casino owner Lim Heng also comes to pay his respects to Pol Pot a lot and usually has a ceremony with offerings and traditional music for him," she said. "Lim Heng thinks Pol Pot has great power. He opened the casino and wanted a deity with great power to oversee the casino. Workers at the casino always come here on holidays to offer food."
—

However, not all Anlong Veng residents see Pol Pot in the same rose-tinted light.
Ok Ra, 63, the chief of Cheung Phnom village, who joined the Khmer Rouge in 1975 to serve as a medic and claimed he only fled to Anlong Veng because he was afraid of prosecution after Vietnamese-backed forces overthrew the regime, said he had few fond memories of life under Pol Pot.
"From what I heard, Pol Pot didn't want to stop the Khmer Rouge movement and fighting," Ra said while sitting on bamboo beams outside of his house.
"I don't like Pol Pot because, back then, life in Anlong Veng was very unstable. You were always thinking, 'when will we die?'"
On the other hand, Ta Mok, the Khmer Rouge commander nicknamed "The Butcher" due to allegedly ordering brutal massacres within areas under his control in the 1970s, was a "caring man" who looked after the people of Anlong Veng in the 1990s, Ra claimed.
While Pol Pot's name is met with a blend of respect, ambivalence or disdain in Anlong Veng, Ta Mok, who controlled the area in the 1990s, is generally spoken of in glowing terms.
To Khmer Rouge historians, Ta Mok is often referred to as one of the most feared of all the movement's commanders, responsible for ordering the most heinous crimes. In Anlong Veng, however, he is remembered "as a simple, generous and nondiscriminatory leader whose greatest fault was a foul mouth," wrote Dy Khamboly and Christopher Dearing in A History of the Anlong Veng Community.
Ta Mok's stamp is everywhere in Anlong Veng. The high school was built on his orders, while the largest hotel in the town is named after him. A huge, idyllic lake was dammed on Ta Mok's orders soon after Khmer Rouge guerrillas had recaptured the town in 1989, flooding the surrounding plains. When the sun goes down, the lake, dotted with dead trees emerging from the waters, takes on an all-round more sinister feel.
The house Ta Mok constructed on the edge of the lake is the biggest tourist attraction in the town. In stark contrast to the Killing Fields and Tuol Sleng Genocide Museum in Phnom Penh, where visitors fight back tears while hearing chilling tales of murder and torture, Ta Mok's house has an almost jovial feel. Laughing families pose for selfies alongside "human cages" where Ta Mok would keep perceived traitors, or "rotten flesh" as they were referred to, while local youths lounge on their motorbikes while blaring Khmer techno downstairs.
"According to everyone close to him, Ta Mok was a very kind person and everyone had a lot to eat," says Mea Chhorn, 65, who sells tickets at the entrance to the house of the Khmer Rouge's "Brother Number Five," whose 1999 capture spelled the end of the movement. He died in custody while awaiting his trial for war crimes in 2006.
—
Anlong Veng today has a similar laid back feel to any other Cambodian provincial town, with a steady stream of tractors and motorbikes carrying livestock and firewood past shabby market stalls and secondhand phone shops. Despite the visible poverty, one noticeable difference is the absence of beggars and addicts on the side of the road, something that Ok Ra puts down to the legacy of Khmer Rouge rule.
"The reason why Anlong Veng has a strong community and no beggars is because people have land and we were taught to rely on ourselves. It was from Ta Mok, he said a man should put a strong emphasis on agriculture, and this is the same today," Ra said.
Despite the final days of the Khmer Rouge still having influence on the Anlong Veng community, few here yearn for a return to ultra-communist rule. That said, many are unwilling to accept the picture painted of Pol Pot and his movement by the majority of the world.
"People outside Anlong Veng were not close to Pol Pot and they didn't know him. They heard rumors that he was a bad guy, and there were lots of victims of the regime so they probably deem him a bad person," said former Khmer Rouge cadre So Khen.
"The people here were close to him and know he was a communist in nature, but there was no policy to kill innocent people."

George Wright is a freelance journalist based in Phnom Penh. Additional reporting was provided by Phat Bora.