US-Thailand Anti-Submarine Warfare Exercise Kicks off in Andaman Sea
Development spotlights ongoing defense cooperation between the two allies, despite deeper challenges.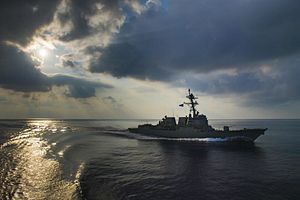 This week, the navies from the United States and Thailand kicked off this year's iteration of their anti-submarine warfare exercise. The development put the spotlight on the ongoing defense collaboration between the United States and Thailand, which has continued in spite of the deeper challenges that remain for the alliance.
As I have noted before, the United States and Thailand, two longtime treaty allies, have a range of defense engagements, including exercises, that they regularly hold. These include multilateral engagements tied to the Cobra Gold, Cooperation Afloat Readiness and Training (CARAT), and Southeast Asia Cooperation and Training (SEACAT) series, as well as bilateral exercises such as Hanuman Guardian. Defense interactions have continued and in some cases expanded under U.S. President Donald Trump, after a difficult period following the May 2014 coup (See: "Managing the US-Thailand Alliance in the Trump Era").
One of these regular bilateral exercises has been Guardian Sea. The exercise, classed as a anti-submarine and maritime domain awareness exercise, is largely focused on strengthening anti-submarine warfare (ASW) procedures through a variety of interactions including symposia, planning discussions, personnel exchanges, and at-sea events.
On April 25, the U.S. Navy and the Royal Thai Navy kicked off this year's iteration of Guardian Sea in the Andaman Sea. According to the U.S. Navy, the exercise will involve interactions designed to enhance mutual capabilities in anti-submarine warfare and also improve information-sharing between the two navies. During the five days of interactions, both navies will conduct subject matter exchanges in every aspect of anti-submarine warfare, with a focus on tracking submarines in a variety of conditions and incorporating some of these learned techniques.
This year, participating assets from the U.S. side include the guided missile destroyer USS Halsey, a Los-Angeles-class fast attack submarine, and a P-8 Poseidon, while assets from the Thai side will include the helicopter carrier HTMS Chakri Naruebet, Khamronsin-class corvette HTMS Long Lom, Naresuan-class frigate HTMS Taksin, and HTMS Naresuan, and S-70B Seahawk helicopter. Last year, only three Thai assets were officially recorded as participating.