Why Vietnam's New Coast Guard Law Matters
A law that would give Hanoi's coast guard greater flexibility to operate needs to be understood within a broader context.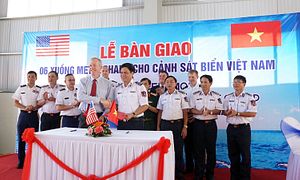 This week, a bid to provide Vietnam's coast guard with additional operational flexibility moved up for discussion in the country's legislature. Though specifics remain unclear, the development has once again shed light on the expanding role of coast guards in the region, including Vietnam, in the face of rising maritime security challenges, including China's growing maritime assertiveness in the South China Sea.
As I have noted before, several Southeast Asian countries have seen an increased role for their coast guards over the past few years as they seek to boost their maritime law enforcement capabilities (See: "Malaysia's Coast Guard in ASEAN Perspective"). This is a reflection of broader trends, such as the rise of a wide spectrum of maritime-related threats – which range from natural disasters to piracy – as well as the increasing scale and sophistication of maritime capabilities of Southeast Asian states to respond to them (which remain quite modest).
In the case of Southeast Asian claimants and interested parties in the South China Sea disputes – such as Malaysia, the Philippines, and Vietnam – a component of this response is mitigating the vast asymmetry in maritime capabilities between these Southeast Asian states and China, which has manifested itself in so-called grey-zone contingencies. These lie in between wartime and peacetime and may thus necessitate the deployment of non-military assets, which have traditionally been deemed less escalatory.
In Vietnam's case, the Vietnamese Coast Guard (VCG) was technically only given that name in 2013, though Vietnam had maintained the Vietnam Marine Police with such a role since the late 1990s. Since then, we have seen Vietnam take other measures domestically to enhance the role of the VCG, and the institution itself has been involved in a range of activities, from managing the illegal fishing challenge to local maritime education. The VCG has also been further strengthening its relationships with external partners, including with Japan and the United States (See: "Why a First US Aircraft Carrier Vietnam Visit Matters").
As the VCG has increased its role, the process of clarifying its responsibilities and operation – both on its own terms as well as relative to other institutions – has been playing out. One of the measures that was being mulled within this broader context was providing greater flexibility for the Vietnamese Coast Guard to operate, which would be cemented by legal changes in the Southeast Asian state.
That effort looked to be moving further into discussion this month, with Vietnam's National Assembly chairwoman Nguyen Thi Kim Ngan saying this week that the body, which opened for session April 10, would consider the Law on Coast Guards as among eight laws during the session. The development comes amid continued concerns Vietnam has about China's growing maritime assertiveness in the South China Sea, most recently manifested in the headlines with the suspension of ongoing work on a major oil drilling project, reportedly under pressure from Beijing (See: "Would a China-ASEAN South China Sea Code of Conduct Really Matter?").
What exactly this flexibility for the VCG would entail remains unclear. Per Reuters, the draft bill said the VCG would be able to open fire to "protect sovereignty and sovereign rights in defense and security situations," including opening fire to warn ships operating illegally in Vietnam's waters if they do not halt illegal activities. That would be an expanded role from what the VCG is empowered to do now, which is opening fire if the lives and safety of personnel are at risk, if they need to protect citizens whose lives are at risk, or if they need to pursue offenders and ships who are escaping.
More broadly, though the headlines might suggest a linear trajectory of a more capable Vietnam willing to counter an assertive China in the South China Sea, the hype needs to be doused with a dose of reality. It is unclear exactly how any potential added legal flexibility would translate operationally. There are also other variables at play here, including the capabilities of the VCG, which still remain quite limited relatively speaking, as well as how other services such as the Vietnam People's Navy will play into all of this. Vietnam is not immune from the coordination challenges we have witnessed in this respect in other countries as well.
And even as Vietnam moves on with its own incremental measures designed to boost its maritime capabilities – be it legal changes, capability additions, or greater strategic alignment with other actors – Vietnamese policymakers, having battled foreign powers for centuries, no doubt are aware that they are doing so relative to what other bigger actors are doing, including China. That is yet another reason why individual developments are worth paying attention to but also need to be viewed within a broader context.