What Trump's Pakistan Policy Means for China
U.S.-Pakistan frictions are not good for Beijing, either.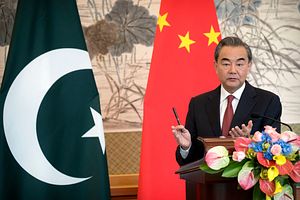 From last August of last year to the present, relations between Pakistan and the United States have continued to deteriorate. On January 4, the U.S Department of State confirmed it would suspend $255 million in military assistance to Pakistan. On the same day, in accordance with the International Religious Freedom Act of 1998, the secretary of state placed Pakistan on a Special Watch List for severe violations of religious freedom.
On January 8, the U.S Department of Defense announced it had suspended $900 million in assistance for Pakistan, which has been authorized as Coalition Support Funds (CSF) for fiscal year 2017. At the end of February, the United States urged the Financial Action Task Force (FATF) to put Pakistan on a terrorism financing watch list.
As Pakistan's "all-weather" friend, what are the implication of declining Pakistan-U.S relations for China? I argue that there will be negative effects for China in the following three aspects.
1. China will face more pressure to promote Pakistan's economic development
According to the International Monetary Fund (IMF), the erosion of macroeconomic resilience puts Pakistan's economic outlook at risk. The fiscal deficit is expected to come in at 5.5 percent of GDP in FY 2017/2018, with its real GDP growth predicted at 5.6 percent (thanks to investments related to the China-Pakistan Economic Corridor). What's worse, thanks to U.S. pressure, Pakistan is expected to be put back on the FATF watch list of in May, which means Pakistan will be recognized as a terror-financing country. That will be a blow to its economy, as Pakistani access to the international financial market, especially getting loans from the IMF, World Bank, and other countries, will become more difficult.
In addition, the deterioration of U.S.-Pakistan relations may also affect economic and development assistance from other Western countries and international institutions. According to Professor Joshua Whit of Johns Hopkins University's School of Advanced International Studies, the United States can make use of its influence in international financial organizations to pressure Pakistan. The United States has a strong voice in both the World Bank and Asia Development Bank, for instance. Islamabad will be isolated by the international community under the U.S. campaign, so China may face more pressure to promote Pakistan's economic development.
Two points here are worth attention from China. First, Beijing must make sure all groups within Pakistan benefit from CPEC. If other economic options dry up, Pakistanis may focus more on CPEC and raise their expectations toward it. If certain groups, especially local Baloch people, don't see their lives improved by CPEC, this could easily cause dissatisfaction from the public and they will have a low opinion of the initiative.
Second, Pakistan's continued high debt levels may be unfairly blamed on China and ruin China's image in Pakistan, especially with increasing worries about Pakistan's debt from other countries. In fact, Pakistan's high debt issue has accumulated over a long period and is not the result of CPEC. In FY 2011, the total debt and liability stood at about 70 percent of GDP, which has risen to 78.8 percent of GDP in FY 2017. Among this, external debt is 27.5 percent of GDP, which hit a record high of $85 billion at the end of the second quarter of 2017
2. Growing potential for regional conflicts threatens China's border security
Worsening Pakistan and U.S. relations could raise the potential for conflicts between India and Pakistan, and also make the reconciliation process in Afghanistan more difficult. Both would directly or indirectly threaten China's border security.
On one hand, under the background of worsening Pakistan-U.S. relations, the deepening of U.S.-India relations, especially military cooperation, will expand the gap between India and Pakistan, which will in turn strengthen Pakistan's sense of insecurity. In international relations, a balance of power is more conducive to peace between rivals; conversely, the greater the disparity in power, the greater the possibility of conflict. If the potential for an India-Pakistan conflict increases, as their common neighbor, undoubtedly, China's border security would be affected and threatened. As Pakistan's "all-weather" friend and "iron brother," China could also be easily dragged into conflicts or war with India.
Besides, the declining relations between Pakistan and the United States will also make is more difficult for Washington to combat terrorism in Afghanistan. That means the security situation in Afghanistan may continue to deteriorate, as it has over the past few months. The fragmentation of politics will easily breed terrorism. As a neighbor, the security situation in Afghanistan has special influence on China. Beijing is particularly concerned about East Turkestan Islamic Movement (ETIM) terrorists hiding in Afghanistan, which impacts the security and stability of Xinjiang. The security spillover from Afghanistan may also affect CPEC.
3. The potential to force China into an embarrassing position on anti-terrorism
To further pressure Pakistan, the FATF, heavily influenced by the United States, may put Pakistan back on the terrorism-financing watch list, which means Pakistan will be regarded as a state sponsor of terrorism by the international community. This will put China into a very embarrassing position on anti-terrorism.
If China fully supports Pakistan, that could ruin China's reputation on anti-terrorism issues in the international community. In fact, anti-terrorism is a long-term task for China, and Beijing has firm determination to combat terrorism. China also actively seeks cooperation against terrorism by cooperating with other countries, such as the United States, India, Russia, Pakistan, and so on. At the ninth BRICS summit, held on September 3-5, 2017 in Xiamen, Fujian province, China, the declaration of leaders expressed concern over violence triggered by some Pakistan-based groups including the Haqqani Network, Lashkar-e-Taiba, Jaish-e-Mohammed, and so on. This shows China's determination to combat terrorism. But if Pakistan has been recognized by the international community as a state sponsor of terrorism, then tolerance for Pakistan will ruin China's image as a responsible country committed to fight terrorism, and also weaken China's soft power in the world.
On the other hand, if Beijing sides with the international community and publicly criticizes Islamabad on this matter, then China's behavior will be seen as a betrayal of Pakistan, which is very sensitive to any words and deeds from China. Undoubtedly it will deeply damage China's relations with Pakistan, not to mention CPEC or anti-terrorism cooperation between the two.
Pakistan is China's "all-weather" friend, and is also crucial to China's anti-terror activities in Xinjiang. So maintaining good relations with Pakistan is in China's interests and also good for regional stability. The tensions between Pakistan and the United States won't help China achieve that goal.
Li Hongmei is a Ph.D. candidate at the School of International Relations and  Public Affairs, Fudan University,  Shanghai, China, and a Visiting Scholar at SAIS, Johns Hopkins University, Washington DC.