What's Next for Indonesia's Submarine Fleet?
Despite some continued advances, Jakarta remains woefully underequipped.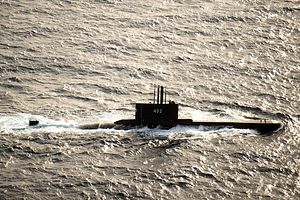 Last week, Indonesia's military chief Hadi Tjahjanto led a delegation to South Korea to review progress on cooperation between the two sides with respect to submarines. The development once again put the spotlight on Indonesia's growing but still limited submarine capability as the Southeast Asian state considers future options for expanding its fleet.
As I have noted before, Indonesia, the world's largest archipelagic state, once operated one of the more capable submarine forces in Asia with 12 Whiskey-class submarines purchases from the Soviet Union back in the 1960s and 1970s. Today, however, it is woefully underequipped, with just two German-built Type 209 submarines along with one of the three South Korean submarines it had ordered back in 2012 and received last year (with the other scheduled for delivery back to Indonesia soon and the third being constructed in Indonesia) (See: "What's Next for Indonesia-South Korea Defense Ties?").
Even taking into account that full order, with the Type 209s expected to be decommissioned soon, Indonesia would still be well short of the 12 submarines Indonesian defense officials have said the country needs to police its waters. And while there have been attempts to address this significant gap with talk of the mulling of new submarine purchases from various sources, last year IHS Jane's cited multiple unnamed Indonesian naval sources as confirming that Indonesia had cut its requirement from 12 submarines to just eight.
Last week, there was yet another update on Indonesia's submarine fleet when Indonesian military chief Hadi Tjahjanto led a delegation to visit the Daewoo Shipbuilding and Marine Engineering (DSME) shipyard in South Korea where submarine work had been ongoing. During the visit, Tjahjanto received a briefing on developments, including on arrangements between Indonesia and South Korea on technology transfer.
During his visit, details were also released regarding future steps on Indonesia's South Korea-built submarines. In particular, local media outlets picked up on the fact that the second South Korean-built submarine would be coming home soon. The submarine, which will be in the service as KRI Ardadedali with pennant number 404 after commissioning, will begin its journey from South Korea back home to Indonesia on April 23.
Tjahjanto during his visit also made reference to the submarine cooperation as part of wider Indonesia-South Korea defense cooperation. As I have noted previously, both sides have been talking up gains on this front within broader ties, and South Korean President Moon Jae-in's state visit to Indonesia last November did see the two countries elevate ties to a special strategic partnership with some defense-related items. Nonetheless, the reality is that even the pace of some of the existing collaboration has been quite slow to materialize, much like Indonesia's efforts to develop its submarine capabilities.