Why the New US-Philippines Military Pact's First Project Launch Matters
The launch of the first EDCA project this week deserves attention amid a challenging context for the U.S.-Philippine alliance in the Duterte era.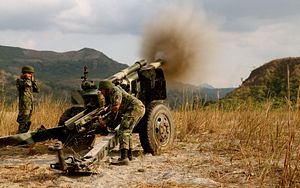 This week, the first project under the new U.S.-Philippine military agreement signed under the late Obama administration was finally launched by both sides. Though the project was among a series that had already been mulled by officials previously back in 2016, it nonetheless constitutes progress given both the challenges that the U.S.-Philippine alliance has confronted under Philippine President Rodrigo Duterte as well as the evolving regional security environment.
As I have been noting in these pages, Duterte's rebalancing of the Philippines' ties with major powers, most notably the United States and China, has raised questions about the evolution of the U.S.-Philippine alliance during his tenure (See: "The Limits of Duterte's China-US Rebalance"). Though there have no doubt been challenges on this front, there has also been much more progress than is often appreciated in the defense realm thus far as well (See: "What Will US-Philippine Military Exercises Look Like in 2018?").
One of the key items within the alliance was the evolution of the Enhanced Defense Cooperation Agreement (EDCA), a pact inked by both sides during the Obama administration in 2014 that would, among other things, give U.S. troops and equipment wide access to Philippine military bases on a rotational basis (See: "A Big Deal? US, Philippines Agree First Bases Under New Defense Pact").
Both sides had initially approved a series of five locations that would fall under EDCA – Antonio Bautista Air Base; Basa Air Base; Fort Magsaysay; Lumbia Air Base; and Mactan-Benito Ebuen Air Base. That list of locations was testament to the range of activities that could be rolled out. Mactan-Benito Ebuen Air Base was the HADR operations center following Typhoon Haiyan, the deadliest Philippine typhoon on record which hit back in November 2013; Fort Magsaysay has been a key site for the largest annual U.S-Philippine exercise known as the Balikatan exercises; and Antonio Bautista Air Base is located on Palawan near the South China Sea (See: "Beware the Illusions of China-Philippines South China Sea Breakthroughs").
The key, though, was how things would evolve in terms of the sequencing of the projects and related factors such as resourcing and other sensitivities at play during the Duterte era. Though both U.S. and Philippine defense officials had repeatedly indicated that discussions on EDCA were still ongoing, there had been little in the way of specifics that had been unveiled up to this point.
On April 17, U.S. Ambassador Sung Y. Kim and Philippine Defense Secretary Delfin Lorenzana finally held a groundbreaking ceremony for the first major project under EDCA at Cesar Basa Air Base in Pampanga. The project was for the construction of a humanitarian assistance and disaster relief (HADR) warehouse that would be used to preposition equipment and supplies critical to both countries' ability to respond to emerging regional humanitarian crises.
Generally speaking, the inroads on this project and on EDCA itself are not surprising. Officials on both sides have been discussing potential pathways for getting the agreement off the ground, so this is the product of already ongoing work. The unveiling of the HADR warehouse at Basa Air Base is also consistent with the approach that U.S. defense officials had previously outlined of picking the low-hanging fruit first before more publicity is around other projects that might be conceived as more controversial, such as sites for more military exercises or engagements that have a maritime security component that would drag in the South China Sea issue.
Nonetheless, given the ongoing challenges for the alliance under the Duterte era, even this development could be said to constitute some measure of progress. The HADR warehouse is also not without its benefits for both sides. On the U.S. side, though underappreciated by outside observers relative to new exercises or South China Sea-related activities, finding more locations for the prepositioning of equipment in Asia has been a priority area for U.S. defense policymakers over the past few years. And for the Philippines, HADR is not just some catchphrase to disguise 'dual-use facilities' but also a real and urgent priority: it remains one of the world's most disaster-prone countries.
The key questions for EDCA lie further ahead. All told, progress on implementation has already been slower than defense policymakers on both sides had initially envisioned, and that has had implications for how Washington thinks about the shape of its military posture in Southeast Asia, for the evolution of the alliance, and for the development of the Philippines' own limited capabilities and its ability to confront a wide range of security challenges.
In that context, though it is encouraging to see some of the lower-hanging fruit being picked, the flip side of that is that the other projects that would constitute bigger boosts for the alliance are also going to be heavier lifts in terms of not just unveiling them but also getting the accompanying aspects like messaging right.
There are also additional variables at play in the Duterte era that could complicate things on this front, be it the shifting balance between internal and external security threats within Philippine military modernization or Duterte's management of ties with China, which, for all the government's protestations, does have an impact on how Manila can move forward with the alliance (See: "What Will Philippine Military Modernization Under Duterte Look Like in 2018?"). Given all this, how both sides look to make further progress on EDCA in the remainder of Duterte's time in office will bear careful watching.