Xi Doubles Down on China's Cyber Goals and Semiconductor Plans
China's president urges China to speed up its semiconductor strategy in the face of foreign pressure and growing tech demands.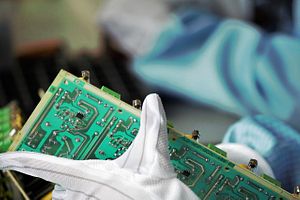 Days after the United States announced a seven-year restriction on American companies doing business with the Chinese telecom giant ZTE, Chinese President Xi Jinping responded in defiance by laying out a broad vision to build China as a cyber and technology superpower. At a recent national Chinese conference on cyberspace, Xi declared that China will press ahead with plans to dominate cyberspace and emerging internet technologies. As a trade war with the United States escalates through tit-for-tat announcements, the speech reflected China's yearning to end its reliance on foreign technologies. China still lags behind in key technology sectors and Xi urged officials to "keenly seize this historic opportunity" to master new internet technologies in the face of foreign pressures and growing technology demands.
At the center of Xi's "call to arms" was the heart of all electronic devices — semiconductors. As the United States has sought to check China's ambitions, Xi stressed that China would redouble efforts to master so-called "core technologies" — a Chinese euphemism for semiconductors. With mounting assaults on China's attempts to acquire overseas semiconductor firms and growing suspicion of China's globalist ambitions, Xi vowed to pour even greater resources into building national champions and developing China's flagging domestic chipset industry, which is viewed as an integral component of its national innovation strategy.
China has long set its sights on developing a top-end semiconductor industry. In 2014, the State Council — China's cabinet — issued a plan solely devoted to dominating semiconductor production in the coming decades. The strategy laid out plans for favorable policies and a network of national and regional semiconductor investment funds. Semiconductors are a prominent feature of "Made in China 2025," Xi's flagship industrial strategy to upgrade China's traditional industries with new technologies. The plan calls for Chinese-made chipsets to make up 40 percent of domestic needs within a decade.
Xi himself has made semiconductor development a priority for years, as well. Almost exactly two years ago, he gave a controversial speech in which he similarly assailed China's dependence on foreign suppliers and urged mastering "core technologies." At that time, China observers noted Xi's plans to develop globally competitive chipset champions and challenge foreign tech firms' dominance.
This latest speech and push appear to be driven by a renewed sense of urgency — and some despair. Earlier plans and rhetoric have fallen short of expectations. China's homegrown versions of Intel, Qualcomm, and Samsung remain years, if not decades, behind their foreign competitors, despite being handed billions in subsidies.
Besides the anemic growth of the domestic chipset industry, China's leaders are, no doubt, anxious as the country readies itself for a trade spat with the United States. Even with tough rhetoric, China cannot, on its own, meet the country's growing demand for semiconductor chips. The global semiconductor market reached $354 billion in 2016 and China accounted for 60.6 percent of the total consumption, according to PwC. China, by some estimates, only produces around 13 percent of global semiconductors.
The recent U.S. action against Chinese tech titan ZTE is an especially stark reminder that China remains woefully dependent on others. Moreover, the announced ban on U.S. component makers selling to ZTE serves as a clear blow to China's 5G ambitions, as ZTE is one of China's leaders in 5G development and deployment. The U.S. ban will only heighten fears that the country's reliance on U.S. chip suppliers could undermine China's future economic and national security goals.
The United States and China have been building to this moment. In late 2016, the Obama administration intervened in a Chinese company's bid to acquire a German semiconductor company, after Chinese companies spent billions in technology buying sprees across the United States and Europe. Then-President Barack Obama's Council of Advisors on Science and Technology (PCAST) outlined serious concerns about China's national semiconductor strategies and domestic subsidies early last year. More recently, the U.S. government stopped microchip maker Broadcom's proposed takeover of Qualcomm on national security grounds. It was feared the acquisition could cause the United States to cede 5G ground to Chinese companies like Huawei, the world's largest telecom equipment supplier.
Although the United States and China have witnessed growing discord over semiconductors and other technologies the past few years, this latest speech reflects a new and troubling tone in the relationship. Xi's recent cyber speech represents an even more emphatic call for Chinese internet controls and cyber technologies — and at even more unsettling time. And Xi's remarks demonstrate that China has clearly drawn a line in the sand, one signaling that the country will step up all efforts to match the United States in order to protect its national security needs and long-term economic interests.
Jesse Heatley is a Director at Albright Stonebridge Group and a Security Fellow with the Truman National Security Project. Views expressed are his own.