Abe's US Visit and the North Korea Problem
Tokyo needs some deft maneuvering ahead of the Trump-Kim summit.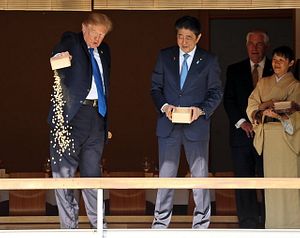 Amid heightened interest in the upcoming summit between the United States and North Korea, Japanese Prime Minister Abe Shinzo recently visited the United States to meet with U.S. President Donald J. Trump. On North Korea, Trump offered assurances that he would bring up the abduction issue, and on trade issues, the leaders agreed to hold talks on trade.
As a result, we have gained a certain degree of clarity regarding Trump's stance on the upcoming talks between the United States and North Korea, and on where the United States stands with regard to its protectionist trade policies, as typified by the recent tariff hike.
North Korea has been extremely careful with its preparations. Having worked in 2017 on nuclear warhead miniaturization and long-range missile development, now in 2018 it has begun to extend the olive branch. The PyeongChang Olympics and inauguration of the Moon Jae-in administration were the given conditions for these talks to start. However, it is likely that neither of the two Koreas expected Trump to suddenly announce his willingness to meet with Kim Jong-un. In response, Kim visited Beijing to meet with President Xi Jinping, securing Xi's support along with a declaration that the Chinese leader would visit Pyongyang following the US-North Korea talks. Kim could also meet with Russian President Vladimir Putin ahead of his summit with Trump.
For its part, Japan appears to have been left out of the international political maneuvering concerning North Korea. Although a trilateral summit will be held between Japan, China and South Korea on May 9 in Tokyo, Japan has not built up sufficient trust with either country, and aside from the United States, it lacks a partner with which to discuss its national interests.
Abe is thought to be of two minds: On the one hand he wants to ask that the abduction issue be brought up, as it is a matter of national interest for Japan. On the other, he wants to steer Trump away from making compromises or agreements with North Korea that would be contrary to Japan's interests. The former is a short-term need for the scandal-plagued Abe administration as it reels from a significant drop in approval ratings, while the latter is crucial for Japan's security. If the United States only reaches an agreement with North Korea on a certain level of denuclearization and long-range missile dismantlement, or if Trump readily agrees to a reduction of the United States' military presence in South Korea, it would spell serious problems for Tokyo: Japan would continue to be threatened by North Korea's short and intermediate-range missiles, while a reduction in the U.S. military footprint in South Korea would raise the security burden on Japan, gradually pushing it to the front line of opposition to China. These developments would rock the foundations of Japan's security strategy.
Abe has conveyed these points to Trump, and at this stage Tokyo assumes that the United States has accepted them. Even so, the direction of negotiations between the United States and China is an unknown quantity, and Japan must continue to prevail on the U.S. government and work to keep it in check.
Meanwhile, the Japanese government has made no attempts to link trade issues such as tariffs with the North Korea issue, for instance by pressing trade concessions in exchange for Washington bringing up the abduction issue. Japan's decision to discuss trade as its own issue is good news. Of course, Japan and the United States are still divided on this issue. Japan wants the United States to return to the Trans-Pacific Partnership, while the United States is looking to establish a bilateral free trade agreement. But at least by bringing these issues to working-level discussions, Japan can exert some degree of control over them.
Shin Kawashima is a professor at the University of Tokyo.