China-Pakistan Relations:  Challenging US Global Leadership
Insights from Harrison Akins.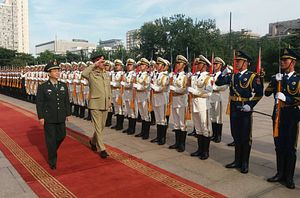 Trans-Pacific View author Mercy Kuo regularly engages subject-matter experts, policy practitioners, and strategic thinkers across the globe for their diverse insights into U.S. Asia policy.  This conversation with Harrison Akins – Research Fellow at the Howard H. Baker Jr. Center for Public Policy at the University of Tennessee who specializes in South Asian politics – is the 141st in "The Trans-Pacific View Insight Series." 
Explain the rationale and impact of the U.S. decision to stop military financing to Pakistan.    
The underlying point of contention for the U.S. decision is Pakistan's long-standing support for the Taliban in Afghanistan against NATO forces, leading them to stop military financing and push for Pakistan to be placed on the Financial Action Task Force's watch list for states deemed noncompliant with regulations against terrorist financing. Pakistan, largely through the ISI [Inter-Services Intelligence], has long cultivated relationships with militant groups, such as the Haqqani group, in order to promote strategic depth in Afghanistan. This is largely framed by their rivalry with India, seeking to counter Indian influence on the western border.
The current tension between the U.S. and Pakistan is not new to the current U.S. administration but represents a long-standing problem between the two allies, as both states have used this alliance strategically to pursue their own national interests. From the U.S. side, this has shifted between the carrot and the stick, using military aid to incentive Pakistan to cooperate with the U.S. agenda when political interests in South Asia are high, such as during the Soviet and U.S. invasions of Afghanistan. On the other hand, when U.S. political interests in South Asia are low, such as after the Soviet withdrawal from Afghanistan, the U.S. has implemented sanctions related to points of contention between the two nations, particularly the Pakistani nuclear program. In the past, when the U.S. has suspended military aid, Pakistan saw relations with other major powers, especially China, as an alternative means of procuring arms and military equipment, seen as a necessary defensive measure against India.
Explain how China became Pakistan's preferred military weapons supplier.
As a result of past suspension of U.S. military aid combined with anti-Pakistani rhetoric, there is a perceived unreliability of U.S. support for Pakistan. This has engendered in the Pakistani elite the perception that China is their all-weather friend, unlike the U.S. Pakistan was one of the first nations to officially recognize the People's Republic of China after the communist victory in 1949. China would subsequently play a key role in Pakistan's development of its first nuclear weapon in 1998, with Pakistan reliant on Chinese expertise and uranium. The China-Pakistan Economic Corridor (CPEC) has further strengthened this relationship. CPEC will connect China's western city of Kashgar with Pakistan's Gwadar port on the Arabian Sea, 3,000 kilometers away. Chinese investment in CPEC, part of China's One Belt One Road initiative, is expected to reach over $46 billion by 2030.
This strengthening relationship has expressed itself in military aid. In 2011, the U.S. and China supplied the Pakistani military with roughly equal proportions of its military aid — 39 percent and 38 percent, respectively. By 2016, however, that number had shifted with 63 percent of its military equipment coming from China and only 19 percent from the U.S. Pakistan is now the largest recipient of Chinese military armaments, receiving 35 percent of China's total arms exports.
Assess the implications of the shifting military balance of power toward China in South Asia.
The strengthening military position of China acts in concert with its expanding economic expansion in South Asia, with analysts seeing the more aggressive recent actions of China as a response to former President Barack Obama's pivot to Asia policy. As China strengthens its alliances with regional states, such as Pakistan, and works to improve relations with India, whose largest trading partner is China, American economic and political influence is ultimately weakened, without even factoring in the current Trump administration's positions in attacking and penalizing Pakistan.
How might Pakistan's tilt toward China impact U.S. military operations in Afghanistan?
Pakistani support for U.S. operations in Afghanistan has been vital given the Pakistani supply lines that run across the Durand Line. By 2007, NATO forces were using nearly 575,000 gallons of fuel daily with nearly 80 percent of it coming from Pakistani refineries. Further, the storage capacity at key air bases accumulated to less than 3 million gallons, increasing the need for preserving Pakistani supply lines.
Recognizing this, former Vice President Joe Biden once stated, "If you don't get Pakistan right, you can't win [in Afghanistan]." Any disruption makes the U.S. mission in Afghanistan more difficult and costly. Such was the case when Pakistan closed the supply lines temporarily following the accidental deaths of 24 Pakistani soldiers at the hands of NATO forces in November 26, 2011. The Trump administration decision to cut military aid and pursue sanctions against Pakistan, alongside Trump's fiery rhetoric, at the same time as increasing U.S. troop presence in Afghanistan could hamper the U.S. mission if it leads to Pakistan again closing the trade routes providing important supplies for U.S. forces.
Explain the impact of closer Pakistan-China relations on Asian defense and security trends and policy implications for the United States.
The shift in the Pakistan-China relationship could be one small part of a much larger process of China challenging the U.S. global leadership, especially with the current Trump administration having a more insular view of America's international role. China's One Belt One Road initiative is part of this process as the Chinese government pushes to make its nation the global economic leader. Additionally, Pakistan's current shift from relying on U.S. military supplies to Chinese military supplies can have serious long-term implications as the military changes to Chinese military systems. This can have the effect of institutionalizing Pakistan's military relationship with China as it is reliant upon them in the future for supplies within Chinese systems, as was the case with U.S. military systems in the past. This could have the effect of mitigating the influence of U.S. aid and leverage in the future.