Exercise Komodo 2018 Puts Indonesia Navy in the Spotlight
The Southeast Asian state will host the biggest iteration yet of its biennial multilateral exercise.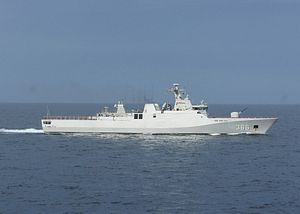 On May 4, after months of planning Indonesia will officially launch the 2018 iteration of its biennial multilateral naval exercise Komodo (MNEK). The drills, which will feature participants from neighboring Southeast Asian countries as well as major powers such as China and India, will once again spotlight Indonesia's naval engagement as well as its broader role in the maritime domain.
As I have noted before, Indonesia, the world's largest archipelagic state, began hosting Multilateral Naval Exercise Komodo (MNEK), a biennial multilateral naval exercise, back in 2014. The holding of MNEK has been viewed as a further illustration of the Southeast Asian state's desire to play a more active role in the maritime space, which is in line with Indonesian President Joko "Jokowi" Widodo's much-ballyhooed notion of Indonesia as a 'global maritime fulcrum' between the Pacific and Indian Oceans.
The past two iterations of MNEK have featured a mix of activities including naval and maritime engagements, civic action projects, and cultural activities. The 2016 iteration was particularly notable as it coincided with Indonesia's hosting of the International Fleet Review and the Western Pacific Naval Symposium.
Komodo 2018, which has been in the works since the middle of 2017, will be hosted from May 4 to May 9 in Lombok Island and nearby waters with a focus on cooperation to respond to disasters and humanitarian crises. Indonesia had said early on that this would be the biggest iteration of MNEK yet, with 43 countries participating with over 4,000 seamen along with a host of ships, helicopters, and fixed-wing aircraft, though the number of confirmed participants usually tends to be smaller.
Few exact specifics have also been disclosed thus far about the exact shape of Indonesia's own participation beyond the initial official information that was offered at the outset of the planning of the exercise. However, Indonesian officials have been making statements about some aspects of this as the exercises have drawn closer. For instance, the Commander of Indonesia's Eastern Fleet Command, Rear Admiral Didik Setiyono, had said back in February that Indonesia had planned to deploy 38 vessels for the exercise.
As expected, the official agenda for MNEK 2018 features a host of engagements including engineering civil action projects (ENCAP) and medical civil action projects (MEDCAP); maritime exhibitions and workshops; and a series of exercises, including a tabletop exercise (TTX), command post exercise (CPX), and field training exercise (FTX); a sailing pass, and a range of cultural activities such as cultural performances and culinary shows. The maritime engagements are expected to cover a range of areas including search and rescue, replenishment at sea, and maritime interception.