In the Era of Great Power Competition, the US Needs to Step Up Its Game
A blueprint for pushing back against China's militarization of the South China Sea.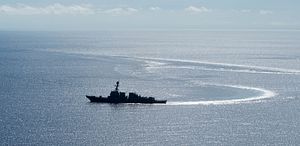 On May 3, the White House issued a stern warning that there will be "consequences" for China's ongoing militarization of the South China Sea. This deserves broader context: in the recently released National Defense Strategy, Secretary of Defense Jim Mattis aptly described the current security environment as a return to great power competition. More importantly, he chose to list China as the first among two top competitors for the United States, sending a strong message to China that its revisionist behavior will not go unchallenged. The statement from the White House was yet another example that demonstrates this administration's willingness to call China out for such behavior. While these are important steps toward recapturing the strategic narrative, the United States needs to follow through by taking tangible steps to demonstrate its will.
With nearly 10 percent average GDP growth per year since 1979 — "the fastest sustained expansion by a major economy in history," according to the World Bank — and the rocketing modernization of its military, China has reemerged. President Xi Jinping rightly proclaimed to the 19th Communist Party Congress that China "is moving to center stage." As China's confidence — backed by social and economic prosperity — grows, however, it has begun to show disregard for the rules and norms that have formed the basis of international cooperation since the end of World War II. Furthermore, China's rise, though self-proclaimed to be peaceful, seems to be aimed at deliberately undermining U.S. alliances and partnerships in the Indo-Pacific region, most notably with Thailand and the Philippines. China has challenged the existing international order by trying to enforce alternative norms shaped through the lens of an envisioned Chinese hegemony in the region.
Although this great power competition expands well beyond the maritime security environment, the tensions created by China's claims to large swaths of the South China Sea have pitted freedom of the seas governed by rule of law against China's sovereignty claims, which the Permanent Court of Arbitration (PCA) ruled against in 2016. However, the PCA ruling has not deterred or even slowed China's effort not only to continue to assert its sovereignty claims but also to militarize the region.
Chinese Revisionism in the South China Sea
By creating a competition for control of the South China Sea, China has jeopardized the safety of one of the world's most trafficked waterways. As a signatory to the 2002 Declaration of the Conduct of Parties in the South China Sea, China agreed to "exercise self-restraint in the conduct of activities that would complicate or escalate disputes and affect peace and stability including, among others, refraining from action of inhabiting on the presently uninhabited islands, reefs, shoals, cays, and other features and to handle their differences in a constructive manner." Its reclamation of more than 3,000 acres in the Spratly Island chain between 2013 and 2016 and the subsequent militarization of those features, in addition to Beijing's assertion that it does not recognize the July 2016 PCA ruling against it sovereignty claims, clearly violates both the language and the spirit of this agreement and sets a dangerous precedent for China's apparent disregard of its security commitments. It also directly contradicts Xi's 2015 declaration in the White House Rose Garden that China has no intention of militarizing these islands.
The perceived right of any nation to claim and hold part of the global commons as its territorial sea should put the leaders of all maritime nations on edge. Remaining silent or disengaged as China marches forward with its claim, contradictory to current international law, sets a dangerous precedent. While the South China Sea has received more attention, China has also increased its presence in the East China Sea, further pressurizing its competition with Japan and has joined the race for influence in the Indian Ocean, courting new partners in South Asia and even Africa to extend its political and military influence.
Demonstrating Resolve and Pushing Back
China has made its position very clear; that it views these islands and most of the South China Sea as its sovereign territory, and that it sees the militarization of these outposts as an act of self-defense. While the United States and its Indo-Pacific allies have remained largely silent (with the exception of a few senior military leaders), China executed its multipronged strategy to fortify these installations. Now, the United States and its allies and partners in the region find themselves at a strategic disadvantage in their attempts to slow down China's efforts. In the NSS and NDS, the United States signaled its position to compete with China. Continuing to reassure and build confidence with its allies and partners in the region is paramount, but to effectively compete with China, the United States needs to step up its game.
For instance, Washington uses freedom of navigation operations (FONOPs) throughout the world to challenge excessive maritime claims based on principle, precedence, and law. Recent FONOPs in the South China Sea have drawn a swift response from Beijing, with the Chinese Ministry of National Defense categorizing them as a "serious military provocation," but they are an essential component of the U.S. maritime strategy to compete with China. While these operations may not dissuade China from further land reclamation in the South China Sea or cause China to rethink its territorial claims, FONOPs demonstrate U.S. resolve to fly, sail, and operate wherever international law allows and a willingness to push back on Chinese activities that impact its allies and partners.
Despite China's objections, the United States should continue to conduct FONOPs at irregular intervals and intensify its pace by coordinating with its allies and partners. The U.S. has conducted FONOPs in the South China Sea for the past three years in much the same manner, with a single Navy warship sailing near one or more of the disputed features. Conducting these patrols more frequently will push the competition toward more favorable terms for the United States, unbalancing China and forcing it to respond to U.S. activities. Plus, with the U.K. and France now conducting FONOPs in South China Sea as well, China must push back not only on the United States but also its major security partners, who presents a united front in insisting that freedom of the seas and adherence to international law is paramount. These operations are not a challenge to Chinese sovereignty, but they are intended to remind China that attempts to restrict access to international waters or rewrite the rules to their advantage will not go unchallenged.
More importantly, the United States and its allies need to take back control of the strategic narrative associated with this great power competition. The new U.S. policy, outlined in the National Security and National Defense Strategies, emboldens Washington to declare red lines to send China a clear message of what constitutes a threat to U.S. national security and that of its allies. Just as President Donald Trump responded militarily in Syria against the use of chemical weapons, the United States can clearly indicate to China that a deployment of its intermediate range ballistic missiles like the DF-21D or DF-26, which can hold the ports of northern Australia at risk, to these islands will be met with a proportional, although not necessarily military response. While this reduces U.S. strategic flexibility, it also reduces ambiguity by solidifying the U.S. position and forcing China to respond on unfavorable terms. Seizing the narrative before China has a chance to further militarize region is a key advantage that Washington can initiate to deter China from further destabilizing the South China Sea.
As the United States competes with China as it implements policies to actualize its "free and open Indo-Pacific" strategy, it needs to continue to highlight China's revisionist behavior. It also must continue to reassure its allies and partners that it firmly stands behind its security commitments, and continue key defense policies that have ensured peace and access in the maritime global commons. The United States must continue to build on the strategic direction demonstrated in the NSS and NDS by not only intensifying the ongoing effort such as FONOPS but also explore further opportunities to take additional concrete steps to this end.
Commander Ben Cipperley, U.S. Navy, is a Federal Executive Fellow at the Stimson Center. The views expressed here are those of the author and do not reflect the official policy or position of the U.S. Navy, U.S. Department of Defense, or the U.S. Government.