India's Hidden Infertility Struggles
Behind India's booming population is another story: declining fertility rates and desperate couples.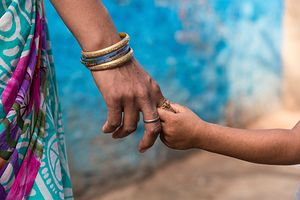 India, the world's second most populous nation at 1.3 billion people after China (1.4 billion) has always intrigued demographers. And now, with the United Nations projecting that India's population will outstrip China's as early as 2022, it looks like the country may well be ready to explode at its seams.
However, few know about an entirely unexpected problem that is currently bedevilling Asia's third largest economy — a dramatic decline in its fertility rate. While this may be welcome news for the overpopulated nation, it also points to the disconcerting trend of young couples unable to procreate.
The World Population Prospects: The 2017 Revision report estimates that the fertility rate of Indians (measured as the number of children born to a woman), has plummeted by more than 50 percent, from 4.97 during the 1975-80 period to 2.3 for the current period of 2015-20. By 2025-30, the report projects, the rate will nosedive further to 2.1, touching 1.86 from 2045-50 and 1.78 from 2095-2100. A fertility rate of about 2.2 is generally considered the replacement level, the rate at which the population would hold steady. When the fertility rate dips below this number, the population is expected to decline.
Urban Indian fertility is now at levels seen in developed countries and in some places among the lowest in the world. According to the Indian Society of Assisted Reproduction, infertility currently affects about 10 to 14 percent of the Indian population, with higher rates in urban areas where one out of six couples is impacted. Nearly 27.5 million couples actively trying to conceive suffer from infertility in India.
Interestingly, infertility, no longer a private sorrow, is coming out of the woodwork due to its social and interpersonal ramifications. "Infertility is an under-researched condition that is wrecking marriages and even people's lives," elaborates Dr. Sama Bhargava, consultant IVF expert at Fortis Hospital, NOIDA. "Childbearing is considered an essential role in life and a yardstick by which women's worth is measured. So infertility invites social stigma. It is time we recognize it as a perilous personal and public health issue."
The doctor states that the problem isn't gender-specific. Both male and female partners can be equally responsible for the inability to conceive a child. "For long, infertility was a cross that women had to bear. But we've found that less than 30 percent of Indian men have normal semen characteristics leading to conception problems for women," states Bhargava.
Lifestyle ailments are increasingly playing villain too, especially obesity and diabetes. Over 40 percent of women attending infertility clinics are found to be obese. In men, obesity brings down semen quality. Sexually transmitted infections, polycystic ovarian syndrome, fibroids, and genital TB are other new areas of concern among women. A rise in unprotected sex had led to sexually transmitted infections (STIs) and widespread use of both emergency contraception and surgical abortions, which can trigger serious infections that may cause irreversible infertility.
Dr. Sonia Malik, director of the Department of Fertility at the CK Birla Hospital for Women, Gurgaon, writes in a paper that in Indian villages, fertilizers and pesticides are contributing to declining fertility. A study comparing Caucasians and Indian women found that Indians age five years ahead of their European counterparts. "The average age of menopause in India is 47 yrs as against 52 yrs amongst the Western nations. This sharp decline in fertility is being attributed to environmental toxins, rampant use of plastics, a change in diet that also contains chemicals and genetic mutations," writes Malik.
Rapid urbanization, hormonal changes (especially in prolactin levels, which are found in many infertility cases), job pressures, vehicular pollution, and postponing parenthood are quoted by the doctor as other salient reasons for infertility in India.
Although the government's Ninth Five-Year Plan (1997–2002) document included infertility in its comprehensive reproductive and child health package, the country's primary healthcare system is still not equipped to handle such cases. A survey by the Indian Council of Medical Research (ICMR) found that most state-funded government health centers are "ill-equipped" to deal with cases of infertility. It discovered that a majority of the community health centers and primary health centers had "inadequate physical and diagnostic facilities" and that advanced laboratory services were available in less than 42 percent of district hospitals and 8 percent of community health centers.
According to the study "Infertility Concerns among Young Couples in Rural India," as in many developing countries, in India infertility treatment is also missing from available reproductive health services. Also, India's public health program falls short of addressing infertility even though the International Conference on Population and Development's program, to which the government is a signatory, states that reproductive health services should include prevention and appropriate treatment of infertility.
The government's lackadaisical approach to tackling the problem has instead created an entire ecosystem of gestational surrogacy business, where in-vitro fertility clinics — many of them unregulated — promise "five-star services" to infertile couples. Never mind if buried among these promises are harrowing tales of DNA mismatches and abandoned babies, and several unscrupulous practices being followed by such clinics.
A 2012 study by the Delhi-based NGO Sama Resource Group for Women and Health states that there are about 3,000 fertility clinics in India. However, experts say the actual number could easily be many times this. A notice served by the National Human Rights Commission to the Union Health Ministry and Indian Council of Medical Research in 2017 highlighted that, in Delhi alone, out of the 300 clinics, only 39 are registered with the ICMR.
Samiksha Mehra (name changed), a Delhi resident, recounts a Kafkaesque experience getting her "infertility" treated at a private clinic. She told this correspondent that without even a simple consultation with a gynecologist, she was asked to undergo a battery of invasive and expensive tests at the clinic. "When no problem was detected, they put my husband through the same drill. We were then told to consult with different 'specialists' in other clinics, on which we spent thousands more rupees."
Ultimately, when nothing proved conclusive even after three months, the Mehras abandoned the idea of further visits to the clinic. However, they never stopped trying for the baby. And after 10 months they were blessed with a daughter.
"Doctors then told us that undue stress can also cause anxiety, compromising chances of conception. When this stress is eliminated, it leads to a natural pregnancy as in our case," explained the new mother.
For people like Mehra, fertility experts have only one piece of advice: undergo tests at a good hospital to determine their fertility quotient. Instead, doctors say, couples are increasingly bypassing this important route to go directly to infertility specialists, even though 80 percent of such cases can be managed with simple, routine treatments. Only genuine cases need to be referred for advanced infertility treatments like IVF, egg donation, or surrogacy, they say.
Sensitization thus is key to making both genders aware of the problem. Medical breakthroughs in reproductive health have facilitated the preservation of sperms and eggs for future use — popularly called fertility preservation. Stem cell therapy is also poised to discover ways to re-form the eggs and sperms through what's called "fertility rejuvenation," experts say.
Given the magnitude of the problem, India urgently needs to work on strong legislation. Passage of the Assisted Reproductive Technology (Regulation) Bill, 2010 which has been five years in the making, can go a long way in streamlining the surrogacy industry by plugging loopholes.
With no monitoring mechanism in place, the industry is currently governed by a set of guidelines that aren't legally binding. This creates a fertile ground for exploitative agencies to hoodwink trusting couples in their innocent quest for a family.
Neeta Lal is a New Delhi-based editor and journalist. She tweets at neeta_com