Iran's Support for the Taliban Brings It to a Crossroads With Afghanistan
Tehran must make its choices carefully if it is to maintain good ties with Kabul.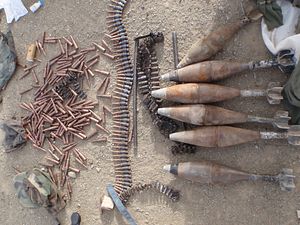 Afghanistan's Farah province has been under constant threat of attack by the Taliban. Last week, the Taliban launched a major offensive on the capital of Farah, which led to Afghan security forces temporarily retreating from the capital. After the attempt to capture Kunduz in 2016, this is the second time that Taliban insurgents attempted to capture the capital of a province. It is important to understand why the Taliban have escalated their insurgencies and attacks in Farah province this year.
Farah is located in the south-western part of Afghanistan bordering Iran. The commencement of construction for the Trans-Afghanistan Pipeline (part of the Turkmenistan-Afghanistan-Pakistan-India pipeline or TAPI) will pass through Farah, turning the province into one of Afghanistan's more strategically important provinces. If Farah falls into the hands of the Taliban, the consequences will not only be severe for major regional economic projects, but also directly challenge the security of Kandahar, Helmand, and other adjacent provinces.
As per recent reports, Russia and Iran have also been covertly supporting the Taliban, with their support expanding in recent years. The former leader of the Taliban, Mullah Akhtar Mansoor, was returning from Iran to Quetta, Pakistan, when he was targeted by a U.S. drone.
According to Afghan and American high-ranking officials, there is evidence to prove Iran is providing Taliban insurgents with weapons, money, and training. In 2016, the former governor of Farah province Asif Nang also accused Iran of supporting and harboring Taliban fighters. Iran claims that the sole purpose of their contacts with the Taliban is to fight their shared enemy: the Islamic State (IS). However, the fundamental of logic of supporting one terrorist group against another group is flawed.
Despite this, the recent spike of Taliban attacks in Farah province is related to a number of trends in Afghanistan and the region, discussed below.
Firstly, U.S. President Donald Trump withdrew the United States from 2015 nuclear deal with Iran, a development once seen as a game changer in the region, particularly for Iran and Afghanistan. While addressing the press, Trump declared that "It was a horrible one-sided deal that should have never, ever been made. It didn't bring calm, it didn't bring peace, and it never will."
With the withdrawal of U.S. from the nuclear deal, the economic woes of Iran will further grow. The Iranian currency has already depreciated by 37 percent against the U.S. dollar and Tehran is struggling to address the growing grievances of unemployment. Tehran is desperate to show to the United States that it can retaliate in many ways and one front for retaliation is increasing its support to the Taliban in Afghanistan. The recent attack in Farah province is directly related to this.
Secondly, Kabul and Tehran had ructions over the construction of water dams on major rivers in Afghanistan that flow toward Iran. Afghan President Ashraf Ghani's main economic development plan includes the construction of small and large dam projects across the country. The Afghan government formulated plans to complete the work of Salma Dam in Herat, bordering Iran, of the Kamal Khan dam in Nimroz province, and starting work on the Bakhshabad Dam, which is located in Farah province.
All of the above provinces border Iran and Ghani personally traveled to Nimroz to inaugurate the third phase of work on the Kamal Khan dam last year. These moves by the Afghan government drew strong rebuke from the Iranian government as Tehran, dependent on water flows, warned Kabul of the consequences. Iranian President Hassan Rouhani criticized the Afghan government's development plan and stated that his country will not remain idle. "We cannot remain indifferent to the issue [water dams] which is apparently damaging our environment," Rouhani said. "Construction of several dams in Afghanistan, such as Kajaki, Kamal Khan, Salma and others in the north and south of Afghanistan, affect our Khorasan and Sistan-Baluchistan provinces."
Thirdly, Iran was against the TAPI gas pipeline all along, as it passes through Afghanistan and reaches India. This project further strengthened Afghanistan's role as a regional hub for connecting various regions and countries. Iran didn't want the project to pass through Afghanistan and rather tried to get the project to go through Iran. Afghanistan succeeded, however, and the project was inaugurated in Herat province by the leaders of the four member countries in February 2018. On the day of inauguration, ten insurgents were arrested by Afghan Security Forces. They said that they were trained in Iran and were tasked to attack the inauguration ceremony of the TAPI project.
If Iran continues its clandestine support to the Taliban and other non-state actors in Afghanistan then this may eventually draw rebuke from Kabul, with a tit-for-tat response. Iran is already engaged on many fronts in the region, such as Syria, Yemen, Lebanon, Iraq, and, to some extent, in Bahrain. Its controversial Middle Eastern policies and expansionist designs have already alarmed many regional states, including the Gulf monarchies. Thus, if forced, Kabul might opt to support elements that directly threaten Iran's internal security, one of them being Jundallah, the ethnic Baluch group.
Although Afghanistan has many options to alter Iran's behavior toward Afghanistan, it is extremely important for both Afghanistan and Iran to maintain good diplomatic relations, which will mutually benefit both countries on political, security, and economical fronts. Amicable relations between Afghanistan and Iran have already paid off for Iran, as it has become Afghanistan's largest trading partner, replacing Pakistan.
Afghanistan's strained relations with Pakistan, meanwhile, have helped Iran step in and replace Pakistani goods in the Afghan market. The trade between Afghanistan and Iran has now increased to $2 billion. Yet if Iran continues to interfere in Afghanistan by supporting Taliban insurgents, it will not only lose the Afghan market, which might further exacerbate its economic woes, but also find itself further isolated.
Likewise, the strained relations will affect the joint efforts of Kabul and Tehran in fighting against drug trafficking and terrorism in the region. It will also damage the regional consensuses that Kabul is building to put an end to the protracted conflict in Afghanistan. Tehran must remember that a peaceful and stable Afghanistan is in the best interests of all neighboring countries, including Iran.
The only viable option now is to maintain regional economic cooperation, peace, and security through cooperation and coordination. The ball is in Iran's court: either it can choose to remain an important regional economic partner or follow a similar path as Pakistan and become further isolated.
Aziz Amin Ahmadzai writes on political and security issues in South Asia. He is a Chevening Scholar and Afghan government official. He tweets @azizamin786.