Malaysia's Foreign Policy Challenges Loom After its 2018 Elections
Irrespective of the outcome, the country faces some critical challenges that need to be addressed.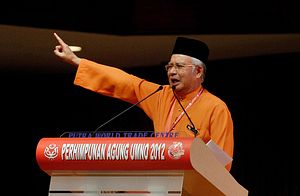 On May 9, Malaysians go to the polls in what has been touted as the most competitive election in the nation's history. Like most of the previous 13 elections, GE14, which pits the scandal-ridden incumbent Prime Minister Najib Razak and a fractured opposition held together by the country's longest-serving premier, Mahathir Mohamad, will be focused primarily on domestic issues rather than foreign affairs, and personality more so than policy. Yet irrespective of the outcome of polls, Malaysia will also have to confront some critical foreign policy challenges that have been difficult to address and continue to loom for both its leaders and its people.
Beyond slogans and broadly speaking, the exercise of Malaysian foreign policy over the past five decades or so has traditionally emphasized the importance of fostering of closer bilateral ties with neighboring states, the expansion of the country's role in regional and global fora, and an attempt to maintain equidistance between major powers, including but not limited to the United States and China. There has of course been significant change within that continuity over the years in some aspects, and the records of Malaysia's prime ministers, including Najib and Mahathir, are much more nuanced and mixed than the current election rhetoric might suggest.
It is also true that, over the past few years, Malaysian foreign policy under Najib has seen the realization of some opportunities but also the rise and intensification of challenges (See: "Malaysia's Crises of Confidence"). Malaysian officials, including Najib himself, are fond of citing the successes – from the relative warming of Malaysia-Singapore relations relative to the Mahathir years to the cultivation of better ties with major powers including Beijing and Washington (See: "The Real Test for US-Malaysia Relations in the Trump Era"). Malaysia also continues to play a leadership role on some issues from counterterrorism to the Rohingya crisis, which, no matter how self-interested, pales in comparison to the silence and complicity of some other states and is appreciated by extraregional actors who sometimes struggle to find advocates for their own causes (See: "ASEAN's Post-Marawi Islamic State Challenge").
Yet in truth, few would contest that the challenges have been piling up in Malaysia's foreign policy under Najib as well. While the uproar tends to be focused on episodic events like a Najib visit to China or the 1MDB scandal, more worrying are significant structural issues that undercut the exercise of Malaysian foreign policy. Those more consequential challenges run the gamut, from a meager defense budget that limits Malaysia from addressing growing security threats to an underperforming economy to a more divided country that dilutes the support needed for the country to wage an effective foreign policy and preserve its sovereignty from outside threats from state and non-state actors (See: "Malaysia's South China Sea Policy: Playing it Safe").
These are serious challenges that will be difficult to solve irrespective of who is in power. And they are compounded by additional regional and global uncertainties that are unlikely to go away anytime soon and will likely intensify, from the rise of a more assertive China to the disruptive effects of technology on politics and society. The past few months have made it even more arduous to have a sophisticated conversation on these challenges, let alone make inroads towards addressing them as the country has been in election mode. Once the dust settles following the election, one hopes that rhetorical attacks will give way to realistic approaches to addressing them.