Philippines Gets New Israel Missile System for its Attack Craft
The Southeast Asian state gets another boost to expand its naval capabilities.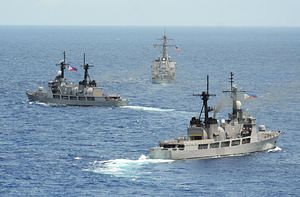 This week, the Philippine defense establishment confirmed that the Southeast Asian state had received missile systems from Israel for its attack craft that had been added to its arsenal last year. While long expected and somewhat delayed, the arrival of the missile systems nonetheless constitutes a boost for Manila as it seeks to expand its limited military capabilities under President Rodrigo Duterte.
As I have noted before in these pages, as the Philippines seeks partners to realize some key line items in its ongoing military modernization, the Philippines and Israel have been making inroads in the defense realm over the past few years, including through several procurement deals (See: "What's Next for Philippine Military Modernization Under Duterte?"). Over the years, the Armed Forces of the Philippines (AFP) has placed orders for a range of equipment, including missile systems, armored personnel carriers, and radars, from several Israeli firms.
One of the deals in this respect had been the Spike extended range missile systems from Israeli weapons weapon manufacturer Rafael Advanced Defense Systems to be installed on the Philippine Navy's multiple-purpose attack craft (MPACs). The three MPACs had officially been added to the 3rd Boat Attack Division of the PN's Littoral Combat Force (LCF) in May 2017 in accordance with Philippine defense modernization plans, and they were made available for use for a variety of purposes including patrols, search and rescue, ship boarding, and surface warfare operations.
Philippine defense officials had suggested during the adding of the attack craft last year that the arrival of the missile systems would occur separately from the inauguration of the vessels. The PN had also subsequently indicated last year that the delivery of the Spike ER missile systems for the MPACs and the start of installation was expected by Christmas, with a pre-delivery inspection already scheduled.
Finally, on Wednesday, defense spokesperson Arsenio Andolong reportedly confirmed that the missile system had arrived in the third week of April. Andolong said that the missile system was being integrated onto the MPACs under the guidance of personnel from Rafael, after which they would then undergo technical inspection before their official acceptance and use. He also once again reaffirmed that the missile equipped MPACs would greatly enhance the PN's ability to counter threats in littoral areas for missions ranging from counterterrorism to maritime law enforcement operations.