Singapore-Brunei Security Ties in Focus with Presidential Visit
Defense issues were in the spotlight again in a recent interaction between the two Southeast Asian states.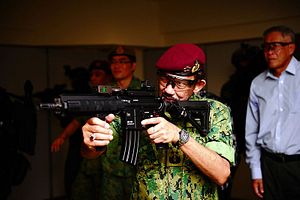 This weekend, Singapore President Halimah Yacob paid her first state visit to Brunei. Though her visit had a wide-ranging agenda, the recent high-level interaction between the two Southeast Asian states also featured the defense aspect of their ties.
As I have noted before, Singapore and Brunei have long had a close defense relationship as part of their broader bilateral relationship. This is reflected not just in traditional aspects of defense ties like exchanges, visits, and exercises, but also the fact that the Singapore Armed Forces (SAF) holds training in Brunei, as it does with several other countries given the land scarcity that the city-state faces in this respect (See: "Where are Singapore-Brunei Defense Ties?").
Those interactions have continued on into 2018 as well amid some domestic and regional developments affecting the two countries, as I observed previously. On Singapore's part is holding the annually rotating chairmanship of the Association of Southeast Asian Nations (ASEAN) this year, which has kept it busy on the foreign policy side even as it addresses a whole other range of priorities at home and abroad. Brunei, meanwhile, is coming out of a busy few months domestically as it has been setting out domestic priorities for the next few years amid significant economic challenges.
Over the weekend, the bilateral relationship was in the headlines again when Singapore President Halimah Yacob was on a four-day state visit to Brunei. The four-day trip, which was her first overseas state visit since assuming the position of president last year, included meetings with several Brunei officials including Sultan Hassanal Bolkiah in a trip with a wide-ranging agenda including the economic and people-to-people dimensions of ties (her last visit to the sultanate was in 2013).
But the security dimension of ties was also part of the trip as well. During the trip, both sides reaffirmed the importance of the defense aspect of the relationship, including the ability of the SAF to train in Brunei. Halimah, who was accompanied by a range of other Singapore ministers in her delegation, also visited the Defense Academy at the Royal Brunei Armed Forces (RBAF) in Kampong Tanah Jambu, where she met with officials and personnel, and SAF soldiers training in Brunei.
During the visit, both sides also concluded a memorandum of understanding on strengthening the exchange of information in combating money laundering and terrorism financing. According to Singapore's foreign ministry (MOFA), the MOU was between the Financial Intelligence Unit, Autoriti Monetari Brunei Darussalam, and the Suspicious Transaction Reporting Office, Commercial Affairs Department, Singapore Police Force. No additional details were publicly disclosed about the specifics of the agreement.