The Quad Reborn
A decade after it was first proposed, the U.S., Japan, India, and Australia are getting the squad back together.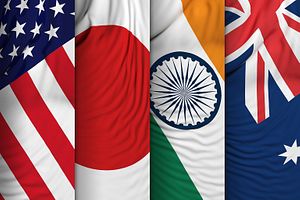 The idea itself is rather simple: the Indo-Pacific's four most prominent and powerful democracies engaging directly on the basis of shared security interests and mutual geopolitical concerns. The Quadrilateral Security Dialogue – the Quad – is an idea whose time came and passed quickly a decade ago and seemingly has arrived again. In this month's cover story, we aim to present the perspectives of the Quad countries on the concept, its rebirth, and its future. As the following four perspectives show, the United States, Japan, India, and Australia share as much as they differ and the reborn Quad continues to face challenges in one of the world's most dynamic regions.
Jeff M. Smith, a research fellow at the Heritage Foundation's Asian Studies Center, charts the re-emergence of the Quad concept, a decade after it was first proposed, and why it has come back to life at this particular moment in history.
Yuki Tatsumi, co-director of the East Asia Program and Director of the Japan Program at the Stimson Center, then takes up the case of Japan. Prime Minister Shinzo Abe, as the originator of the Quad in his first term as prime minister back in early 2007, has a unique stake in its success this time around.
Rajeswari Pillai Rajagopalan, senior fellow and head of the Nuclear and Space Policy Initiative at the Observer Research Foundation (ORF), lays out India's perspective. In the years since the first Quad failed to take wing, India's relationship with China has deteriorated. This, Rajagopalan argues, informs New Delhi's revived interest in the concept, which would link India to a wider security network in Asia.
Rory Medcalf and David Brewster, head of college and senior research fellow, respectively, at Australian National University's National Security College, present the view from Australia. For Australia, they write, the revived Quad is "a natural reflection of an evolving Indo-Pacific strategy of creative balancing and adaptive diplomacy."