'Visit Laos Year 2018': A Real Boost for the Tourism Industry?
Efforts are underway, but it remains an uphill task.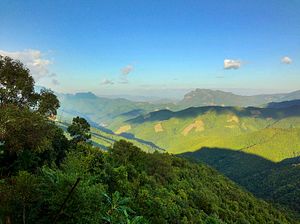 The appearance of Laos as a land with beautiful nature, peaceful temples, and historical architecture with a French touch often misleads people into thinking that the tourism industry is a considerable part of the tiny, landlocked Southeast Asian state's economy.
However, in fact, the tourism industry's share of the Gross Domestic Product (GDP) for Laos was only $2 billion, or 13.7 percent of GDP, in 2017. This meant it lagged behind its bigger neighboring countries, such as Cambodia with $5.5 billion, or 28.3 percent of GDP, or Thailand with $82.5 billion, or 20.6 percent of GDP.
For perspective, that puts Laos 118th in the Travel & Tourism ranking of total contribution to GDP in 2017, according to the World Travel & Tourism Council's latest report. Thailand came in at the 15th spot while Vietnam and Cambodia were in 47th and 72nd in the same ranking.
Laos' challenges in the tourism sector extend beyond figures on that score alone. To take another indicator, for example, in the last year, the number of foreign tourists who visited Laos actually dropped 8.7 percent compared to 2016. Visitors from Europe decreased 27 percent, those from South Korea dropped 2 percent, and tourists from Thailand were down 11 percent, according to National Economic Research Institute of Laos (NERI).
Beyond just stating those figures, NERI points to some key challenges that have resulted in those outcomes. These include limited promotional advertising, a relatively high cost of general services and living costs, and lack of tourism products as reasons behind Laos' disappointing performance in the tourism industry.
Even though Laos' economy is admittedly smaller than the other countries mentioned above, these sorts of figures could nonetheless be seen as a bit disappointing for the landlocked communist nation. Laos has achieved in the region of 7 percent annual economic growth on average over the past few years and hopes to do more with the few sectors where it can do so, with tourism being one of them.
This might change soon, however. The Lao government is currently pushing a Visit Laos Year campaign, aimed at reversing the country's declining tourism fortunes. It laid out an ambitious goal of attracting 5.2 million tourists, with projected revenues of approximately $910 million in 2018.
As a part of the efforts, the government, in cooperation with different government bodies and the private sector, has promoted activities associated with Visit Laos Year through public media in the past few months. Local authorities have also organized cultural festivals and traditional events.
The latest example is Deputy Prime Minister of Laos Sonexay Siphandone's visit to Vang Vieng, one of the most popular destinations in the country for tourists. During his visit, Sonexay encouraged local authorities to focus on making Vang Vieng a place dedicated to tourism while urging them to cooperate with industry and commercial departments to avoid industrial or business expansion at the expense of tourism.
Sonexay's remarks further highlight the issues that prevent Laos from advancing its tourism industry. Part of the problem lies in the lack of communication among different players, including government organizations and private sector participants.
Realizing this challenge, the Lao government has recently published a Destination Management Plan with the help of the Asian Development Bank, proposing task forces on priorities such as marketing and promotion, hospitality skills, tour guide training, and responsible tourism. As a result, a tentative dialogue has started between the government, private sector, and nongovernmental organizations, to a degree that had been previously lacking.
The country is poised to make other changes as well. For instance, there are plans to introduce electronic visa (E-visa) services at the end of this year or early next year in a move to attract more foreign tourists.
Visitors to Laos who have experienced the visa process or diplomats who understand it know that this would be no small feat. Overseas visitors currently need to use one of two options to obtain a tourist visa: one is to apply for a visa on arrival, which is available at 22 international border checkpoints across the country, and the other is to apply for an entry visa from a Lao embassy or consulate based in their country or a nearby country, which could be "inconvenient," according to a Lao government official who was interviewed by Vientiane Times.
The country plans to offer the new system only four tourists initially, but then expand it to people who visit for business purposes among others. With the new scheme, the Lao government expects to see the number of tourists increasing steadily in coming years from 4.8 million in 2017 to 5.2 million in 2018, 5.9 million in 2019, and 7.5 million by 2025.
With positive changes looming, the view from the outside is also promising. The World Travel & Tourism Council forecasts that the total contribution of the tourism industry to employment, including jobs directly supported by the industry, is expected to grow by 0.3 percent to 384,500 jobs in 2018 from 383,500 jobs in the previous year and climb to 428,000 jobs in 2028. It also projects that the total contribution of the tourism industry to the country's GDP is expected to rise by 4.7 percent in 2018, and to rise to $3.37 billion in 2028.
To be sure, one needs to be careful when assessing the validity of such linear forecasts, especially given the significant challenges that remain. For now, it is at least clear that the Lao government recognizes the difficulties that are preventing it from realizing the country's full tourism potential, and that it is heading in the right direction in starting to address some of them.