What Does a Bigger 2018 Balikatan Military Exercise Say About US-Philippines Alliance under Duterte?
Despite continued challenges, the drills have been scaled up relative to the previous year.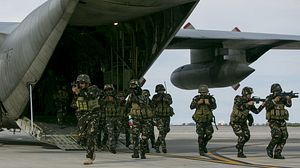 This week, the United States and the Philippines launched the 34th iteration of their biggest annual bilateral exercise known as Balikatan. Though only a few specifics have been released so far, initial indications are that this year's iteration of the exercises has been scaled up relative to the previous year, mirroring the pattern we have witnessed in the broader bilateral defense relationship under Philippine President Rodrigo Duterte.
As I have noted previously, despite initial uncertainties created for the U.S.-Philippine alliance during the Duterte era, defense ties between the two sides have actually not only been sustained in most areas, but even quietly expanded in some realms (See: "What Will US-Philippines Military Exercises Look Like in 2018?"). Though indications were that this would also be the case with respect to Balikatan as well, an actual assessment had to await specifics related to the exercise.
The specifics available so far indicate that this year's iteration of Balikatan certainly constitutes a major boost relative to the previous year. For instance, in terms of troop numbers, while only over 5,000 participated last year, according to Lieutenant Liezl M. Vidallon, the Balikatan Combined Joint Information Bureau chief, this year that number is up to 8,000, which includes 5,000 personnel from the AFP and 3,000 troops from the U.S. side.
Beyond the numbers, and more substantively, in terms of the kinds of activities carried out in the various components of Balikatan this year, there are also indications of a boost as well. Most notably, certain engagements previously downgraded or not publicly emphasized last year were included this year. For instance, according to the U.S. Embassy in Manila's public statement, operational and counterterrorism training exercises will include a joint combined live fire exercise and an amphibious raid. The focus of the drills will include military operations in urban terrain based off of lessons learned from the siege by Islamic State-backed militants in the southern Philippine city of Marawi, which had an important role in catalyzing alliance cooperation (See: "ASEAN's Post-Marawi Islamic State Challenge").
To be sure, a more comprehensive assessment of the Balikatan exercise will have to wait until the exercises themselves conclude on May 18, as there are typically more details released thereafter, including on the role of other countries involved beyond the United States and the Philippines such as Australia and Japan. And though some basic metrics such as the ones above indicate that the drills have been scaled up relatively speaking, it is worth keeping in mind that, for perspective, in terms of more meaningful conceptions of scale and scope, they are still not where they were during the Obama years. Yet that should not detract from the fact in spite of lingering challenges in the Duterte era, Balikatan is gradually scaling up just as the U.S.-Philippine alliance has been.