What's in Indonesia's Indo-Pacific Cooperation Concept?
The articulation of ASEAN's own Indo-Pacific concept may pre-empt competitive narratives from Washington or Beijing.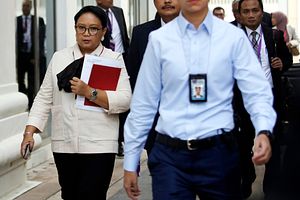 At the Centre for Strategic and International Studies Global Dialogue on May 8 in Jakarta, Indonesian Foreign Minister Retno Marsudi unveiled the Southeast Asian state's Indo-Pacific cooperation concept. The concept is based on the principles of being "open, transparent and inclusive, promoting the habit of dialogue, promoting cooperation and friendship, and upholding international law."
According to Marsudi, the concept was developed in recognition of the need for ASEAN to respond with a united front to emerging regional issues, thereby preserving ASEAN's centrality.
Highlighting that the Indian Ocean Rim Association was the only "vehicle of cooperation" among coastal states bordering the Indian Ocean, Marsudi added that the Indo-Pacific concept also aims to link new Indian Ocean investments with mature investments in the Asia-Pacific.
Marsudi also outlined Indonesian President Joko "Jokowi" Widodo's vision of Indo-Pacific cooperation: first, ASEAN continues to create an environment that respects international law, promotes dialogue and peaceful dispute settlement, and avoids any use of force. Second, ASEAN needs to address transnational security challenges, such as terrorism, drug trafficking, human trafficking, and piracy. Third, ASEAN should create "new economic growth centers" in the Indian and South Pacific Oceans via "an open and fair economic system."
This Indo-Pacific concept – stressing ASEAN unity and centrality – has received positive responses from ASEAN member states and the bloc's dialogue partners, with Indonesia planning to table the strategy as the main agenda item at the upcoming 13th East Asia Summit (EAS) in November 2018.
Significance of Indonesia's Proposal
Indonesia's proposal of an ASEAN Indo-Pacific concept is significant for three reasons.
First, Jakarta's role in conceptualizing the concept, and seeking agreement from ASEAN and its dialogue partners, cements its status as the unofficial leader of ASEAN and as a global middle power.
While ASEAN traditionally eschews the delineation of a leader among its 10 states, Indonesia – being the largest member both in geographical size and population, as well as being one of ASEAN's founding states – has long been viewed as having both the clout and capacity to spearhead critical regional initiatives.
The articulation of an Indo-Pacific strategy also speaks to Indonesia's branding of itself internationally as a global maritime axis. This perpetuates Jakarta's vision of being the "Global Maritime Fulcrum" – with key policy thrusts of ramping up naval capabilities, enhancing maritime trade and connectivity, and safeguarding marine resources in its territorial waters.
Second, at the regional level, the Indo-Pacific cooperation concept is significant because it entrenches ASEAN centrality – placing ASEAN in the driver's seat in managing regional geopolitics and addressing the multifaceted security and economic challenges.
Instead of allowing external powers to dictate terms of Indo-Pacific cooperation – such as Beijing with its Belt and Road Initiative, or Washington and Tokyo with their yet-to-be-defined free and open Indo-Pacific strategy – ASEAN is seizing the initiative to propose the "rules of engagement." This could persuade regional powers to abide by ASEAN's envisaged concept, as all powers present at the EAS adhere to and are comfortable with the ASEAN Way of maintaining ASEAN centrality, nonintervention in internal affairs, and consensual decision-making.
Being the only inclusive regional security platform where all East Asian powers are represented, discussion of ASEAN's Indo-Pacific concept at the EAS – and obtaining agreement from EAS members on what it stands for and the way forward – ensures that states are on the same page. With ASEAN taking the lead, individual powers are discouraged from announcing unilateral declaratory statements on their own Indo-Pacific concept, should it differ from ASEAN's definition.
Third, at the international level, Indonesia's – and subsequently ASEAN's – proposal of a cogent Indo-Pacific partnership strategy serves to offset great power politics by providing a view independent from the United States, China, and other interested powers like India, Japan, or Australia.
ASEAN's centrality, which defines the regional security architecture, makes it more likely that its proposal will be accepted by all powers. Any vision proposed by other powers could be accused of attempting to assert hegemony in the region, and ASEAN – being a neutral bloc of states trusted by EAS members – is best placed to reassure all parties of its benign and collaborative intentions.
The articulation of ASEAN's own Indo-Pacific concept also preempts any competitive narratives emanating from Washington or Beijing. The ASEAN narrative is one of collaboration for the benefit of all Indo-Pacific states, with the thrust toward developing "economic growth centers" particularly appealing for the region's developing nations. Powers that may wish to assert a new era of great power competition would gain no traction among Indo-Pacific states after ASEAN's pronouncement of its strategy emphasizing mutual security and economic gains.
Will the Concept Fly?
Nonetheless, major questions still remain on the applicability and feasibility of Jakarta's Indo-Pacific concept proposed by Marsudi.
Indeed, the devil is in the implementation details if this concept is to gain currency among EAS members.
For example, beyond the principles and conceptual underpinnings, what should states concretely do to implement the strategy? With China already possessing de facto control of the South China Sea, how may ASEAN and Indo-Pacific states enforce the respect of international law with peaceful dispute resolution? How can the scourges of piracy and terrorism be better mitigated while ASEAN member states continue to resist intervention in domestic affairs?
There remains substantial dissonance between Indonesia's suggested Indo-Pacific partnership concept and the reality on the ground. This requires further strategic thinking to achieve reconciliation between desired and likely outcomes.
In today's geopolitical narrative where the much-vaunted confluence of the Pacific and Indian Oceans has taken center stage, ASEAN's ability to maintain its prized centrality will depend on Indonesia – and its fellow ASEAN member states – closing the cognitive gaps in its Indo-Pacific strategy. And it must do so in a manner that regional powers find convincing and nonadversarial to their interests.
Jansen Tham is a Masters in Public Policy candidate specializing in politics and international Affairs at the Lee Kuan Yew School of Public Policy, National University of Singapore.