What's Next for EU-Vietnam Defense Ties?
A closer look at what could lie ahead for the security aspect of the relationship in spite of lingering challenges.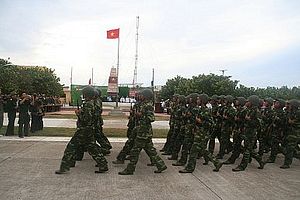 Last week, Vietnam's deputy defense minister led a high-ranking delegation for a security engagement with the European Union. The trip highlighted ongoing attempts by Hanoi to bolster collaboration with the EU in the defense realm despite the lingering challenges in advancing ties on this front.
Though Vietnam has long had ties with select European states, Hanoi and the EU as a bloc have been expanding their ties over the past few years, with the framework for relations set out in the Partnership and Cooperation Agreement (PAC) that governs overall ties between the two parties that was signed in 2012 and took effect in 2016. But attention has tended to be primarily in the economic aspects of ties, particularly with the EU-Vietnam Free Trade Agreement.
Yet defense cooperation has also been an increasing part of that conversation as well. As it has done with other partners, including with individual European countries such as France, Vietnam is looking for ways to boost security collaboration with the EU which can be beneficial to Hanoi in various ways ranging from strategic alignment to the provision of expertise, equipment, and funding across areas from peacekeeping to maritime security.
This could be a logical step for the EU as well given its desire to bolster its involvement in security issues in the Asia-Pacific and boost its ties with Southeast Asian states and ASEAN as a grouping. But lingering concerns including those related to Hanoi's human rights record can complicate or slow down the pace of aspects of potential collaboration on this front.
Still, some interactions on this front have continued. For instance, just last December, General Mikhail Kostarakos, the chairman of the European Union Military Committee (CEUMC), the highest-ranking EU military official, paid an official visit to Vietnam where he met with several officials including Vietnam Deputy Defense Minister Nguyen Chi Vinh, Foreign Minister Pham Binh Minh, and Defense Minister Ngo Xuan Lich. During those interactions, he delivered an address on the European Union's security role and both sides explored further collaboration in various areas including peacekeeping, military medicine, disaster relief, search and rescue, and cybersecurity.
Last week, EU-Vietnam defense relations were in the spotlight again when Vinh led a high-ranking defense ministry delegation to visit the European headquarters from May 14 to May 16 at the invitation of Kostarakos. Though his visit involved several interactions and meetings, the highlight was his inaugural participation of the EUMC meeting among chiefs of defense as a special guest.
During his visit there, Vinh delivered a keynote speech at the session on UN peacekeeping operations. During his speech, he highlighted the EU's contributions to peacekeeping and pointed out the growing role that Vietnam is playing within UN peacekeeping as well.
But this was also an opportunity for Vietnam to highlight the future opportunities for EU-Vietnam defense ties, and Vinh did not miss that chance. According to Vietnam's defense ministry, Vinh mentioned the need for officially establishing the aspects of a defense relationship, including becoming an EU official partner on defense cooperation through the inking of a Joint Vision Statement on Defense and a memorandum of understanding on bilateral defense cooperation between the two sides. On peacekeeping more specifically, he also said both sides could expand collaboration on that front by stepping up interactions on various aspects including training, exchanges, and capacity-building activities.
Getting all of this accomplished might take some work, given the challenges that remain for ties. But Vinh's visit once again reaffirmed the underlying logic and framework for security collaboration between the EU and Vietnam and the steps that we could see should advances continue.