What's Next for Indonesia-Jordan Defense Cooperation?
Recent meetings highlighted ongoing efforts by both sides to explore further opportunities in this realm.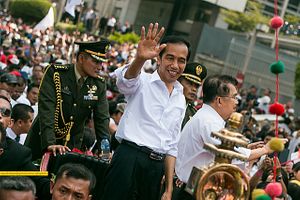 Last week, Indonesian and Jordanian officials held a series of high-level meetings on the sidelines of a defense engagement in Amman. The interactions emphasized the ongoing efforts by the two countries to explore opportunities for further defense collaboration on issues ranging from counterterrorism to defense industry cooperation.
Indonesia and Jordan established ties back in 1950, and since then, efforts have been made to advance various areas of cooperation including in the economic and sociocultural realms. But security collaboration has also begun to factor more prominently in defense ties over the past few years, particularly around the issue of counterterrorism with fears over the rise of the Islamic State and other associated terror groups (See: "ASEAN's Post-Marawi Islamic State Challenge").
Both Indonesia and Jordan have been exchanging experiences in terms of how to promote various elements of a more holistic and linked approach to addressing the terrorist threat, recognizing the cross-regional nature of the challenge from the Middle East out to Southeast Asia as well as the limits of an exclusively military approach. A series of meetings and exchanges have already been ongoing between security officials in this respect.
Last week, bilateral ties were once again the spotlight when both countries held talks on the sidelines of the Special Operations Force Exhibition and Conference 2018 (SOFEX), which was held in Amman, Jordan. The Indonesian delegation, headed by Defense Minister Ryamizard Ryacudu, met with several top Jordanian officials including Jordan's King Abdullah as well as Prime Minister and Defense Minister Hani Mulki. During the meetings, both countries discussed how they could advance collaboration between their armed forces and special forces, especially in the area of counterterrorism, as well as how they could boost their defense relationship more generally.
According to Indonesia's defense ministry, both sides discussed various aspects of counterterrorism, with Jordan noting measures being mulled to reform its educational curriculum and Indonesia emphasizing its focus on increasing the resilience of its population against terrorist threats and ongoing trilateral cooperation with Malaysia and the Philippines. Abdullah specifically mentioned his appreciation for Indonesia's expertise in areas such as jungle warfare, and both sides explored ways to collaborate in the counterterrorism field.
Both sides also looked at opportunities for Jordan to establish further cooperation with Indonesia's defense industry, including moving towards purchase of Indonesian armaments. A memorandum of understanding (MOU) was also inked between PT Pindad and Jordan's defense industry to that effect. Though no further specifics were publicly unveiled about the details of the agreement, it was just the latest example of Indonesia's efforts to boost such collaboration as part of its own domestic priority of advancing its defense industry (See: "Indonesia Spotlights its Defense Industry Challenge").