Why Punishing India on Russia Would Be a Mistake for the United States
Though workarounds can be found, a troubling new piece of legislation has once again raised concerns regarding the U.S.-India defense relationship.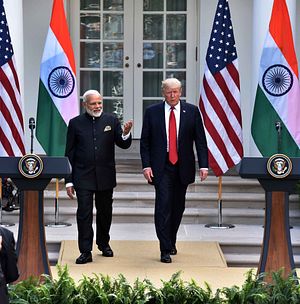 In an effort to punish Russia for interfering in the U.S. election in 2016, the U.S. Congress adopted the Countering America's Adversaries Through Sanctions Act (CAATSA) — and did so on an overwhelmingly bipartisan basis over the objection of U.S. President Donald Trump, whom many in Congress considered weak on Russia.
To put the squeeze on Russia, CAATSA imposes sanctions on anyone who knowingly engages in a significant transaction with Russia's defense or intelligence sectors. The elephant in the room is that India is actively considering purchasing S-400 Triumf advanced air defense systems worth $4.5 billion from Russia. Such a purchase would certainly qualify as significant.
CAATSA puts India in a tight spot because the country has traditionally purchased Russian defense systems. Between 2004 and 2014, roughly 75 percent of India's weapons imports were from Russia. CAATSA asks India to stop on a dime, reverse its spending decisions, and cut out a long-time supplier.
The Act does not take into account the fact that India has been moving away from Russia and toward the United States. After all, the main focus of CAATSA is Russia—the true bad actor in this story. A report from the Parliament's Standing Committee on Defense found that U.S. firms concluded 13 contracts with India worth roughly $4.3 billion over the last three years while Russia secured 12 contracts for only $1.2 billion.
This is a great trend—one that industry will continue to build upon as long as sanctions don't upset the apple cart. We have long advocated that India should buy its defense systems from the United States, starting with the F-16 from Lockheed Martin and F-18 from Boeing. If the United States were to sanction India over the S-400, then India would come under extreme political pressure to avoid any major deal with U.S. defense companies.
Furthermore, it is worth noting that an embargo will have impact on job creation in the United States — specifically on the civilian aircraft orders, where India is servicing its fast-growing air travel market. Our defense relationship is still suffering from sanctions that the United States imposed on India for conducting nuclear tests in 1998. Let's not set back the clock another 20 years.
It is within this context that the U.S. Department of Defense is looking for an off ramp for India. In testimony to the U.S. Senate, the U.S. Secretary of Defense James Mattis asked Congress for a new law amending CAATSA. The new law would give the Secretary of State the authority to decide whether India would be sanctioned under CAATSA. As Mattis put it:
[T]here are nations in the world which are trying to turn away from formerly Russian-sourced weapons and systems like this. We only need to look at India, Vietnam and some others to recognize that, eventually, we're going to paralyze ourselves…So what we ask for is that the Senate and the House pass a national security waiver in the hand of the Secretary of State—I'm not asking for myself. Foreign policy is driven from Foggy Bottom…So, if he has the waiver authority and I can go to him and show it's in our best interest, then we get an internal management of this process, but it keeps us from being boxed in by the Russians. 
As indicated in Secretary Mattis' testimony above, a waiver for India is in the United States' "best interest." Mattis is making a simple calculation that keeping India close is more important than punishing India for continuing to make defense purchases from Russia. His comment asks Congress to view India as a check against China, which poses the greatest national security threat to the United States—a sentiment shared by Republicans and Democrats alike. Congress has embraced India on a bipartisan basis as a "major defense partner," a status it created in the National Defense Authorization Act of FY 2017—a status whose underlying intent was to ensure that U.S.-India defense relations blossomed.
Critics who think that India should avoid the S-400 purchase misread the situation. Simply put, sanctions would have a disastrous effect on U.S.-India relations for decades to come. In India's eyes, the United States would once again be regarded as untrustworthy. Sanctions would push India closer to Russia and China at a time when India is reeling from the decision to withdraw from the Iran deal—Iran is India's third largest supplier of crude oil.
If Trump is unable to get Congress to pass a new law with waiver authority, he could move to delay the imposition of sanctions under Section 231(c) of CAATSA. He would have to certify that India is substantially reducing the number of significant transactions it makes with Russia. It takes time to shift current military platforms, which India is gradually shifting. While this move would not be clean and Congress' buy-in is undetermined, Trump could argue that, from a historical perspective, India had reduced the number of significant transactions it had concluded with Russia.
Before going down this road, it is hoped that Congress will take Mattis' advice and enact new legislation that protects its major defense partner and helps ensure that we have the friends we need in an increasingly tense region at a time of great power competition.
Mukesh Aghi is President and Chief Executive Officer of the U.S.-India Strategic Partnership Forum (USISPF).