Asia Winning World Cup (Off The Field, That Is)
China's team may not have made it, but its companies are well represented at the World Cup.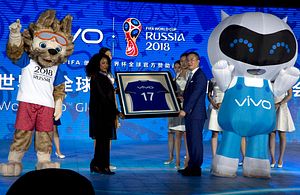 Asia's biggest economy may have missed out, but China off the pitch — and Japan on it — are still scoring plenty of goals at the FIFA World Cup finals in Russia.
With Western brands including Continental, Johnson & Johnson, and Japan's Sony reportedly withdrawing sponsorship over a corruption scandal at football's world governing body, Chinese brands were quick to fill the void.
In the battle for global eyeballs, Chinese companies have reportedly spent more than $800 million in advertising at the world's most-watched single sports event.
Chinese companies are also prominent among FIFA's official sponsors, which comprise three tiers based on their contribution to the coffers of the troubled Switzerland-based organization.
Chinese property developer Wanda Group is listed among FIFA's seven top-tier "partners," which also include South Korea's Hyundai Motor Company. There are also three Chinese companies listed among the second tier of official World Cup sponsors: electronics maker Hisense, dairy firm Mengniu, and smartphone maker Vivo.
The third tier of sponsors, described as "national supporters," lists only three companies, all Chinese, comprising fashion retailer Diking, virtual reality company Luci, and electric scooter maker Yadea.
PR Week's Sam Burne James told the Guardian that the exposure would help lift the profile of Chinese brands among Western consumers.
"Chinese companies get two things from sponsoring the World Cup. The first is access to Western audiences that they will sooner or later be trying to win over, as their companies expand. The other is a cosmopolitan veneer to their brands, which they hope will resonate with their sizable domestic markets," he said.
China's advertising push also reflects Chinese President Xi Jinping's love for the "beautiful game," with Beijing eyeing a bid to host the World Cup finals, potentially as early as 2030.
Despite its current lowly ranking of 75th, China aims to become a football power in Asia by 2030 and a world-class competitor by 2050. Chinese clubs have invested millions of dollars in attracting world-class players to the domestic league, with some $451 million spent on player transfers in 2016, comparable to top European leagues such as Italy and Spain.
Beijing also plans to increase China's football-playing population to 50 million by 2020, promising one football pitch for every 10,000 people by 2030.
"It's [Xi's] version of making China great again," Shanghai University of Sport's Liu Dongfeng told Bloomberg News.
"Football is not necessarily the means to that end, but at least football should at least match that status. It's really hard to find the correct word to describe it —it's massive. There's no parallel."
Japan and South Korea previously co-hosted the World Cup finals in 2002, the first time the event had been played in Asia, and there is renewed speculation that Asia could again co-host in 2030, potentially by the Koreas, China, and Japan.
"If the neighboring countries in Northeast Asia, including North and South Korea, can host the World Cup together, it would help to create peace in North and South Korea as well as Northeast Asia," South Korean President Moon Jae-in told FIFA boss Gianni Infantino during his recent visit to Seoul.
FIFA raked in $4.8 billion in revenue from the 2014 World Cup in Brazil, which spent an estimated $15 billion on hosting the event.
This year's finals could generate $6 billion for the sport's world governing body, helped by a rise in broadcast revenue to $3 billion, despite the absence of the world's two largest economies, the United States and China, from the 32-nation finals.
Scoring Goals
Yet on the pitch, Asia has also seen an improvement in its fortunes despite never having won the event.
In its June 19 opening match, Japan's 61st-ranked "Samurai Blue" defeated highly fancied 16th-placed Colombia 2-1, becoming the first Asian side to beat South American opponents at the World Cup.
Previously, Asian teams had only managed three draws in 17 matches against opponents from South America, considered a powerhouse in world football with previous Cup winners comprising Argentina, Brazil, and Uruguay.
However, Asia's other qualifiers for Russia, Australia (ranked 36th), Iran (37th), Saudi Arabia (67th), and South Korea (57th) have shown mixed performances at the 2018 finals.
After its first two matches, Japan was the only Asian nation to have won a game, boasting a win and a draw with prospects of advancing to the next round. In contrast, Saudi Arabia and South Korea lost both their opening two matches and Australia recorded a defeat and a draw.
Before the tournament started, sports blog FiveThirtyEight gave the Asian qualifiers a negligible chance of winning the world's most prized trophy. While best-rated Japan was given a 43 percent chance of advancing to the last 16, it was only given a 14 percent possibility of making the quarterfinals and 4 percent of getting to the semifinals.
Among the other Asian qualifiers, Australia was given an 18 percent chance of making the round of 16, followed by Iran (17 percent), Saudi Arabia (16 percent), and South Korea (15 percent).
Overall, Brazil was seen as the likely winner with a 19 percent chance, followed by Spain on 17 percent.
Historically, Asia's best performance at the finals was South Korea's success in reaching the semifinals of the 2002 tournament at home, conquering the European heavyweights of Italy, Portugal, and Spain before eventually losing to Germany.
Can Asia match its off-field success with ultimate victory on the pitch?
Japan's climb up the FIFA rankings since introducing its domestic professional league, the J. League, in 1993 suggests investment in the sport produces eventual rewards.
From a FIFA ranking of 62nd in December 1992, the East Asian nation reached a peak of ninth in 1998 and has qualified for the last sixth consecutive World Cup finals, along with winning the Asian Cup four times.
South Korea is historically Asia's most successful football team, having participated in nine consecutive and 10 overall World Cup finals, the most for any Asian nation, highlighted by its success in 2002.
Reunification with North Korea, however unlikely, offers the prospect of an increased pool of players that could see the "The Reds" further climb up the rankings.
Australia has also reached a FIFA ranking as high as 14th in September 2009, with the nation qualifying for four straight World Cup finals since joining the Asian Football Federation in 2006.
India's cricket-loving population of 1.3 billion and its young demographics also has potential, with the launch of the Indian Super League in 2013 highlighting the South Asian nation's determination to rise up the football rankings. Yet while it has advanced from a lowly 173rd in March 2015 to its current rank of 97th, India has never qualified for the FIFA World Cup and likely will require further investment before challenging for top honors.
However, China's 1.3 billion population, its investment in the sport, and economic position, give it the most potential to become Asia's premier football nation, should it prove successful in converting spectator interest to participation.
For a region that has surged up the economic rankings in recent decades, claiming world sport's biggest prize could yet mark the pinnacle of the so-called "Asian century."