Coordinated Patrols Put India-Thailand Naval Ties into Focus
Another round of Indo-Thai CORPAT took place this month.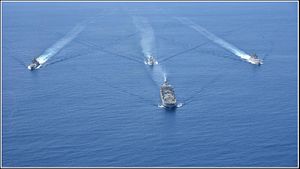 Earlier this month, India and Thailand held the latest iteration of their coordinated patrols. The patrols, which both sides have carried out for more than a decade, are an example of the cooperation in the maritime domain that is underway between the two countries as part of their wider defense relationship, despite lingering challenges.
As I have noted before in these pages, India and Thailand have already established a base for defense collaboration, with the inking of a memorandum of understanding on defense cooperation between the two sides back in January 2012 and a range of exercises, joint patrols, exchanges, and dialogues in place. That overall defense cooperation includes the maritime domain, where both sides have previously discussed strengthening areas of cooperation such as on hydrography and the exchange of white shipping information despite the challenges that remain.
One of those engagements is coordinated patrols between the two countries. The Indian Navy (IN) and the Royal Thailand Navy (RTN) have been participating in coordinated patrols or CORPATs in the Indian Ocean region since 2005, and the expressed objective the Indo-Thai CORPAT is to enhance understanding and interoperability between the two partner navies in addition to jointly safeguarding the security of the Indian Ocean. Over time, they have discussed ways to further enhance engagement in this area as well.
The last iteration of Indo-Thai CORPAT was held back in January 2018. During the exercise, one ship and one aircraft from both navies participated and the interactions themselves involved a series of exercises including a visit board search and seizure by combined boarding teams at sea and other harbor activities such as a visit by the Indian naval delegation to the 3rd Naval Area Command Headquarters in Phuket.
From June 16 to June 22, both sides held the 26th edition of the Indo-Thai CORPAT. The engagement occurred along similar lines and involved a series of interactions between the two sides, including meetings between officials on both sides as well as a range of professional interactions, sports games, ship visits, and cultural events.
Fewer specifics were provided on the particularities of the engagement this time around. But on the Indian side, there was mention of the fact that the Indo-Thai CORPAT had culminated with the arrival of the RTN ship HTMS Longlom at Haddo Wharf in Port Blair, which is the where the Andaman and Nicobar Command is located. That provided the Thai naval delegation to meet with officials, including the Commander in Chief of the Andaman and Nicobar Command Vice Admiral Bimal Verma, as well as for the holding of other events including a debriefing and closing ceremony.